Ryan Harrison and Andy Roddick: Ranking Comparisons by Age
August 16, 2011
Matthew Stockman/Getty Images
Andy Roddick has been America's best hope for Grand Slam glory since the former world No. 1 won the 2003 U.S. Open.

However, the American has not won a major since winning his first and only Grand Slam title almost eight years ago, and there are two big reasons for that. 

Firstly, Roddick's clay-court skills are so limited that he has been a non-factor at Roland Garros. His run to the fourth round of the 2009 French Open is Roddick's best result at the Paris Slam.

Secondly, title hopes at Wimbledon, the Australian Open and the U.S. Open have been blocked time and time again by Roger Federer. The Swiss Maestro has three times defeated Roddick in the Wimbledon final, including the epic five-set win in the 2009 final. 

Additionally Federer has four wins over Roddick in both the Aussie and the U.S. Open combined, wins which were all late in the respective draws.
With Roddick fading on tour at the moment, American tennis is without a clear threat to win a Grand Slam in the near future. Mardy Fish is the current top-ranked American player, and while his late surge in the rankings should be commended, he is still 29 years old.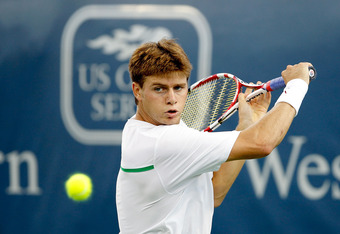 Matthew Stockman/Getty Images

That's not a vast age for a lot of sports, but for tennis players it is considered to be late career. Fish, who has never made a Grand Slam semifinal, does not appear to be the American most likely to reclaim a major title for American tennis—19-year-old Ryan Harrison is.

Harrison's birthdate was May 7, 1992, and one way of assessing how good he may become is to compare his ranking by birthday to Roddick's historical rankings. They show that Harrison is currently a little behind Roddick's early pace, however the remaining hard-court tournaments in 2011 may change that.

Harrison entered the ATP rankings in late 2007, when he was just 15 years old. Here's what he was ranked near each of his birthdays:

16th birthday: 701 (May 5, 2008)
17th birthday: 1891 (May 11, 2009)
18th birthday: 249 (May 3, 2010)
19th birthday: 121 (May 9, 2011)
Roddick's rankings at the same age (birthday: August 30th, 1982):

16th birthday: unranked (August 30, 1998)
17th birthday: unranked (August 30, 1999)
18th birthday: 338 (August 28, 2000)
19th birthday: 18th (August 27, 2001)

Harrison is currently ranked 78th and he is into the second round of the Cincinnati Masters, having defeated No. 23-ranked Juan Ignacio Chela in the first round.
While Harrison is behind Roddick's progress in terms of where the two players were on their 19th birthdays, if Harrison continues to have a good season, he could be into the top 40 soon.
There is always plenty of young talent on the ATP Tour, but at present time, there is only one player younger than Harrison who is also ranked higher: Bernard Tomic. 
There are a couple 20-year-olds ranked higher than Harrison at the moment in Grigor Dimitrov and Milos Raonic. 
Dimitrov, a player who has been tipped for the top, is ranked 56th, but he is nearly a full year older than Harrison. Raonic, a much heralded young player in 2011, is ranked 28th. He is already injury prone, and more than one and half years older than Harrison.
Fish and Roddick are still both credits to American tennis, but the real hope for a major title is with the youngster. American tennis fans will have to play the waiting game for awhile before they can seriously hope for a men's Grand Slam singles title.

Harrison is still aways off from contending with Novak Djokovic and Rafael Nadal, but he's among the crop of young players that should be in the mix for titles in a few years time.