FC Barcelona: World-Class Dive Academy and Bad Actors Guild
August 15, 2011
Jasper Juinen/Getty Images
Who knew the Camp Nou had an Olympic pool hidden in its prestigious depths?
Or that famed training center La Masia—where Xavi, Iniesta, and Fabregas first plied their trade—shows this highlight video before training? Either way, I never was presented with this Catalan key to success during my recent summer tour.
The rewards reaped on the merits of this secret training technique would leave even the late-great captain Jacques Cousteau tossing and turning, unable to discover this historic secret.
So let us address the giant blaugrana-painted elephant in the room shall we—Barcelona cheat and they do so in glorious, unabashed fashion. The club proudly points to their motto: mes que un club (More than a club). Perhaps they feel the playacting is what gives them that little extra boost.
Nearly every player on the squad is guilty of thrusting himself forward, then tumbling as if struck by an invisible, speeding vehicle running rampant on the pitch.
The problem is, they don't employ this gamesmanship after a crunching tackle—instead, they go down as if shot after the faintest of brushes. Sometimes they don't even need contact.
It can actually be a fun game to watch just what will send the latest Barca player tumbling.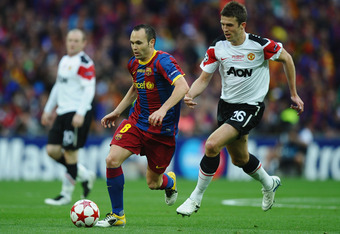 Laurence Griffiths/Getty Images
Admittedly, some players are guiltier than others, but the "straight to DVD" acting that has Hollywood execs scrambling to sign these players is all the more galling when you become aware of Barcelona's unique and incredible collection of footballing talent.
Andres Iniesta is undoubtedly the most infuriating. His class is unmistakable—he has a penchant for coming up with key goals, as evidenced by this strike against Chelsea in the 2009 CL semis, or his game-winner against Holland in the 2010 World Cup—yet he continues to mire himself in inglorious comparisons to Catalan midfielder Sergio Busquets or, Brazilian defender Dani Alves with his gamesmanship.
He also needs a new celebration.
Speaking of Alves, in watching the recent Germany-Brazil friendly, I was struck by how the Brazilian's playacting nearly sent some German players' nerves over the edge. It takes inordinate levels of gamesmanship for tempers to flare in a friendly
Lionel Messi is also an offender, albeit not nearly as often. To his credit, the World Footballer of the Year prefers to keep to his feet anytime he happens to be on the ball.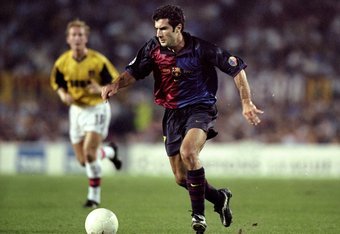 Stu Forster/Getty Images
I am sure that 95 percent of those watching yesterday's first leg of the Supercopa against arch-rivals Real Madrid missed how Marcelo nearly "splintered" Messi's shin. Then again, that's probably because the Brazilian didn't touch him.
The acting leaves much to be desired—the latest casualty in Barcelona president Sandro Rosell spree of budget cuts, I presume—but as obvious as the faking may appear to us watching at home or in the stands, it seems to be more than enough to fool a group of referees.
Growing up, I had always favored Barca. They were pure class.
Watching Ronaldinho or Luis Figo—before his "treasonous" then-record 37 million pound transfer in 2000 to the Spanish capital—work their magic with the football made the game worth watching.
Something's changed, however.
Javier Mascherano, the oft-tumbling former Liverpool enforcer, who flops around like some fish-out-of-water, makes me curious how the likes of Alexis Sanchez and Cesc Fabragas will "adapt" to Pep Guardiola's style of football.
If your defensive midfielder—supposedly the bastion of toughness within the side—is doing that, then just imagine what it will be like for the attacking players.
In spite of my distaste for Real Madrid's big-spending, "Galacticos" transfer policy, Barca's behavior has forced my hand. I can now no longer root against Real when the two teams face off.
Real may play a very physical game, bordering on reckless as the match grows closer to full time (I am talking about you Pepe), but prolonged exposure against a side whose players wriggle around in agony at the slightest hint of contact would cause anyone's temper to get the better of them.
Had Sergio Busquets gotten me sent off, and not Thiago Motta ejected from the 2010 Champions League semifinal second leg, the shameless Spaniard would either be pushing daisies in Gibraltar or still drinking his meals through a straw to this very day.
The simple reality is this: In all the beauty that Barca creates through its artistry of passing, it can never hope to justify the ugliness it invokes, whether the fans choose to acknowledge that or not.
They don't need such blatant gamesmanship. Their comprehensive 3-1 victory over Manchester United in the 2011 Champions League final would verify that—they are the premier side in world football. They wipe teams off the pitch with their slick passing, darting runs, and pinpoint finishing.
Why do they need to act?
The blind favoritism needs to stop.