Reggie Bush Will Be a Superstar for the Miami Dolphins in 2011
August 10, 2011
Ezra Shaw/Getty Images
The time for Reggie Bush to shine is now. This guy was once the most dynamic player in college football, bar none. Millions tuned in every weekend to see the game-breaking ability of the USC Trojan superstar.
Every time he touched the football, fans held their breath because there was a good chance he would do something that nobody had ever seen before. He made the impossible possible and had talent that football fans salivated about getting to see.
Since being drafted No. 2 overall, he has faced nothing but criticism. It was well deserved. His talent demands huge numbers; he hasn't got them.
It was not his fault. I'm not saying this because I'm a Reggie Bush fan or because I'm a Miami Dolphins fan. I'm saying this because Reggie truly did not have the correct situation to flourish into the once in a lifetime talent that people know he can be.
Saints head coach Sean Payton is an offensive genius. He got the most out of Drew Brees. He got the most out of every player he had on the Saints roster, but not Reggie Bush.
Payton gave Reggie the most of his carries on pitch plays, screens and reverses. He was a tremendous decoy as well because defensive coordinators still have to game plan for him despite his lack of numbers.
Reggie didn't get the chance to get the ball in situations when he is at his best. Payton believed that he needed to get the ball in space to be successful; I believe every time he touches the football he has a chance to take it to the house.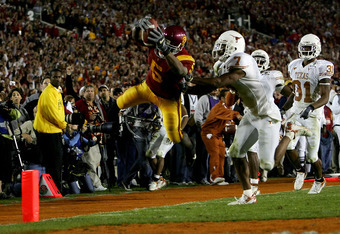 Lisa Blumenfeld/Getty Images
Reggie Bush has finally got what he wanted; a fresh start and a chance to get the touches he deserves.
He believes that he can be a No. 1 running back for the Miami Dolphins, and I wouldn't argue with him. I think that he has the potential and ability to be a good feature back if the offense is put together correctly.
If he can't, he is still extremely far from useless or a bust. Reggie Bush should be on the field on every single snap. He is a mismatch for any defender in the entire NFL one on one.
I would have him line up as a wide receiver if he isn't at tailback. Reggie Bush has the ability to be a great slot receiver and I think that the Dolphins should give him the chance to play as one. During his tenure at USC, Reggie was given many chances in the receiving game and was very productive.
His contribution to special teams is undeniable and I think he should be used in those situations as well.
For the time being, keep your comments about his injuries to yourself. He's healthy right now and let's assume that he will stay that way.
I want to focus on the fact that he is still a dynamic football player who can be a big-time player in the NFL if he is given the opportunity.
I want you to think for a second about what Reggie Bush would be like on the New England Patriots. I defy you haters to tell me that he wouldn't be a superstar and even wind up in the discussion for MVP of the league.