Placido Polanco Has Sports Hernia, Will It Affect Phillies' Championship Run?
August 10, 2011
Len Redkoles/Getty Images
Just as things were looking nearly perfect after a series win over the Giants, the Philadelphia Phillies received some very troubling news last night. Placido Polanco has a sports hernia and it may require surgery. Polanco has not played since being removed from Saturday's game against San Francisco.
Philly sports fans are all too familiar with the injury, having witnessed a sports hernia end franchise quarterback Donovan McNabb's year with the Eagles back in the team's disastrous 2005 season.
In this situation, Polanco's injury will likely be far less catastrophic.
To begin the recovery process, the third baseman will receive an anti-inflammatory injection at some point today. Later this week, Polanco will be re-evaluated by team doctors to determine if he can play through the injury without surgery.
Playing through a sports hernia is a realistic scenario, especially in the game of baseball, where there is minimal contact. Raul Ibanez experienced a similar injury back in 2009, and he was able to push off surgery until after the World Series. But Ibañez saw a sharp decline in his play. It was a disappointing second half to what started as an MVP-caliber season.
Although Polanco's MRI showed signs of built up scar tissue, GM Ruben Amaro Jr. remains hopeful that surgery can be eluded, adding that the injury appears less damaging than the one Ibanez suffered two years ago.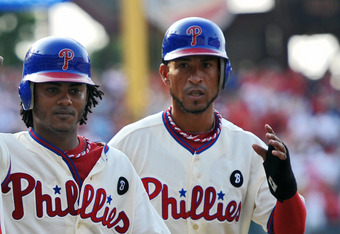 Drew Hallowell/Getty Images
If surgery proves to be unavoidable, Polanco will take another trip to the disabled list. With a recovery time of three to four weeks he would be back with the team sometime in mid-September, just in time for postseason play.
Polanco is in the midst of a solid season both offensively and defensively. He is batting .275 and has a fielding percentage of .976, best in the NL among third baseman. However, he has not been the same player he was in the first half, possibly the result of the evolved state of his injury. It's possible that surgery could supply Polanco with an improved and revived presence at the plate. Still, he's not easily replaceable.
The Phillies will likely look in-house for an interim third baseman, with rookie Michael Martinez and 33-year-old utility-man Wilson Valdez the top candidates for the position. Martinez has a disappointing average of .222, and a poor on-base percentage of .265. Valdez hasn't fared much better with a BA of .235 and an OBP of .284. Both are solid defensively but they are not desirable fill-ins because of their lack of offensive abilities. But with Amaro hoping for a quick return for Polanco, he says the team will opt for the Valdez-Martinez combination rather than resorting to outside help.     
Let's face it: The Phils are no-doubt a postseason lock. There is virtually no competition from anyone in the National League to even come close to the Phillies record. With their dominant pitching staff, the lead should remain intact with or without Polanco. If he returns by the playoffsas predicted, he will likely provide a strong boost to an already inconsistent lineup. 
Having suffered several debilitating injuries over the past couple of years, the return of a fully-healthy Polanco is far from a guarantee. He may not be the most important piece to winning a World Series, but in a postseason where every game, every inning, every at-bat, and every pitch can define the line between champions and losers, the Phillies would greatly benefit having their All-Star third baseman back in the lineup.