Kansas City Chiefs: What the First Depth Chart of Training Camp Reveals
August 9, 2011
Jamie Squire/Getty Images
This morning Adam Teicher, of the Kansas City Star, published the Kansas City Chiefs' first depth chart of the season.  While we are only a week and a half into training camp, and the depth chart is bound to change over the next few weeks, there are still several surprises.
On defense everyone lines up essentially the same as they did in 2010.  A few exceptions are that 2008 first-round draft pick Tyson Jackson is listed as the starter at left defensive end.  This is due to the departure of Shaun Smith, who started 10 games at the position last season.
The other defensive exception, and a bit of a surprise to me, is that newly acquired ILB Brandon Siler is listed second on the depth chart behind Jovan Belcher.  While Belcher has been a fairly solid player for the Chiefs since making the team as an undrafted free agent in 2009, Siler has more upside.
During the past two years Siler has averaged 55 tackles a season.  While those numbers make it seem like Siler is not an upgrade, consider that Siler only started 12 games the last two seasons while Belcher started 20.   Siler is also more of a threat to make an interception, as he has two in his career compared to Belcher who has none. 
On the offensive side of the ball there are a few more surprises, some expected and some unexpected.  The first unexpected surprise that popped out to me was that Jerheme Urban is listed as the No. 2 wide receiver behind Dwayne Bowe.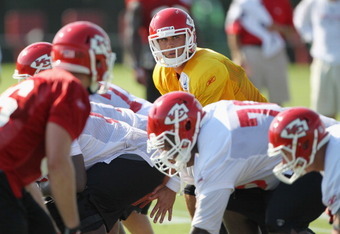 Jamie Squire/Getty Images
Urban is listed above newly acquired free agent Steve Breaston, Dexter McCluster and Jonathan Baldwin.  Baldwin does not even appear on the depth chart.  While I am sure this will change as Breaston and Baldwin have time to learn the offense, I find it interesting that a player (Urban) who missed all last season is listed as a starter.
It is also interesting that McCluster is still listed as a wide receiver even though most reports from camp are that he has been practicing mostly out of the back field.  Has Todd Haley changed his mind since the rookie combine when it appeared he was leaning towards using McCluster more as a third down back?
"It's really a role that is closer to what he was doing at Mississippi," Haley said at the 2011 NFL combine. "I think it will give him more chances to break off some big plays."
It will be interesting to see how McCluster is used in the preseason and how that translates to where he will line up during the regular season.
The last position on the depth chart that sticks out to me is that Thomas Jones is still listed as the No. 1 running back, with Jamaal Charles listed No. 2.  This is no surprise to me, as I predicted this here.  Now a lot of people are going to say this is just preseason and Charles will be the No. 1 by the time the regular season rolls around.  Isn't this what was said last year as well?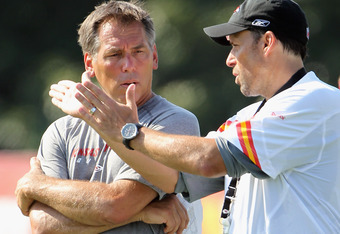 Jamie Squire/Getty Images
I believe Charles will eventually become the starter, and get more carries than Jones this year, but Haley loves Jones' veteran leadership and work ethic and will use him as much as he can before he wears out.
Below is the complete depth chart released by Adam Teicher.  Any positions stand out to you?  Let me hear it Chiefs Nation!
Offense

WR: Jerheme Urban, Steve Breaston
LT: Brandon Albert, David Mims
LG: Ryan Lilja, Darryl Harris
C: Casey Wiegmann, Rodney Hudson
RG: Jon Asamoah, Bobby Greenwood
RT: Barry Richardson, Ryan O'Callaghan
TE: Leonard Pope, Tony Moeaki
WR: Dwayne Bowe, Dexter McCluster
QB: Matt Cassel, Tyler Palko
FB: Le'Ron McClain, Mike Cox
RB: Thomas Jones, Jamaal Charles
Defense
LDE: Tyson Jackson, Allen Bailey
NT: Kelly Gregg, Anthony Toribio
RDE: Glenn Dorsey, Wallace Gilberry
LOLB: Andy Studebaker, Cameron Sheffield
LILB: Jovan Belcher, Brandon Siler
RILB: Derrick Johnson, Demorrio Williams
ROLB: Tamba Hali, Pierre Walters
LCB: Brandon Flowers, Travis Daniels
RCB: Brandon Carr, Javier Arenas
SS: Eric Berry, Reshard Langford
FS: Kendrick Lewis, Jon McGraw
Special teams

P: Dustin Colquitt
K: Ryan Succop
LS: Thomas Gafford, Andy Studebaker
H: Dustin Colquitt, Tyler Palko
PR: Javier Arenas, Dexter McCluster
KR: Javier Arenas, Dexter McCluster