Arsenal FC: Why the Gunners Need to Sign a New Centre Forward
August 8, 2011
Clive Mason/Getty Images
The latest setback for Arsenal is Robin van Persie's injury. It just shows that Arsenal shouldn't put all their eggs in one basket with the incredibly fragile Dutch striker up front.
The new season is less than a week away from commencing, and teams are busy with the final touch-ups prior to what looks to be a very tough season in the offing, with more than four teams capable of challenging for the title.
However, Arsenal seem to be unprepared and sluggish with what was a disappointing preseason coupled with a summer of injuries plus deceptive promises by the chief executive and the manager.
It isn't all rosy at the moment, and there's no reason to believe it would get any better either.
It's crystal clear from the preseason games that nothing has been done to bolster the defence neither in terms of signings nor strategically.
The high line of defence with poor pressing was evident in the preseason games, which was also the case last season as well.
I've lost count on how many times I have spoken about the need to scrap off this suicidal strategy because the players aren't as hard working and the pressing founds wanting as a result. Neither is the back line good at catching opponents offside—a result of constantly changing back four.
Even more intriguing and shocking is the inclusion of Sebastien Squillaci.
If the preseason has taught anything, it's this obsolete French defender should never play for Arsenal again.
One of the poorest signings by Wenger in recent years, he's not even fit to be fourth choice.
It would be much better to promote an academy player than sticking with this flop signing whose presence alone causes disarray.
But Wenger sees something in him, which we don't, and Squillaci might be the reason why Wenger would eventually decide against signing a new commanding centre back.
While all the talk is about the need for a new CB, the need for a new centre forward takes the backstage.
One can't expect van Persie to stay fit for the whole of a season as that hasn't happened ever in his career so far. And Marouane Chamakh has done little of late to convice that he can be the man to step up if the class of Dutch striker gets confined to the treatment room.
Chamakh looks to be more of a defender than striker and drops far too deep allowing even the defenders to run past him.
The biggest criticism of Chamakh has been his inability to strike the ball like a genuine striker does.
Stanley Chou/Getty Images
Forwards are there to score goals, and they need to be quick on their feet and must possess venomous shot and finishing skills.
However, Chamakh seldom gets shot off his feet and indecisively passes onto his teammates when he's better placed to take a shot on target.
Probably Wenger's training includes everything expect the shooting sessions as the team as a whole takes very few shots from outside the penalty box.
If the last few months has taught us anything, it's that Chamakh is not of the Arsenal standard.
Make no mistake, he does give a strong presence aerially, but this is no Stoke City to play one dimensional players and rely on long balls.
Arsenal need more selfish forwards who are not afraid to take shots from anywhere around the box to complement Arsenal's style of passing the ball into the net.
Carlos Vela, Theo Walcott and Gervinho are striker material, but in the current system, the aforementioned trio just don't stand in with a chance of leading the line all on their own as the lone striker.
Vela's future is still hanging in the balance, and Gervinho is more of a second striker/wide forward than a centre forward. Meanwhile, Walcott is unsurprisingly on the treatment table, and I'm not sure what to make of him after witnessing his injury concerns in recent times.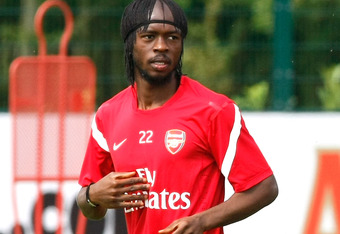 Tom Dulat/Getty Images
Nicklas Bendtner is all but out of the Emirates exit door, so that leaves Arsenal alarmingly short in the central striking role.
The current system exacerbates the situation which begs the question: doesn't Arsenal need another Centre Forward?
If you look around, Chelsea have more than three top class options for the same role, while Manchester City have Edin Dzeko, Mario Balotelli, Sergio Aguero and Carlos Tevez—if he does stay at City.
The champions Manchester United under the magical Sir Alex Ferguson are pretty safe in this department, with an ever-fit Wayne Rooney (not literally) spearheading the attack.
And these are the teams Arsenal have to compete with for the title in the upcoming season if the ambition is to win the Premier League. From the look of things, it does seem Arsenal are just looking for a top four finish. The lack of ambition is inexplicable for a team of the stature of Arsenal.
The inactivity and lack of direction raise a lot of questions, but the ever-tolerant Arsenal fans stick by the team accompanied by grumblings and cliched "In Wenger we trust" slogans rather than clamant crescendo for a telling change.
Whether a change is brought about or not, what must be done at the earliest is the signing of a top class CB.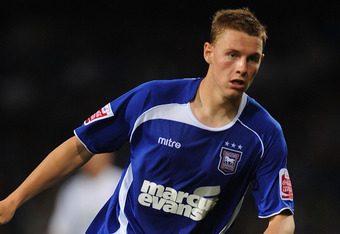 Christopher Lee/Getty Images
I am not quite sure whether that would solve the defensive woes, as the problem is much more deep rooted.
The manager has to devise better strategies, and signing even the best CB could solve the problem only so much.
It's not because of the lack of quality CB's that Arsenal's high line gets breached consistently. That said, a sturdy CB would strengthen the defence considerably.
While the pressing need remains a CB, a quality striker would take the pressure off van Persie's shoulders.
A more experienced version of Connor Wickham would be ideal, but the problem is such players won't come for cheap and Wenger happens to be one of the most obstinate managers around when it comes to transfer dealings.
This is by no means degrading Chamakh. He's a decent player but nothing exceptional. Not the choice when it comes to competing with the Europe's elite.
The vacancy left by Emmanuel Adebayor still remains a void, and some thought Chamakh would be that man. Unfortunately he's just not good enough.
You can praise his selfless attitude and link-up play, but from a footballing perspective, he's not good enough to rub shoulders with the best.
Whether Arsenal have the cash to afford another centre forward is up for a debate, but what is certain is Arsenal need one to shoulder the burden of goalscoring alongside van Persie.
By that I don't mean a uni-dimensional player but a sharp shooter whose first touch is considerably better than that of Bendtner with the ability to hold the ball up.