Oregon Ducks Ranked Third in USA Today Poll: Too Much Pressure?
August 4, 2011
Jonathan Ferrey/Getty Images
Last season, the Oregon Ducks reached the BCS National Championship for the first time in school history. Many knew going into the year the Ducks would be good, but no one expected them to go undefeated in the regular season in what was perhaps the easiest run to the BCS title game in history.
As with any team coming off a national title game appearance, the Ducks knew they would be ranked high in all the preseason polls.
USA Today released the preseason coaches poll Thursday, and the Ducks were ranked about as high as anyone expected, coming in at No. 3, right behind Oklahoma and Alabama, ranked No. 1 and No. 2 respectively.
This is Oregon's highest preseason ranking in the USA Today poll since it was administered in 1991. The Ducks' previous preseason high was No. 8 in 2001. That year, the Ducks went on to defeat Colorado in the Fiesta Bowl.
But this year, the Ducks aren't looking to throw another fiesta, they want to taste some sugar. Oregon has their sights set on another run to the BCS National Championship, hosted by the Sugar Bowl in New Orleans this season.
However, a high preseason ranking can be dangerous. When a team takes the field against the nation's elite like Oregon, they usually have nothing to lose and everything to gain, which makes them a very dangerous opponent.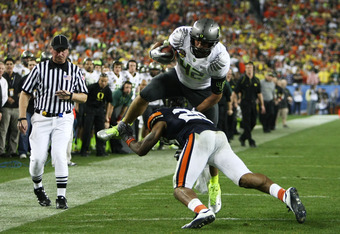 Jonathan Ferrey/Getty Images
The Ducks could see their most dangerous opponent of all when they take on LSU in their season opener on September 3rd. Unfortunately for Oregon, the last time they were involved in a high-profile season opener like this, the outcome was a complete nightmare.
Flash back to September 3, 2009 in Boise, Idaho. The Ducks, ranked 16th, faced the Boise State Broncos, ranked 14th. When it was all said and done, Boise State completely shut down Oregon's offense, and we all know what happened with LaGarrette Blount.
Whether Ducks fans are willing to admit it or not, LSU's defense is more than capable of doing the same thing to Oregon's high-flying offense that is no longer the nation's best kept secret.
To be honest, being ranked so high in the preseason, while exciting at first, can end in disaster. One of the toughest things to do in college football is to maintain a high preseason ranking from September through December. It's such an unpredictable sport, that every week could spell the end of the road for Oregon.
Due to a relatively weak conference, the Ducks will once again face a challenge they rose up to last season. If they have any hope of reaching the Sugar Bowl, they will have to undefeated in the regular season.
Some Ducks fans have said that if Oregon beats LSU, they will buy their tickets to the national championship immediately after the game. While the Ducks won't be able to seal a trip to New Orleans with a victory over LSU, they could very well hand their plane tickets over to another school with a loss to the Tigers.
It's pretty clear cut for Oregon: Lose to LSU, and you can kiss any hopes of a national title behind.
Will the Ducks once again live up to the hype and make another run for the school's first BCS title, or will the pressure of being ranked No. 3 prove too much?