Manchester United: Why David De Gea Will Excel in the Premier League This Season
August 4, 2011
Rob Carr/Getty Images
Throughout the past six seasons, Manchester United had one of the greatest goalkeepers in club history in Edwin Van der Sar patrolling their net at Old Trafford.
During Van der Sar's tenure with the Red Devils, four Premier League titles and three Champions League final appearances were accumulated, with the Dutchman stopping Nicolas Anelka's penalty to win the 2008 crown.
In the middle of last season, Van der Sar announced that he was retiring from football at the end of the season, causing United to look for their next keeper.
After months of searching, Atletico Madrid and Spanish Under-21 goalkeeper David de Gea was transferred to United to become the team's starting goalkeeper for the future.
During his young career, de Gea has already gathered an extremely impressive resume. This includes, but not limited to the following: a UEFA Europa League title and UEFA Super Cup and the Euro U-17 and U-21 championships, with de Gea named to the team of the tournament for the U-21 championship.
In the past year, de Gea has become the starter for Atletico Madrid and was one of the top goalkeepers in La Liga last season.
Now, de Gea has been rewarded for his fantastic work with a move to the world's most popular football club.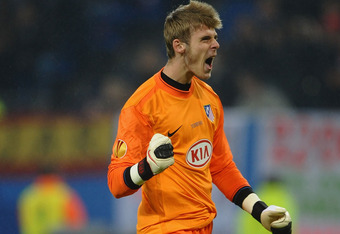 Laurence Griffiths/Getty Images
In most cases where a young player moves to a big club, they often falter at the beginning of their journey before later discovering the success that was expected from them.
But in the case of David de Gea, I think we will see a young player that is completely different from most.
For starters, de Gea comes to Manchester United as a player that is not only accustomed to winning, but wants to win. Having winning players is a huge part of the fabric at Manchester United and is certainly a major reason why de Gea was signed.
However, de Gea also was able to show that despite being 20 years old and playing for one of the biggest clubs in Spain, he was able to stand up to the pressure directed at him in an attack-minded league and the pressure from the Spanish media.
Last season, de Gea allowed 55 goals in his first La Liga season and was also able to register 11 clean sheets. Atletico Madrid did finish without a European birth, but it certainly was not de Gea's fault. Instead, failure to play in European football was a result of the failure of Atletico's attacking game.
Mainly due to the failures of 2010 World Cup Golden Ball winner Diego Forlan (who went from 20 goals in 2009-2010 to eight goals in 2010-2011), Atletico were unable to, at the very least, get a Europa League berth.
Now de Gea will be moving to a club that is one of the top clubs in Europe and should not have the same problems that Atletico had.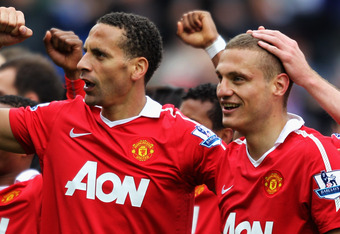 Dean Mouhtaropoulos/Getty Images
At Manchester United, not only is there a strong attacking core, there also is one of the top defense's in European football.
With the likes of Nemanja Vidic, Rio Ferdinand and Patrice Evra, Manchester United's defense is one that is hard for any side to beat.
That defense was one of the primary reasons why United were able to win four of the last five Premier League titles and were one of the top sides in Europe during that time.
But probably the most important feature of this season for de Gea is that there will be less pressure put on him by the media due to the fact that he is a young goalkeeper joining Manchester United.
Many people in the media will not pressure de Gea because they will have lower expectations than they used to have for Van der Sar.
But by the end of this upcoming season, people will realize that de Gea is going to be the next big star in football and we will be watching a star goalkeeper being born.
For more opinions and some interesting insight, follow me on Twitter! @Andrew_Jordan