Yodsanan Sityodtong: Is the Thai Fighter the Best Boxer in MMA?
August 2, 2011
Professional boxers have long been considered "fish out of the water" when trying their hand at MMA, but Yodsanan Sityodtong will be making strides to smash that paradigm when he makes his mixed martial debut at ONE FC's inaugural event, "Champion vs. Champion," on September 3.
From Sisaket, Thailand, Yodsanan became a household name in Thailand after winning the WBA super featherweight title in 2002. He held this belt for three years and has an impressive boxing record of 58 wins from his 62 professional fights as a boxer.
He is now based in Singapore where he works as a boxing instructor at Evolve MMA and has also been learning Brazilian jiu-jitsu (BJJ) in preparation for his fight for ONE Fighting Championship.
Most fighters would be nervous but Yodsanan, who once boxed at Madison Square Garden in New York, will be taking it all in his stride.
"I love MMA. The training is different but fighting is fighting. I love the challenge of seeing what I can do with my mind and body and I want to show the world that I am an MMA fighter as well as a boxer. I will show them my BJJ, my wrestling, my Muay Thai and of course...my boxing."
The national sport in Thailand is Muay Thai, so you know they have a fighting culture, and Yodsanan is proud to help bring MMA up in his home country.
"MMA is a young sport in Thailand so people don't know much about it but they know me as a world champion boxer. So now, they will see me on TV fighting for ONE Fighting Championship and it will introduce them to the sport. Thai people have fighting in their blood and Thailand is a fighting nation so I think MMA will be big here one day."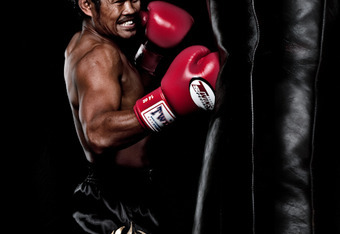 Yodsanan's last boxing match was in 2009 when he won the IBF Australasian light welterweight title in Australia. He claims he would like to get back in the ring again, but struggles to find suitable opponents, although there is one man who he has wanted to fight for almost a decade,
"A few years ago, Manny Pacquiao and me were considered the best pound-for-pound fighters in Asia. I wanted to fight him and our managers talked all the time about this fight, but unfortunately, politics stopped us from ever meeting in the ring. He's a great fighter, the best of all-time and it is still my dream to fight him before I retire."
While a fight between Pacquiao and Yodsanan looked very realistic in 2004, the famous Filipino has since gone on to become the most recognizable boxing champion on the planet and Yodsanan's dream of fighting boxing's current pound-for-pound champ is unlikely at this point.
His boxing career may be on the back-burner, but Yodsanan looks set to become an MMA superstar if he can get past the challenge of his opponent at ONE Fighting Championship, Daniel Mashamaite. The South African is much more experienced as a mixed martial artist and also holds several world titles in Muay Thai.
For the first time in his career, Yodsanan will be fighting in a cage rather than a ring and under a set of rules which are very different from those which govern the sport of boxing.  Training with what is most likely the best MMA camp in Asia, Yodsanan is confident in his ability to adapt to MMA competition.
"I am not afraid of any man. I love to fight, I am ready for anything and everyone knows that I have one-punch knockout power. Whatever happens at ONE Fighting Championship will be destiny," he said.
Interview quotes provided courtesy of James Goyder.