Randy Moss vs. Terrell Owens: Who Is the Best Receiver of the Era?
August 1, 2011
Jim McIsaac/Getty Images
It is hard to believe it (wasn't he just lighting up the league as a rookie???), but Randy Moss has retired. Terrell Owens is 37-years-old and coming off of spring ACL surgery, so logical thinking would be that he is closer to retirement than he is to playing again. It is time to figure out which sure-fire hall-of-famer will go down as the best in the era.
Career Productivity:
Moss will finish fifth in career receiving yards, eighth in receptions, and tied for second in career touchdowns.
If Owens cannot catch on with another team, he will finish second in yards, fifth in receptions, and tied for second in career touchdowns. That's right. If Moss and Owens are indeed done, they will finish tied behind the great Jerry Rice in receiving touchdowns.
That fact alone is so fitting, it should be enough to keep Owens off the field if and when he rehabs from the ACL tear. 
Slight Edge: T.O.
Peak in Dominance: 
T.O. finished over 1000 yards receiving in nine out of his 16 NFL seasons, and had at least 10 touchdowns in eight of them. His best season overall was in 2001 with the San Francisco 49ers when he finished with 93 catches for 1,412 yards and 16 touchdowns. The following year, though, he could have set career highs across the board if he had not missed two games. In spite of the injury, he finished with 100 catches, his only season reaching that plateau. 
Moss reached the 1000 yard mark in 10 out of his 13 years. His best season was during the New England Patriots' perfect regular season in 2007, when he set the NFL record for receiving touchdowns in a season with 23. In 2003, he hit his high-water mark for yards with 1,632, good for tenth on the all-time list. 
Edge: Moss
Nickname:
There may not be a more descriptive NFL nickname than Randy Moss' "The Maker." That is all the man did: make plays. T.O., well, those are just his initials. 
Big Edge: Moss
Best off-the-field moment caught on camera: 
Moss' was a YouTube sensation that created additional YouTube sensations parodying it. Best of all, it was simply Randy being Randy. You could not have scripted a response like that. 
On the contrary, Owens' could not have been more scripted as he invited a hoard of media to watch him work out in his driveway. Hate to break it to you, T.O., but you are not the only professional athlete to work out at home. 
Big Edge: Straight cash, homey.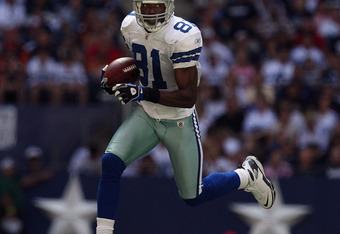 Ronald Martinez/Getty Images
Best Celebration:
Pending your perspective, Randy Moss authored either the most hilarious or most disgraceful touchdown celebration in NFL history. At least we know where Joe Buck stands.
T.O. is the godfather of the touchdown celebration. The sharpie, the dance on the star, the pom-poms. They are all classics. His body of work should be an inspiration to us all. 
Edge: T.O. 
Best playoff performer: 
In Moss' lone Super Bowl appearance, he had a decent performance with five catches for 46 yards and a touchdown, but he had just two catches combined in the previous two playoff games.
All in all, he only "went off" in one playoff game, against the Rams in 1999 when he had 188 yards and 2 touchdowns in a loss. 
T.O. had the best Super Bowl performance that will quickly be forgotten. Coming off of an ankle injury that should have kept him sidelined much longer, Owens had nine catches for 122 yards in the three-point Eagles loss to the Patriots. 
Owens also had nine catches for 177 yards and two touchdowns in the biggest playoff comeback win in NFL history, with the 49ers defeating the Giants in 2003.
Edge: Owens
Overall, both players have individual records to their names, rank high up on the all-time lists, and finished three points short in their lone Super Bowl performances. Owens has the longevity edge, while Moss has the peak edge. As the years go by, I think the peak trumps the longevity. 
Slight all-time edge: Randy "The Maker" Moss