Fighters United: Mixed Martial Arts and the Armed Forces
August 1, 2011
Mixed Martial Arts is the fastest growing sport in the world today, and it continues to evolve.
The game has changed, and has become more integrated into every media outlet. Major sponsors have started to become involved with some of the fighters and the sport of MMA in general, and are continuing to attract fans.
But one factor that has been very significant is the mutual supporting relationship from the Armed Forces.
At Strikeforce: Fedor vs. Henderson, Army Ranger Tim Kennedy, won a unanimous decision over Robbie Lawler, improving his record to 14-3.
Typically a fighter has many sponsors that are donned across their fight shorts, cluttered with product and team logos. Kennedy only had one logo, and it was that of the National Guard.
During his interview inside the cage with Gus Johnson, Kennedy spoke and gave recognition to the veterans and armed forces. A veteran who had lost both his arms was alongside Kennedy before the fight and with him during the interview.
This inspiring connection between the military and mixed martial arts is something that is truly remarkable. Being a fighter does not necessarily mean you put on gloves and protective wear. It is a term that is defined as a person who does not easily admit defeat in spite of difficulties or opposition.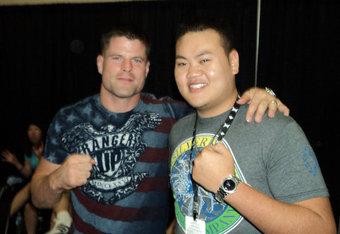 MMA fighters and military soldiers fight for not just themselves, but their families. They fight in representation of their countries, and strive to be leaders. These parallels are perfectly in sync with one another, and it gives MMA a very strong advocate in the world.
Fighters such as Brian Stann, who have served their country and done so with valor, are welcomed heroes in the cage. But what is more amazing is that MMA does not just gain from the armed forces, but the sport gives back as well.
Recently many fighters and the UFC, became involved in the Boot Campaign, a fundraiser to help support the troops. Many UFC personnel jumped on board, including Anderson Silva, Jon Jones, Forrest Griffin, Tito Ortiz, Rich Franklin and Rampage Jackson.
But the UFC does not stop there. So far, they have put on two "Fight for the Troops" events that have taken place at two different military base locations, and helped raise money for projects like the Intrepid Fallen Heroes Fund.
Not only that, but the UFC has created a great relationship with the Marines, who sponsor the organization. On different occasions, some UFC fighters have even gotten to experience and learn from some of our nation's warriors.
Having such a connection as the armed forces with this great sport is not only a great business and PR move, it is a step in the right direction for truly defining MMA as a unique sport and something many can support.
To Brian Stann, Tim Kennedy, and all the others who are serving or have served, the fans and sport thank you for stepping up…and stepping in. 
Be sure to follow the @FightersCreed on Twitter!