San Francisco 49ers: Nnamdi Asomugha, Kevin Kolb Deals Bury Franchise Further
July 30, 2011
Ezra Shaw/Getty Images
In the past two days, the 49ers have seen two of their top offseason targets venture elsewhere.
It has been a rough offseason for new head coach Jim Harbaugh, who is dealing with both his top offensive weapon Frank Gore holding out and his top receiver Michael Crabtree missing 4-6 weeks due to injury.
The 49ers, who have failed the reach the playoffs since 2002, look as though they on their way to keeping that streak alive.
To many 49er fans, it was Nnamdi or bust this offseason, especially after the release of Nate Clements.
Not only would the signing of Asomugha have helped the 49ers tremendously, but it would have also made a statement.
Signing Nnamdi would have shown Niners fans that their team is serious about returning to their winning ways of the 1980s.
The lack of activity by the team this offseason has given fans nothing to cheer about, just worry.
With Clements gone, San Francisco is lacking a true lockdown corner. Furthermore, with Asomugha, Jonathan Joseph and Dominique Rodgers-Cromartie all gone, the 49ers have dug themselves quite a hole.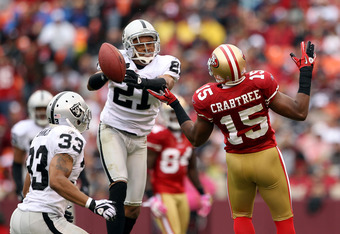 Ezra Shaw/Getty Images
The next best corner on the market is Antonio Cromartie, who the 49ers may have to end up overpaying to fill the need at cornerback.
The fun doesn't stop there for the Niners, who are still in need of a center, defensive tackle and quarterback.
With Kevin Kolb on the trade block, San Francisco had a chance to go out and get a quarterback that had the potential to turn the franchise around.
Unless they have something up their sleeves, they will be handing the ball to either Alex or Troy Smith this season, which can't make fans too happy.
The 49ers have been lacking a good quarterback for years now, and though Alex Smith has shown flashes of potential, the time was right for the Niners to try something new.
San Francisco has been the least active team in the NFC West this offseason, and they watched Kolb take his talents to the desert to play for the division rival Arizona Cardinals.
Niners fans are very upset with how the offseason is playing out thus far, and rightfully so as they have just watched their team sit back while quality players are going elsewhere.
Missing out on those two big name players could wind up being costly for the 49ers, and if they don't start making some moves soon, they could wind up finishing last in the NFC West.