San Francisco Giants: Barry Zito Can't Take Torture, Shouldn't Be Starting
July 27, 2011
Justin Sullivan/Getty Images
Barry Zito was 23-5 in 2002 while with the Oakland A's.
That Oakland club hit .261 as a team and was fourth in the American League in home runs with 205. The '02 A's scored 800 runs.
By contrast, Zito's current club, the San Francisco Giants, has a .241 team batting average (20 points lower than the '02 Athletics) and are on pace to hit just 103 home runs and to score just 583 runs.
The A's were a team that could hit during Zito's tenure in the East Bay.
Since coming over the bridge into San Francisco, Zito has found a team that hasn't hit, and the difference in Zito's numbers betray his inability to cope with the lack of offense.
Zito's career record as an Athletic: 102-63.
His record as a Giant: 43-60.
The mantra for the defending world champs, coined by Giants broadcaster Duane Kuiper, is "Torture."
And while his fellow starters Tim Lincecum, Matt Cain, Jonathan Sanchez, Madison Bumgarner and Ryan Vogelsong have proven they can live with torturous lack-of-run support, Barry Zito has proven time and time again that he can't.
After giving up 14 earned runs in his last 10.2 innings pitched, including five homers, it's clearer than ever that Zito cannot pitch effectively without more than three or four runs a night in support from his offense.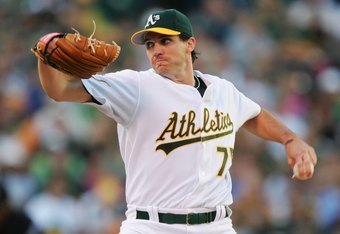 Jed Jacobsohn/Getty Images
That's just not Giants baseball.
The Giants are currently averaging 3.6 runs a game, and that's not likely to change much going forward.
While there are prospects of acquiring a bat via trade, such an acquisition is not likely to change the brand of baseball the Giants play drastically enough for Zito.
San Francisco is a club that is built on and around pitching, from the starters down through the bullpen to the closer.
Elite pitching is what carried the Giants to a World Series victory last fall, and it is on the backs of their pitchers that the Giants plan on reaching the Series again in 2011.
There remains no justification for keeping Zito in the starting rotation, not even the $46 million remaining on his salary over the next three years.
The Giants have given Zito ample opportunity to prove his value to this team.
While showing fleeting glimpses of his former Cy-Young-winning self, Zito has been inconsistent and unpredictable, and the Giants can't afford inconsistency from their starters when they know that they have trouble scoring runs.
The big contract was a mistake. Everyone knows that, and it's time for management to swallow that pill.
Zito should be moved to the bullpen, and Jonathan Sanchez should resume his duties as a starter.
While Sanchez has been erratic at times, he is still much more effective than Zito, having shown that he can withstand the "torture" of taught ballgames with low run support from his offense.
Not being able to withstand the pressures of being a starting pitcher for a team like the Giants, which often doesn't muster more than a run or two on any given day, shouldn't be a source of shame for Barry Zito.
There aren't many pitchers that can withstand that type of burden. The Giants just have some extraordinary talent in that starting rotation.
Zito has made admirable attempts to contribute as a starter, but perhaps it's time for him to focus on contributing in a different role, as he is taking away from—rather than adding to—the Giants' cause right now.
An ideal role for Zito may be similar to the one that reliever Guillermo Mota currently fills, eating up innings in long relief when a starter has a bad outing and has to exit a game before the fifth inning.
Whatever the change, Zito and the Giants need it now.
A four-man rotation may work in the postseason, but there's still a lot of regular season left on the schedule, and the Giants need to know they can count on each of their starters to give a quality performance without great run support in each outing.
If Barry Zito wants to be on the postseason roster in 2011 and not spend a second consecutive year watching playoff baseball from outside the lines, he may want to consider embracing that bullpen.