NFL Free Agency: Do the Recent Cuts by the Baltimore Ravens Spell "Nnamdi?"
July 26, 2011
The Baltimore Ravens are about as complete of a team that you can find anywhere in the AFC. They have a roster full of talent, and they follow the undeniable leadership of Head Coach John Harbaugh, young QB Joe Flacco, and of course future first ballot Hall of Fame linebacker Ray Lewis.
The Ravens have sculpted their roster with a mixture of a young core, to go along with a bevy of savvy veterans. On Monday, Baltimore reportedly informed several key veterans that they'd be released when it could become "official" on Thursday evening. The team very quickly cut ties with RB Willis McGahee, TE Todd Heap, WR Derrick Mason, and DT Kelly Gregg.
Defensive Tackle Kelly Gregg is 34 years old and well past his prime, so his release came with only a small dose of surprise. Veteran RB Willis McGahee was widely expected to be done in Baltimore, as the team features a young, budding star in RB Ray Rice.
However, a bit of a surprise came as two very productive veterans were cut by the team. Longtime Baltimore TE Todd Heap, along with fellow pass catcher WR Derrick Mason, were let go by the Ravens, leaving a couple holes to be filled within their offense. While the team may have addressed their future at wide receiver in the 2011 Draft by selecting 2nd round WR Torrey Smith (Maryland) and 4th round WR Tandon Doss (Indiana), these recent cuts by the team suggest something else may be on their mind.
Baltimore reportedly saved $18.6 million by severing ties with the aforementioned four veteran players. Some cuts had been expected from the Ravens, so they could make a push at resigning RT Marshal Yanda, and on Tuesday they officially agreed to terms with Yanda on a 3-year contract to keep him in town. Although Yanda probably received a very respectable payday, terms of the deal were not disclosed, and the team didn't free up $18.6 million just to re-sign Marshal Yanda. I get the feeling something else is coming up on the transaction front in Baltimore.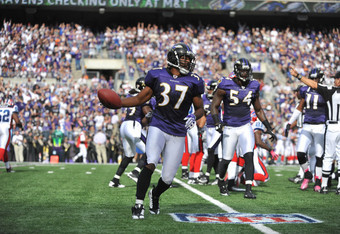 As good as Baltimore's defense has been in the past decade, behind Ray Lewis, their cornerbacks have not been up to the same standard as other levels of the Raven defense. The linebackers respond to the call of Ray Lewis and Terrell Suggs, the defensive line features mammoth, All-Pro Haloti Ngata, while ball-hawking FS Ed Reed lurks in deep center of Baltimore's Defense.
The team's starting CB's from a year ago were Chris Carr and Josh Wilson. Wilson is an above- average starter in the league, yet the combination of Carr, Lardarius Webb and Fabian Washington leaves a lot to be desired as the bookend to Josh Wilson.
Nnamdi Asomugha is the clear-cut top gem of this free agency class. It's widely thought that, while Nnamdi will likely become the league's highest paid defensive player, his number one goal for himself in free agency is to sign with a Super Bowl contender. On paper, the Baltimore Ravens pass that test with flying colors. Whatever team Nnamdi chooses to sign with, he'll instantly take the defense to another level.
Whether or not Nnamdi's skills as a shutdown CB would be utilized in Baltimore's zone-oriented coverage scheme is a subject for debate. Many people think Nnamdi will ultimately decide against signing with teams like Tampa Bay because of their soft coverage from their cornerbacks in their "Tampa 2" scheme. It remains to be seen whether Nnamdi has a strong preference of playing individual, in your face, man-to-man coverage over playing in a zone scheme, but one has to think that utilizing Asomugha to his fullest ability would involve placing him on an island, much like the Jets do with Revis.
It's hard to say what the real reason was for the Ravens to clear $18.6 million. Whether they were clearing cap space so they could comfortably sign their draft picks and give out extensions to several deserving players on their team already, or they intend to make a big splash in free agency, it's certainly a question that remains to be answered.
Nnamdi would take an already great defense, and make them an elite defense, almost instantly. While the Ravens have some of the best veteran leadership across the league, adding Nnamdi to a defense already led behind legends Ray Lewis and Ed Reed certainly wouldn't hurt anything.
It's been a long offseason of speculation as to where these top free agents may go. There are several different teams where Nnamdi may end up, namely Houston, Baltimore and Washington. The good news? We'll find out soon enough.