UFC 133 Fight Card: Why Chad Mendes Has Future Champion Written All over Him
July 26, 2011
Former WEC and Team Alpha Male fighter and possibly the UFC's No. 1 featherweight contender, Chad "Money" Mendes is set to take on Brazilian featherweight fighter Rani Yahya on Saturday, August 6, 2011 at the Wells Fargo Center in Philadelphia. It will be his second bout in the UFC since the WEC was officially dissolved and its fighters grandfathered into the UFC.
Mendes began his professional career less than three years ago and has since gone undefeated in all 10 of his fights, storming through some of the most dominant fighters of the featherweight division, including fellow former WEC fighters Cub Swanson and Javier Vasquez.
Former WEC and current UFC featherweight champion Jose Aldo has placed himself at the top of the food chain and has been compared to the UFC's most dominant champion, middleweight destroyer Anderson "The Spider" Silva.
Aldo has only tasted defeat once in his career and it was back in November of 2005.
Since that submission loss by rear-naked choke, Aldo has defeated every single one of his opponents, boasting seven vicious knockouts or TKOs out of 12 fights with only five going to decision.
Why should we think that Mendes won't taste his first loss to the hands of Jose Aldo, should this potentially epic battle take place?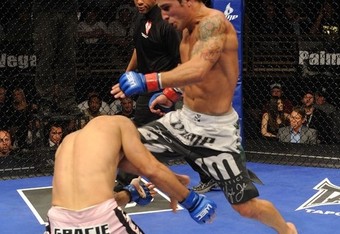 For starters, Mendes is a purebred super-athletic All-American honors wrestler with knockout power who never stops coming forward and never slows down until the sound of the final bell when his hand is raised in victory.
He is not content unless his opponent is on the canvas, being force-fed a salad of punches, forearms and elbows, decisively stamping out 10-9 rounds for all 10 of his professional bouts while controlling every aspect of each and every fight and doing anything within the rules to achieve the desired results.
As mentioned before, Mendes is also a Team Alpha Male disciple and keeps his skills sharpened with training partners and MMA fan-favorite Uriah Faber and bantamweight Joseph Benavidez.
Mendes is a natural southpaw, as is the current UFC featherweight champion, and we saw Aldo in a bit of trouble in the later rounds of his first UFC title defense against Canadian fighter and top contender Mark Hominick as he took the champ to the ground with relative ease. While it wasn't enough to bring the belt back to Canada, we saw for the first time since his last loss a very vulnerable Jose Aldo as Hominick exploited the Brazilian's main weakness—his wrestling.
Of course, Aldo has a certain newbie featherweight fighter to send packing before we will see a battle between the division's current No. 1 and No. 2 ranked fighters, respectively, go at it in the Octagon.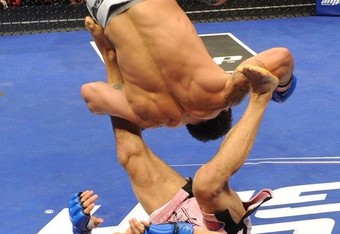 Of course, Mendes still has to get through Yayah before a title fight can take place as one's next opponent should never be overlooked.
Yayah lost his December of 2009 bout against Mendes' teammate, Joseph Benevidez, who has a very similar but less-dominant style of vicious ground-n-pound.
Given Yayah's scattered record of wins and losses combined with the sheer dominance and championship mentality, the undefeated Mendes should have no problem having his way with the Brazilian at UFC 133.
If Florian is defeated by Aldo and Yayah by Mendes, I hope to see these two great fighters show the world that the lighter-weight guys always come to bang and will most certainly deliver their money's worth in what could very well be the greatest featherweight battle yet in the UFC.