MLB Trade Rumors: Domonic Brown, Carlos Beltran, Hunter Pence Consume Headlines
July 23, 2011
Marc Serota/Getty Images
With roughly one week to go until the MLB trade deadline, the feverish pulse of the rumor mill quickens, and the MLB player plot thickens with Domonic Brown, Carlos Beltran and Hunter Pence consuming this week's headlines.
And while there are tons of players to mention today, I want to quickly focus in on these three outfielders and delve a bit into the latest news surrounding each of them.
We'll start with Carlos Beltran, of course.
I think at some point we were up to 10 potential teams supposedly interested in Beltran, but that number has decline to roughly five reported Buster Olney on Twitter earlier this week.
I think at this point, one can assume that if the Mets get exactly what they want for Beltran, then Beltran will be dealt, but if not, they will keep him and perhaps even attempt to re-sign him.
Philadelphia is out in my opinion. The going rumor is that the Mets were interested in Domonic Brown—hey, how about that—which would be such a ludicrous trade.
The other rumor I heard but could not confirm, was a possible trade for Vance Worley.
The Giants are probably out in my opinion too. The Mets have said to be interested in Brandon Belt, Zach Wheeler and/or Gary Brown—which again—would be a ludicrous trade for Beltran.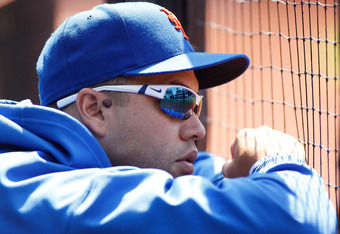 Mike Stobe/Getty Images
Boston said they are not actively looking at the present time, Texas needs help in ways the Mets can help them (bullpen) which leaves the Atlanta Braves and their vast collection of young prospects.
To be honest, that's the only possibility I see at this point, but that's just my opinion.
One thing to note, Beltran has 24 hours to approve any trade whatsoever, which means he would have to be traded by SATURDAY not the official Sunday deadline, which makes things even more iffy.
Hunter Pence is another player who has gained significant steam this week with several teams interested in his services.
It was reported by several sources (John Heyman, Jason Stark and Buster Olney) that the Astros were perhaps looking for several impact players in return for Hunter Pence.
Well NOW, that appears that may not be necessarily true at all.
The newest person to step to the plate is Michael Silverman on Twitter who says the Hunter Pence will in fact NOT be moved by the deadline at all.
They just don't make it easy, do they?
Finally, to tie this all up we have Mr. Domonic Brown who has been mentioned in several trade scenarios other than the aforementioned.
Some of this speculation is being drawn from the subpar season that Brown is currently having, a season that is below the expectations of the Phillies.
But to be honest, the idea of the Phillies moving Brown out for someone who is NOT a rising star just doesn't make a whole lot of sense to me.
The Phillies are entertaining adding another bullpen arm, and possibly another quality veteran outfielder, but neither desire would warrant the Phillies in moving their top outfield prospect.
I COULD see them possibly dangling Vance Worley out there, but I also believe the Phillies would have to be "wowed" in a return for the explosive pitcher.
At this point, I would be surprised if any of these players were moved by the deadline given the recent news, and how much it has changed, but then again, stranger things have happened.
I hope you all enjoyed this piece, and if you're interested, come check out some other interesting trade news out of Cincinnati.