B/R Talks with Stewart Cink on His Involvement with Chase Sapphire Golf Clinics
July 19, 2011
Ross Kinnaird/Getty Images
This afternoon, I had an opportunity to talk with PGA Tour golfer Stewart Cink. In addition to discussing the PGA Tour and the state of American golf, we also discussed his involvement in a series of interactive golf clinics hosted by Chase Sapphire.
The first one took place in Dallas last month, and the next one is occurring in Philadelphia this Monday, July 25. 
According to Cink, these clinics "are a day where they [card members] get to play a round of golf on one of the great courses in their town."
The beauty of these clinics is that they do not simply attach Cink's name to the event. Instead, Cink takes a hands-on approach at each outing.
Each clinic features a walking lesson with Cink, who says, "I hit shots and think out loud during my decision-making process."
In essence, each Chase Sapphire event is a "different take on a standard driving range clinic," according to Cink. 
After the interactive lesson by Cink, as well as individual instruction from Callaway professionals, each participant has the opportunity to play the course. 
Once the course play starts, the fun really begins.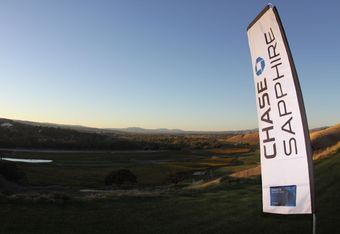 While playing, all players "get a chance to challenge me [Cink] to a closest-to-the-pin contest on a par three." 
And if they beat him?
Each winner will leave the course not only with the memory of a once-in-a-lifetime experience, but also with a brand new driver.
So "for the equivalent of about $150 in credit card reward points, you get a chance to play one of the great courses and have a walking clinic with a PGA Tour player," adds Cink.
While it is too late to sign up for the Philadelphia clinic, there are still three more clinics this summer in Chicago, Atlanta and Los Angeles. 
For more information, you can visit Chase Sapphire's website.