NBA Lockout: Who Has "Shawn Kemp Potential" to Get Fat?
October 10, 2011
Doug Pensinger/Getty Images
The "Reign Man." Shawn Kemp was one of the best players in the NBA for around six or seven years making six All-Star teams and three All-NBA Second Team selections.
When the Cleveland Cavaliers traded for Kemp before the 1997-98 season fans were ecstatic about adding a viable superstar to take the beleaguered franchise to top.
Then the lockout in 1998 happened and Kemp got fat. Like, really fat.
His listed weight for first season in Cleveland was 230 lbs. He "allegedly" reported to camp after the lockout had been lifted in January of 1999 weighing in at an impressive 275 lbs.
Whether that 45 pound jump in weight is accurate or not can be debated. What can not be debated is that he certainly looked a lot fatter and played like it too. The "Reign Man" had been grounded by his inability to stay or get in shape.
(Just so they don't feel left out, Vin Baker and Antwan Walker also ballooned considerably during the lockout.)
There are only so many topics to write about during a lockout. So here's one that no body has brought up so far.
Call me cynical, call me stupid, call me juvenile...I don't care. I'm a writer and I need stuff to write about. So here we go.
What current NBA player is most likely to pull a Shawn Kemp and get fat during the current NBA lockout?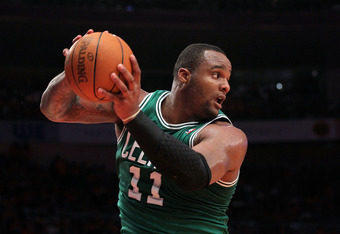 Nick Laham/Getty Images
Here's my list but feel free to let me know any players you think I should have included or not included. 
Glen Davis
This one was too easy since he already has a bit of a weight issue. The only thing that will keep "Big Baby" fit this summer is the knowledge that he's a free agent and no one is going to sign him if he's any fatter than he already is. This was an easy one, the rest are a little more out-of-the-box.
Davis' Boston teammate is getting up there in years and of the Big Three in Boston he's the most likely to let himself go a little. He's had some nagging injuries and he just looked slower last year. He's had a great career and the incentive to bust his butt this summer probably isn't there. He's never had that hard-working label that both Kevin Garnett and Ray Allen have.
Kris Humphries
He got married to Kim Kardashian this summer. That means a lot of eating out at fancy restaurants that aren't necessarily good for you. Also I'm sure she's got him shopping and waiting on her every whim when he should be working on his already lacking game. I bet he's getting a lot cardio in though, and couple that with all the heavy lifting of her shopping bags he might be alright.
Carlos Boozer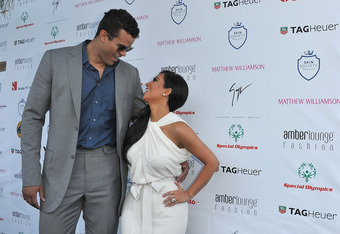 Pascal Le Segretain/Getty Images
Isn't this the guy who broke his hand after falling to answer the door last summer? Boozer got rocked last year by the Chicago media and his play suffered. He's a good player but never one for the spot-light. Plus he's still riding high on that exorbitant deal the Bulls gave him last year. What incentive does he have to work hard? That is unless the NBA owners get that whole "we get to cut one player" deal.
Brian Scalabrine
Does it matter? And as much as I could make fun, I'd take his life well, his money at least.
Baron Davis
Alas, as a Cavaliers fan this one just couldn't be avoided. He looked better last year after he got fat in LA when he signed to play with his buddy Elton Brand who evidently didn't get his text and signed in Philadelphia. Poor Baron Davis buried his sorrows in snack cakes. Now in Cleveland, where he played surprisingly well last year, he knows that his replacement is coming in in the form of Kyrie Irving. This one just seems too easy. (Crossing fingers for the amnesty rule to go through.)
Josh Smith
Smith is a tough one to put on this list because he's a top five in the "most amazing freak athlete" list for NBA players, but he is very lazy. I'd tell you to ask Atlanta fans but they would not know good basketball if it hit them in the face. How else can you explain that Smith takes any three's at all, let alone shots outside of fifteen feet. He seems like the kind of guy who would be hitting up all these pick-up games except for the fact that he's rich and lazy.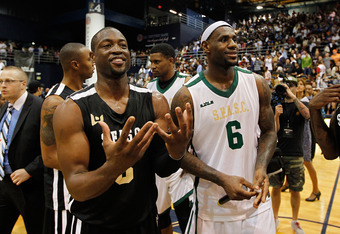 Mike Ehrmann/Getty Images
LeBron James, Dwayne Wade, Chris Bosh
I had to include the Heatles in this list though I don't think any of them will get fat. They're all way too hard working and great athletes on top of that. I wish I could say that they're all going to get fat, but my journalistic integrity (or something like that) won't allow me.
Gilbert Arenas
Another guy who's only motivation to stay fit is the potential that he could get cut and need to find a new team. He has been riding easy for quite a while now and looks a little thicker every time I see him. Also his game isn't about high-flying or being flashy. Pretty much all he does anymore is just shoot three's.
Lamar Odom
(See Kris Humphries) He's married to a Kardashian...at least for now.
Vince Carter
"Half man-half washed up" has been getting fatter every year for the about the last five seasons. His highlight dunks are few and far between at this point and like Arenas he only seems interested in shooting from the perimeter. Not to mention that he's made his money and the league has finally figured out that he was overrated to begin with. What does he have to play for anymore?
John Salmons
I live in Wisconsin so I've gotten to see first hand the transformation of Salmons in a contract year to Salmons after he's been over-paid. It's not pretty, trust me.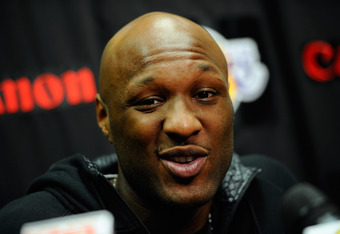 Kevork Djansezian/Getty Images
DeMarcus Cousins
Cousins, like Glen Davis, has always struggled with his weight and it was one of the knocks on him going into the draft. What was the other knock? Oh, just that he doesn't work hard and has attitude issues. So he should be fine staying in shape for months on end without any accountability whatsoever.
The entire Dallas Mavericks team
They won the championship in a year when most people picked them to lose in the first round. What else do they have to prove? Plus, they're an old team. Not a lot barn storming going on in Dallas.
Hasheem Thabeet
Just kidding.
Zach Randolph and Marc Gasol
Randolph already got his money and Gasol will get his. They have both had very serious issues with their weight in the past. They got further in the playoffs than anyone expected. I don't have high hopes for their endurance levels this coming season.
Tony Parker
I'd probably just go ahead and get fat too if I got dumped by Eva Longoria.
Chukwudiebere Maduabum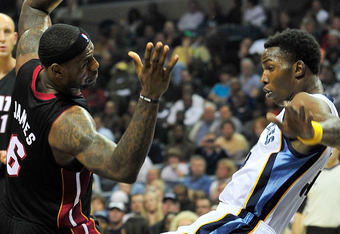 Grant Halverson/Getty Images
I have no idea who this guy is but I felt I needed to run his name since at first glance it looks like "Chewbacca." But the chances of a 6'9", 210 lb. Nigerian getting fat are slim to none, emphasis on the slim.
Danilo Gallinari
Word on the street is that Gallinari hooked up with all the hot models in New York. He spent the last couple months of the season wallowing away in Denver. Now he's probably back in Italy making up for lost time and not playing much ball.
Derrick Williams
Hate to say this, Timberwolves fans. But the guy had some flab issues before he realized that if got fit and dunked and blocked shots he could be a top pick in the draft. Well now he's achieved that and is guaranteed that cash. For David Kahn's sake I hope I'm not right about this one, not to mention all NBA fans because he'll throw down some highlights if we ever have a season.
Speaking of having a season, can we just get this thing figured out? I want basketball so I have more constructive topics to write about.
You can follow me on Twitter @ ClevelandFlack.