Milan in the Silly Season: How Do They Compare with Europe's Big Guns
July 16, 2011
Vittorio Zunino Celotto/Getty Images
The silly season is upon us once again, with players being transferred, rumours abounding and insane amounts of money being thrown about by Europe's top clubs.
So, how are the seven-time European Cup winners and current Serie Champions, Milan, faring in this annual merry-go-round?
Take a look at the players Milan have so far brought in, and one would be forgiven for thinking that they are lagging behind the rest of European football's traditional powerhouses.
After all, Manchester United have just spent a serious amount of money acquiring Ashley Young, Phil Jones and David de Gea, with constant rumours surfacing of a raid on Inter Milan for Wesley Sneijder.  If Sneijder does arrive for the mooted fee of 40 million euros, it will take United's total spending this summer so far, to close to 100 million.
Real Madrid have so far completed the purchases of Fabio Coentrao for 30 million as well as signing Rafael Varane for an undisclosed fee and signing Hamit Altintop on a free transfer.  You can rest assured this will not be the end of their summer market.
Barcelona, a team so complete they probably don't need to spend, are drawing ever closer to the signing of Alexis Sanchez.  Add to this their annual pursuit of Cesc Fabregas and they could be spending close to 80 million this summer as well.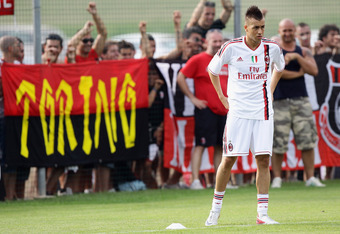 Vittorio Zunino Celotto/Getty Images
Liverpool, despite not being involved in European football next season, have been splashing the cash. Even the notoriously frugal Arsene Wenger has opened his purse to sign Gervinho.
And Chelsea and new boys to the Champions League, Manchester City, have yet to flex the full might of their benefactor's financial muscle.
So the question remains: how does Milan's mercato compare to what we have seen around Europe so far?  I, for one, believe that thus far, it has been quietly effective. While the signings made so far have not had the wow factor of some of the other clubs, I believe that they will shore up Milan's options for the coming campaign.
The free signings of Phillipe Mexes and Taye Taiwo should go some way to addressing issues Milan have had in recent years in the centre-back and left-back positions respectively.  Mexes has both Serie A and Champions League experiences, while Taiwo has bags of energy and a rasping shot coming in from the left flank.
Recent reports indicate that work is required on the defensive side of his game but look at what a revelation Ignazio Abate became last season after dedicated preparation with Mauro Tassotti and Max Allegri.  If they can do the same with Taiwo, Milan will have two effective attacking full backs in their ranks, something they have not had for the past few seasons.
Alberto Paloschi returns after a few seasons on loan and has shown glimpses that he can perhaps become as predatory around the box as the man he is expected to one day replace, Pippo Inzaghi. 
Say what you want about Inzaghi having no skill or ability to pick a pass, but if you need someone to convert a chance, there are few you would want more on the end of a through ball.  If Paloschi can be half as effective, Milan will have added a powerful weapon to their forward arsenal.
The enigma signing thus far is the Little Pharaoh, Stephan al Shaaraway.  I must confess to knowing little about his abilities, but the fact that Milan are willing to spend 10 million euros on an 18-year-old indicates that their scouts have seen some form of potential in him.
Finally, the much spoken of Mister X could be the final piece in what would be, should he arrive, a highly successful silly season for Milan.  Many names have been put forward as to who this elusive player is.  Ganso.  Hamsik.  Pastore.  Fabregas, etc. 
All the names mentioned would make great additions to Milan should they arrive, but Milan should not be breaking the bank to sign one of them, especially in light of the recent fines levied on Milan's holding company Fininvest.
With the Financial Fair Play rules soon to come into effect, Milan should not do anything that would create further debt if it can be avoided.  Even if the mysterious Mister X does not arrive, Milan have a squad that is capable of retaining Serie A and making it further in Europe than they have over the past four seasons.
They should continue doing what they have this season, which is shoring up their team in the areas required for minimum expenditure while only making that marquee signing if it is prudent.  They can think about building a team for the future quietly and within budget.
If the Financial Fair Play rules are rigidly enforced by UEFA, many of the top clubs could find themselves in trouble in the future.  Milan should avoid this at all costs.
So in conclusion, while not being as spectacular as some other clubs, Milan have had a very successful and shrewd silly season thus far.