Pittsburgh Steelers: Is Hines Ward a Sure-Fire Hall of Fame Wide Receiver?
July 15, 2011
Elsa/Getty Images
Hines Ward entered the NFL in 1998, though it wasn't immediately apparent that the Pittsburgh Steelers had just drafted the most productive wide receiver in their illustrious history.
In his first seasons out of Georgia, the former Bulldogs athlete (and quarterback) spent a lot of time watching the offense.  The Steelers felt they had a special athlete fall into their lap, and his flashes of brilliance made it easy for the coaches to give him roles on the team.
Behind that constant flash of perfectly white teeth was a tough-nosed football player, an asset not lost on the franchise who drafted him with the 31st pick of the third round.
With players like Courtney Hawkins and Charles Johnson leading the depth chart, it wasn't too long before the future elite saw playing time.  Raw talent allows coaches the luxury of flexibility, just as any Steelers coordinator who worked with Rod Woodson in the 90's is fully aware.  Ward played on special teams, averaging over 26 yards per kick return, and saw playing time in certain offensive formations.
His 109 catches for over 1,300 yards and 11 touchdowns over the course of two seasons included a plethora of immaculate snags, catches that had no business being owned by anything but Three Rivers Stadium astroturf.
In other words, while he wasn't the fastest or most agile athlete on the field, or even on his own offense, Hines was one of the most important elements of his position: a retriever at receiver. 
If it was in his vicinity, he would catch the ball.
From there, with the attention of his peers and coaches, Ward began to blossom in the early century, matching his 24-month total nearly every season from 2001-2004.
The humble receiver, whose Korean mother had sacrificed for her child's success, made his mom proud.  If the complete lack of an ACL is his knee wasn't going to stop him, what would?
Since his best seasons, the falloff of his statistics has been gradual.  Yet, Hines continues to be a reliable target for the championship Steelers of the Ben Roethlisberger regime, catching his annual 75-plus passes for 1,000 yards and a bit more than a handful of touchdowns. 
While his game-by-game statistics may not have appeared game-breaking, a look at the accumulated accomplishments Hines has achieved in the Steelers uniform are simply awe-inspiring.  
The heart of the Steelers Nation and the eye of the rational observer realizes that the optimistic man is a legendary pass catcher and a physical specimen, the Mickey Mouse tattoo on his arm serving the purpose of hiding his biceps' true identity of Popeye.
Few athletes are better equipped to have an all-around impact on their respective unit than Ward.  His ability to run the ball and throw the ball make him an ideal option for gadget plays, a Steelers trademark, and why not?  The team has been loaded with multi-talented individuals, most notably Ward and receiving partner Antwan Randle El.
Even more unique is his strength and ability to block.  Lost of many fans is the skill and technique that a player must dedicate himself to learning in order to become an effective blocker at any rank of football, sinner the NFL.  More than just the wide receiver that jacks up Ed Reed on Sundays, Hines has proven himself a dedicated member of an offense, not just an egocentric athlete crying for the football.
Hi, Keyshawn!
Ward is a student of the game.
For his great statistics and remarkable balance, most fans in Pittsburgh view the city sports icon as a sure-fire recipient of the coveted yellow jacket.  To those majority, he should be scribing a speech, prepared to accept a shiny bronze bust atop of his dancing medals and Super Bowl rings.
Yet, the question is not if Hines Ward should make the Hall of Fame.
It is whether or not the Steelers icon will make that select list of gridiron greatness.
While the football-savvy, complete with their coach's mind for decision-making and scout's eye for talent, recognize that a players' versatility is a sign of their capability, it's uncertain whether Hall of Fame voters will concentrate the body of his work down to the exclusivity that comes with hard quantitative data.
As much as we would all love Ward to get a fair shake for doing "all of the things blue-collar fans expect a receiver should do," many would argue that you can't measure a block or assign numbers to pancaking safeties.  Sadly, it's not the wonderful world of "Madden NFL," where attributes are rated numerically.
If you pull up Ward's statistics on Yahoo, NFL.com, or any tracking site, you'll see that he has the same number of calculated career blocks as any other NFL player: zero.
Voters will see a portfolio of catches, yards, and touchdowns, and placing the focus on these items will occur for two reasons: 1) quantitative analysis can be ranked and 2) the modern bias toward offensive fireworks.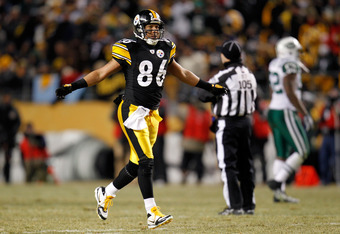 Gregory Shamus/Getty Images
Looking at the career statistics that Ward can claim, we essentially negate 40 percent of his value.  Not all voters are Steelers fans, and sadly, that means the formula for football isn't a winning one amongst many selectors.
Thus, don't count on Ward's toughness getting him in over any of his peers.
But, hey, he can dance!
Even with a number of his skills shelved, there is a strong case for fans to make regarding his deserved inclusion into Canton's football palace.
The first, and most obvious, argument made by fans is simple: the Steelers already have two Hall of Fame receivers in the Hall of Fame.  Presented against their career numbers, Ward's accomplishments seem to pop off of the screen:
| | | | |
| --- | --- | --- | --- |
|   | Hines Ward | Lynn Swann | John Stallworth |
| Receptions | 954 | 336 | 537 |
| Yards | 11,702 | 5,462 | 8,723 |
| Average Yards | 12.3 | 16.2 | 16.3 |
| Touchdowns | 83 | 51 | 63 |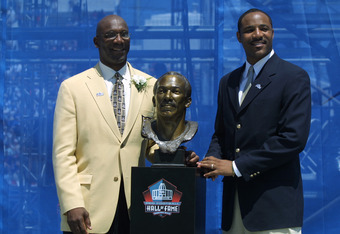 Rick Stewart/Getty Images
It is important to keep in mind, however, that the listed players caught footballs in very different NFL eras.  The differential of passing then and now isn't as exaggerated as many may think, as league rule changes (remember the Mel Blount Rule?) disallowed contact with receivers beyond five yards from the line of scrimmage.  Therefore, the Steelers, along with the rest of football, opened up their arsenal later in the decade.  Don't be fooled, though, as the franchise was still predominantly run-oriented.
As such, it's difficult to compare Ward against receivers outside of his own era, even if he is the team's all-time leader in receptions, yards, and touchdowns. 
Though still not entirely accurate, a more enticing comparison rests in Wards stats placed against the combined statistics of Bradshaw's dynamite duo.
| | | |
| --- | --- | --- |
|   | Hines Ward | Stallworth-Swann Cumulative |
| Receptions | 954 | 873 |
| Yards | 11,702 | 14,185 |
| Average Yards | 12.3 | 16.3 |
| Touchdowns | 83 | 114 |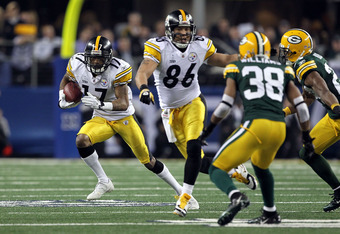 Al Bello/Getty Images
Both columns feature impressive numbers.  Ward's total catches eclipse the career marks of both greats, while the explosiveness of the 70's pairing in an era of change was clearly more dangerous.
Some would argue that Ward is a go-to receiver, but the true Hall-of-Fame players are play-makers, thus the differential in the results of Swann and Stally's fewer catches.
Others would say that Ward is willing to make the explosive, dynamic catches while demonstrating a better willingness to go over the middle and make the tougher catches for first downs, thus reducing his average.
Both sides could make fine points, neither being right or wrong. 
There are surprisingly only 21 receivers currently in the Hall of Fame. 
Optimists would argue that there is plenty of room for more.
The reality is that the honor seems a difficult pitch for wide receivers, for whatever reason.
Looking at current Hall of Fame members, their statistics vary wildly, ranging in the following categories:
300-1,500 catches; 5,000-22,000 yards; and 38-197 touchdowns.
Variations in eras can almost exclusively explain this different.  There is one consistent statistic that defines the members, the same numbers that Hines was defeated on by the former Steelers greats—yards per catch.
Every Hall of Fame receiver averaged 14 yards or better for every reception they made in the NFL.  This means that regardless of eras, every time that particular player touched the ball, the damage could be quantified to the degree of his yardage.  In this way, Hines is inferior to all current Canton comrades.
It could be for his style of play or a lack of speed, but regardless of the explanation, these are numbers that get noticed.
I did lie, however.
There is a notable exception to the rule who has had a career so similar to Ward's years in Pittsburgh that it is almost eerie.
| | | |
| --- | --- | --- |
|   | Hines Ward | Art Monk |
| Receptions | 954 | 940 |
| Yardage | 11,702 | 12,721 |
| Average Yards | 12.3 | 13.5 |
| Touchdowns | 83 | 68 |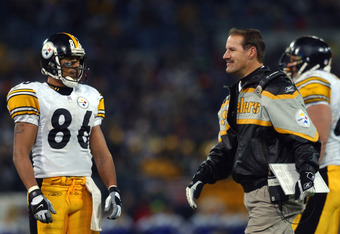 Doug Pensinger/Getty Images
The only elite member with less than 14 yards per reception, Monk played in 224 NFL games to Ward's 202.  This means that there is a member of the list that Ward will surpass with a very solid season in 2011. While Monk's average is still higher, it is not to any extreme degree, unlike other comparisons from the list.
Like Ward, Monk played with a great quarterback who was never mentioned in the best of his fraternity, on a classic team that has constant championship aspirations.
Like Monk, Ward is a Super Bowl champion.  Ward also has something that Art never achieved: a Super Bowl MVP.
Statistics do not lie, and that MVP combined with his championship hardware could be a major contributing factor for Ward.  He'll certainly have to overcome a few mathematical obstacles, and the bias of great blocking has nowhere near the influence of Super Bowl bias.
Ward's actual competition is not the current Canton residents.
It's the folks on the waiting list.
Other potential candidates could include Isaac Bruce, Terrell Owens, Tim Brown, Marvin Harrison, Cris Carter, Randy Moss, Andre Reed, Torry Holt and Jimmy Smith.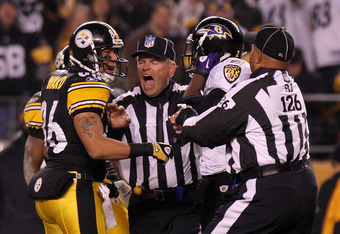 Nick Laham/Getty Images
All of these receivers have 12,200 yards or better and a high average yards.  Ward competes in receptions and, his saving grace, touchdowns.
Validity to the argument of Ward's style being a blend of dynamic play-making ability combined with a willingness to be "tougher than woodpecker lips" over the middle can be found with that last statistic.  For all of the trendiness seen with average, the mark of an explosive receiver, Ward's touchdown totals are greater than some of the talent ranking on the middle of that list.
Cris Carter boasted only a 12.6 average....but he boasted 1,100 receptions with nearly 14,000 yards and 130 touchdowns.
Carter, a finalist for the Hall of Fame this year, was not selected.  Unlike Ward, however, it's only a matter of time before he will enter Canton, along with other sure-fire selections: Tim Brown, Marvin Harrison, and...uck!...Terrell Owens and Randy Moss, unless attitude lends a grudge to the man with the deciding vote.
There are a number of angles to examine his candidacy, but the reality is simple:  voters will have to go against trend and pay a great deal of homage to the eyeball test, noticing Ward's ability to basically do it all at the position and then some.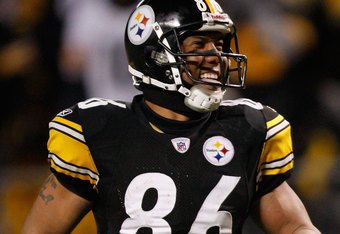 Jared Wickerham/Getty Images
Then, and only then, will he have a shot to make it.
Maybe somebody whose bones ache when its about to rain will someday have the pen in the hand and recall the time that Ward gave them an organic barometer.
On statistics alone, which is a natural measurement for those researching, he (to my chagrin) may very well not make it.
He has an opportunity this season to do a lot for his campaign.  He approaches 1,000 career receptions, placing him in the company of an elite few.  Likewise, if he can cap his tenure with another 800-yard season, he will surpass 12,500 yards.  If his body can last two more fall campaigns, 17 more touchdowns wouldn't hurt, bringing the total to 100. 
That, though, is an extreme long shot.  We have to get to football in 2011 first.
The real rough of it is that voters, often far too obsessed with the statistician's scorecards, will have to see beyond the numbers.  The great news is that Ward's personality and iconic status in one of football's championship markets may just be the impetus that persuades a few of the selectors. 
My opinion is that the balance of skills as a blocker, tackler and receiver showcased over his legendary career in one classic city make him Canton material.
But, is he a sure-fire lock in reality?
Absolutely not.  In fact, trends seem to show his chances are a hair less than a coin flip.
The odds are no better than 49 percent that we'll see a wide smile covering a bronze bust in Canton in the next decade or beyond.
Either way, Pittsburgh fans have gotten to enjoy the distinguished career of a Hall of Fame wide receiver, albeit in actuality or our reality.