NASCAR Nationwide Series: Blake Koch's Unique Link with Sponsor Daystar
July 13, 2011
Justin Edmonds/Getty Images
After virtually every sporting event involving sponsors—not just of the NASCAR variety—those interviewed usually take the time out to shill for those who "support" them. The short discussion usually ends with the athlete taking a gulp from an energy drink or a bottle of soda, making sure the label is front and center in camera view.
In the case of Blake Koch, however, the relationship with his sponsor, religious television network Daystar, is much more symbiotic. Daystar, according to its website, has a goal "to reach souls with the good news of Jesus Christ." Koch reaches those same souls with constant interaction with his fans via Facebook and Twitter.
"If people take the time out there to ask me a question or something, I should take the time to answer it," Koch said. "Fans are what runs the sport of NASCAR."
Koch, driver of the No. 81 McDonald Motorsports Dodge in the NASCAR Nationwide Series, credits Daystar for being supportive of his racing career—a relationship that goes back to the Camping World West Series (now K&N Pro West Series) in 2009.
"They've helped," Koch said. "They do all my public relations, schedule all my interviews and media. My trips to homeless shelters, they set all that up for me. They're really involved. They love what they do.
"Most of the time they send a video crew out of me speaking (to a church group or a homeless shelter) and they'll put together like a little short clip and post it all over the Internet, get people to see what we're doing off the track."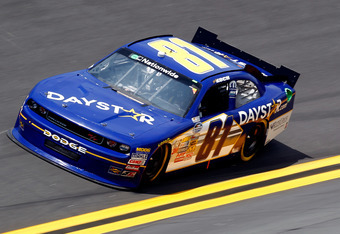 Jeff Zelevansky/Getty Images
From a business standpoint, the Daystar-Koch relationship—recently extended to a multi-year deal—is certainly one that is much-needed in today's world where young drivers have seen their careers die out due to a lack of funding. One may remember that Trevor Bayne lost his Nationwide ride due to a lack of sponsorship money at Michael Waltrip Racing last fall, but an agreement with Roush Fenway Racing shortly thereafter effectively saved his career.
"It's a miracle that Daystar came back on board this year, let alone for multiple years," Koch said. "Back in 2009, I appeared on a show called Celebration...after the show the director of marketing asked me they could be on my race car. That doesn't happen very often. The following year, they signed on the primary sponsor in the K&N Pro Series.
"We had to convince them that the Nationwide Series is when you'll really see (exposure), because not that many people watch the (K&N Pro Series). For some reason, they pulled out of sponsorship for 2011. After the Daytona 500, the Lamb family (owners of Daystar) said that they wanted to try and work something out for me to race and get back on the track." 
On the track, Koch cracked the top 20 in Nationwide Series points after a 22nd-place finish at Kentucky Speedway last weekend. After missing the season opener at Daytona in February and Las Vegas in March, Koch has managed to close the gap between himself and leader Timmy Hill to 16 points in the Sunoco Rookie of the Year Standings.
Koch competed in his 16th race of 2011 last weekend—essentially putting himself on an even playing field with Hill for the rest of the season, as the top 16 finishes are taken into account for the Rookie of the Year award.
"I definitely want to win it this time," Koch said. "It's important to me and my sponsors that I win it this year. It's definitely in reach."
Ryan Papaserge is a Featured Columnist for Bleacher Report. All quotes were obtained via first-hand interview.