WWE Money in the Bank 2011: Now Is the Perfect Time for a Double-Turn
July 17, 2011
Tonight, we'll encounter the 2011 Money in the Bank pay-per-view, and I don't think the hype has ever been this high for a pay-per-view since last year's WrestleMania.
This year's pay-per-view will include two exciting Money in the Bank ladder matches, a grudge match between The Big Show and Mark Henry, a World Heavyweight Championship match that could be Christian's last opportunity to capture the gold and lastly, perhaps the most important match of the night, CM Punk versus John Cena for the WWE Championship.
Now many of us have come up with a number of different scenarios predicting what will go down during the main-event match between Cena and Punk, but I have a scenario that will probably boost ratings higher then ever before and make tomorrow one of the most memorable nights in WWE history.
After a 15-minute long back-and-forth match, CM Punk shocks the WWE Universe by pinning John Cena clean to win the WWE Championship.
He then gets on the mic and he tells the fans that he was bluffing the whole time and that he's ready to re-sign with the company.
CM Punk then celebrates with his hometown crowd and the WWE Championship before leaving the arena.
As Cena makes his way to the back, a loud obnoxious CM Punk fan (actor hired by the WWE) tells Cena that he sucks and then points his middle finger at Cena.
Cena then looks at him, smiles, and pulls him out of the barricade and gives him an Attitude Adjustment on the bare mat and then puts him in the STF until the fan passes out from the pain.
Cena gets on the mic and says, "Do you see what you've all turned me into?!"
For weeks after that he would cut promos claiming that he's given the WWE fans everything he could, and that he deserves their respect, but sadly they don't respect him.
This would lead to a whole new bad-ass persona for Cena that WWE fans finally respect and admire.
He would be a tweener, so this way, he would do whatever the f*ck he wanted whenever the f*ck he wanted and his matches wouldn't be as predictable anymore.
He could even debut a new move-set and prove to everyone that he's a good wrestler.
As for CM Punk, he would disband The New Nexus and go on to feud with the likes of Alberto Del Rio and R-Truth for the WWE Championship.
Despite being a babyface, CM Punk would still speak his mind on what his opinion is during his promos and for that, the fans wouldn't get tired of seeing him as champ.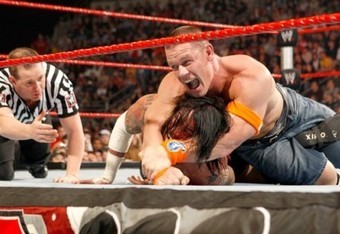 Cena could finally win back the strap at Elimination Chamber 2011 and then go on to defend the WWE Championship against The Rock, where he'll receive a mixed reaction rather then all boos thanks to his bad-ass persona.
In my opinion, this scenario would benefit the WWE the most.
WWE would sell tons of CM Punk merchandise and John Cena merchandise.
TV ratings would be extremely high since the fans wouldn't have to see Super-Cena every week.
Oh yeah, and the fans would finally respect the new bad-ass version of John Cena and he would actually be cheered by older WWE fans.
I know it's kind of a far-fetched scenario and all but as we've seen in the past, in the WWE, anything's possible!