Tour De France: Peyton Manning Crashes Through Barbed Wire Fence and Returns...
July 11, 2011
We always think of football as a dangerous sport, but cycling can be brutal too.
In a recent Tour de France crash, Alexander Vinokourav (Astana) broke his femur, Jurgen Vanden Brouck (Farma-Lotto) fractured his scapula and Dave Zabriski (Garmin-Cervelo) broke his wrist.
The most amazing thing to see was Johnny Hoogerland (Vacansoliel-DCM) and Juan Antonio Flecha (SKY) continue on after being taken out by a TV camera car only 20 miles from the finish of a spectacular stage that both were in contention to win.
A couple hours later I came across this on my Twitter account:
"If Peyton Manning crashed onto a barbed wire fence and returned to a game, you'd never hear the end of it for the rest of your life" - @jasonWS (Jason Gay - Wall Street Journal)
Peyton Manning did not crash through a barbed wire fence going over 30 mph yesterday, and the chances are he will never do that in a game.
I know he has to stare down 300 pound, 4.55-forty-running defensive ends who would like nothing better than to put him on the bench. But Peyton Manning is wearing the best equipment available today to stop those hits from ending his career. Besides, can defensive players REALLY hit a QB anymore?
Yeah that's what I thought...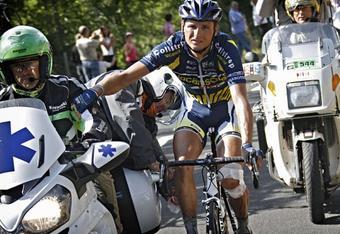 Unlike Peyton, Johnny Hoogerland actually went through a barbed wire fence yesterday at over 35 mph, when an impatient TV Network driver attempted to pass a 5 man breakaway during the Tour de France. I'm sure most of you saw this on SportsCenter 800 times, or on the Internet. Not only did the driver take out Hoogerland, but also Juan Antonio Flecha, one of the best riders in the world.
Both of these riders were looking for a stage win at the Tour, and both, despite being bloodied and needing stitches, got back on their bikes and continued their race. For that they were awarded the "most combative rider award" (this has never been awarded to two riders in the same day).
Hoogerland had been on a fantastic run and looked to be the front-runner for the Climbers classification award, and had just taken the jersey back from American Tejay Van Garderen with points taken over the earlier portion of the race.
Cycling is a dangerous sport
Many people think cyclists are not real athletes because they do not play a sport with a ball, or a stick, or even a standard field/court/rink. They wear colorful uniforms called "kits" and look like they have been starved for most of their lives, except for their legs. Cycling is not a sport most of us grew up with, so it is foreign, much like Soccer to many Americans over 35 years old.
Unlike the NFL, which has never had a player die on the field, cycling has lost 10 professional cyclists in the past decade. Wauter Weylandt recently died in the Giro d Italia.
And those are just the deaths.  In the Tour of Switzerland during a descent in stage 6, former Tour de France Climbers Classification Champion Juan Soler crashed and spent several weeks in a coma, and has been hospitalized with serious brain trauma since.
While the NFL has a player paralyzed about once a decade, cycling on average loses 10 times that to fatal crashes in the same time. That doesn't even take into account the number of racers killed during training.
Professionals regularly reach speeds of 50-60 mph while descending steep mountain passes, within inches of the riders around them. 
The guys who usually descend the fastest are the sprinters. Normally heavier, and more solidly built than the stick thin climbing specialists, (think wide receivers and Defensive Ends in size comparison) sprinters use their weight advantage to catch the group when going downhill.
This can cause some of the big group finishes that have the most spectacular crashes at speeds of over 40 mph. 
Unlike professional football players, the only protection they wear is a 6 ounce foam helmet to protect their head.  Those helmets amazingly do an incredible job of preventing even more deaths.
So, am I trying to say Cyclists are tougher than football players? No.
However, what Jason Gay said on his tweet was absolutely true, if yesterdays' incident had involved Peyton Manning, we would never hear the end of it...ever.