Texas Rangers Fan Dies While Catching Ball for Son
July 9, 2011
Ronald Martinez/Getty Images
July 7, 2011 was supposed to be just another day at Rangers Ballpark for Shannon Stone and his son, Cooper.
Sadly, it turned tragic after a good gesture accidentally turned bad.
In the second inning of Thursday's game between the Texas Rangers and the Oakland Athletics, Rangers outfielder Josh Hamilton tossed a foul ball to Stone. As Stone reached out to catch the ball, he lost his balance on the railing and fell 20 feet to the ground.
Nearly an hour later, the firefighter from Brownwood, Texas was pronounced dead at the age of 39.
 "We had a very tragic accident tonight and for one of our fans lost their life reaching over trying to get a ball," Rangers team president Nolan Ryan said Thursday. "As an organization, and as our team members and our staff, we're very heavy-hearted about this, and our thoughts and prayers go out to the family."
Words cannot explain how the younger Stone feels right now.
Like most of us during our youth, going to a sporting event is an opportunity to bond with your father, uncle, grandfather, or any other family member. While doing so, you may get a chance to come away with a souvenir, in hopes of getting it signed by your favorite player.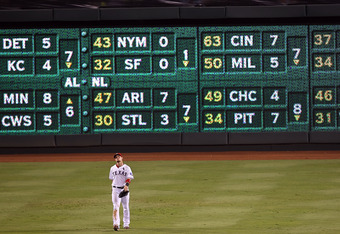 Ronald Martinez/Getty Images
I remember going to Fair Grounds Field as a kid to watch the Shreveport Captains play baseball.
The Captains were the Double-A affiliate of the San Francisco Giants, and the team was filled with players working hard trying to make the big leagues. Players such as Rich Aurilia, Chris Singleton, Joe Nathan and others played for Shreveport en route to having successful careers in Major League Baseball.
I remember getting signatures from the players once (sadly, I do not have the signature-filled card anymore) along with trying to catch a few foul balls with my glove in various games.
Sometimes I was successful, sometimes I was not, but it was all fun nevertheless.
For Cooper, this was that moment that he could cherish for life. Sadly, seeing his dad die is something that might take a while, if even at all, to get over with.
Another person that I cannot imagine how he is feeling is Hamilton.
The Rangers offered to let Hamilton regroup and take some time off on Friday, but Hamilton insisted on playing.
"There's nothing that would benefit me from not being out there playing and trying to help these guys," Hamilton said before Friday's game. "I've talked with Wash (Rangers manager Ron Washington). I've talked with (first base coach) Gary Pettis about if I feel like I need some time, I'll take some time."
The Rangers and Major League Baseball have set up a memorial fund in the honor of Stone and you can make a donation here.
My thoughts and prayers go out to the Stone family and to Josh Hamilton during this time of grief.