Seattle Mariners: Why the Future Looks Very Promising for the Mariners
July 11, 2011
Ezra Shaw/Getty Images
This team was going to be a bottom-dweller in MLB in 2011. They had no offense to compete with anyone (and still don't), but at the halfway point of the season the Seattle Mariners are only five games under .500 and 7.5 games behind the Texas Rangers and Los Angeles Angels.
The offense is still struggling mightily, but the best pitching staff in MLB is carrying them to wins left and right.
Another focal point of the Mariners is how many rookies have played their first game this MLB season.
The first was pitcher Michael Pineda. Pineda is 8-5 with an ERA of 2.58 and 106 strikeouts and only 34 walks. 
Pineda is only 22 years old and looks to have a promising career ahead of him. His 6'7", 260-pound frame will be very helpful in the future to stay healthy. 
The next rookie to start was Carlos Peguero. Peguero has struggled but I think has showed potential with his powerful swing.
Even though Peguero is batting below .200 and has only six home runs and 19 RBI, I feel as he gets more selective at the plate and tightens up his swing a bit, he can be a very powerful threat, especially if he plays DH.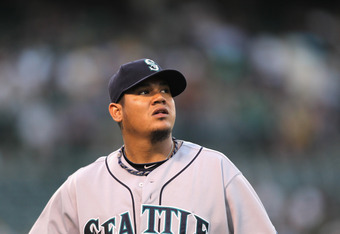 Ezra Shaw/Getty Images
Another rookie to make his start this season was the Mariners' most heralded phenom since Ken Griffey Jr., Dustin Ackley. 
Ackley has been very impressive about 15 to 20 games into his MLB career. He has a .298 batting average and has showed some very solid power.
What really makes Ackley a phenomenal player is all the little things he does. He runs bases well, hasn't created an error yet and is very patient at the plate.
Ackley will be a great player for years to come.
The next rookie to start was pitcher Blake Beavan. The 6'7" Beavan threw seven solid innings against the San Diego Padres and in his second start allowed two earned runs in six innings against the Los Angeles Angels. 
If Beavan can continue to mature over the next few years, he could become part of the best future rotation in baseball.
Finally, the last rookie to make his debut this year is third baseman Kyle Seager. He was Ackley's teammate in college at the University of North Carolina and sort of resembled Ackley in his hitting approach. 
Seager is not much of a power hitter but makes contact and has a solid approach at the plate, which could make him a good player in the future.
The future does not stop there though. Felix Hernandez and Michael Pineda are both All-Star-caliber pitchers that are should be with the Mariners for years to come.
Other pieces are outfielder Greg Halman, who is a freak athlete and just needs to develop his swing a bit more but could be dangerous in years to come.
Justin Smoak is a powerful first baseman who should provide some pop in the Mariners lineup.
There are also other pieces that are developing nicely in the farm system for the Mariners.
As these current Mariners are making strides this year, they should be making even larger strides in the future with all the young talent they have.