Kansas City Chiefs Free Agency: How to Best Build the Slot Receiver Position
July 7, 2011
Christian Petersen/Getty Images
To be simple and to the point, the Kansas City Chiefs need a slot receiver. There is just no way around it. After adding Pitt's Jonathan Baldwin in the first round of the 2011 NFL draft to complement Pro-Bowl receiver Dwayne Bowe, the Chiefs' receiving corp is beginning to come together.
However, the receiving corp will remain a work in progress until the Chiefs are able to add a legitimate threat at the slot position.
Now I know some of you out there are saying, "Wasn't Dexter McCluster drafted in 2010 to play the slot receiver position?" The simple answer to that question is, yes—McCluster was indeed drafted to play the slot for the Chiefs. However, after an injury-plagued 2010 season which saw McCluster only produce 21 catches for 209 yards, the Chiefs need to look for a better option.
Head coach Todd Haley was quoted by Bob Gretz after the 2010 season ended, saying that the Chiefs are going to use McCluster more out of the backfield (see the article here). My thought, along with many others, is that Haley is contemplating making McCluster the Chiefs' third-down back.   
"It's really a role that is closer to what he was doing at Mississippi," Haley said at the 2011 NFL combine. "I think it will give him more chances of break off some big plays."
Now whether or not that means McCluster will play wide receiver on the first two downs and switch to running back on third down is yet to be seen. However, if that is the plan, I say it is a bad idea. The Chiefs need a legitimate wide receiver in the slot position that can run crisp routes and easily find the opening in the middle of the defense.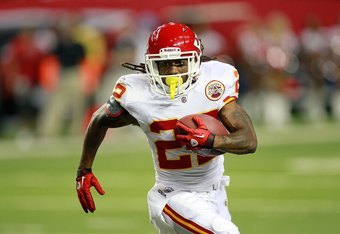 Kevin C. Cox/Getty Images
McCluster is not that type of player and, more importantly, is not that good of a route runner yet. McCluster is best out of the backfield when he is sent out on flare routes and screen passes. This way, McCluster gets the ball in the open field and has room to run and make moves. 
McCluster is one of the weapons on offense that Chiefs fans can expect big things from—and deservedly so, based on his explosiveness. However, let's not forget how quickly that explosiveness disappeared after his ankle injury last year. McCluster is a very small player by NFL standards, and regardless of his explosiveness, the Chiefs should protect him.
The best way to protect McCluster would be to make him a change-of-pace player and third-down back. Notice I did not say change-of-pace back, I said change-of-pace player—meaning he could still line up as a wide receiver, even in the slot position, but it would not be every down. I see McCluster being most effective playing the same type of role as San Diego Chargers running back Darren Sproles.
So now that we know where McCluster should fall into the offensive mix, let's get back to the issue at hand—filling the slot receiver position. Assuming a new collective bargaining agreement is reached and the league does not go back to the free-agency rules that were in place last season, the expected group of free-agent wide receivers should be deep.
Near the top of that free-agent wide receiver class will be Steve Breaston. Breaston had a breakout season in 2008, under then offensive coordinator Todd Haley, when he caught 77 balls for 1,003 yards and three scores for the Arizona Cardinals. 
Jamie Squire/Getty Images
Breaston has not done much in Arizona the last two seasons, but outside of Larry Fitzgerald, no wide receiver is going to perform well with the likes of Matt Leinart and Max Hall passing the ball. Breaston's lack of production the last two seasons could also be a blessing in disguise, as he will not be able to pull the same salary as he would have been able to after the 2008 season.
The Chiefs should have plenty of room under the salary cap to go after Breaston. In fact, it is expected that the new collective bargaining agreement will put in place a salary floor. That salary floor is expected to be somewhere close to 90 percent of the salary cap, meaning the Chiefs will have to spend money this season, unlike in 2010. That extra money would be well spent if the Chiefs used it to sign Breaston.
Not only would Breaston be a reliable slot receiver for the Chiefs, but he could also potentially start in 2011, if needed. Due to the lockout, Baldwin is experiencing an abbreviated rookie offseason, which will leave him with very limited experience with Haley and the offense. Breaston could step in with his experience in Haley's offense and give Baldwin time to watch and develop.
With McCluster expected to get more touches at running back in 2011, we can safely assume that he will get limited snaps at wide receiver—the Chiefs need a guy, not named Jerheme Urban or Terrance Copper, to fill that role on a consistent basis. Breaston is young, should be reasonably priced and has a proven track record as a slot receiver in a Todd Haley-run offense.
In 2010, Matt Cassel threw 27 touchdowns and led the Chiefs to the playoffs with one legitimate wide receiver (Bowe), a rookie tight-end (Tony Moeki) and a phenomenal season from Jamaal Charles. With a receiving corp of Bowe, Baldwin and Breaston (the Big Three B's), and play-makers like Charles and McCluster, Cassel should have no problem improving on his stats from last year and leading the Chiefs back to the playoffs.