Dan Snyder: Washington D.C.'s Greatest Villian or Misunderstood Owner?
July 7, 2011
Doug Pensinger/Getty Images
Don't worry, loyal reader, I'm not about to write an article praising Washington Redskins owner Daniel Snyder.  Much like the rest of you, his player and personal moves have boggled my mind and have had me screaming at my television.
Shoot, I still haven't forgiven him for the whole Jeff George signing and the unceremoniously booting of quarterback Brad Johnson.
Like many of you, I've been frustrated with the Redskins owner for the 10-plus years he's owned the team, but at the same time, I don't vilify him for the player moves he's made (suing fans and newspapers are a different story though).
The reason why I won't vilify Snyder for the players and coaches he's brought in (Jim Zorn being the exception) is because Snyder made those move because he thought they would improve the team.
Was bringing in a past-their-prime Deion Sanders, Bruce Smith and Jeff George a smart move?
No, it certainly wasn't, but Snyder honestly thought that these players would improve this team.
I know it's hard to remember, but in 1999 this franchise won the NFC East.  They didn't win it in the prettiest of fashions, but when you win the division title in the toughest division in the NFL you get the sense that you are truly one or two players away from getting to the Super Bowl.
Snyder took that notion and like George Steinbrenner he opened up his checkbook and started buying every star he could.
Unfortunately, the NFL is not Major League Baseball and there is a salary cap.  A cap that the Redskins have been at the ceiling now for many years with little to show for it in the win column.
However, each offseason Snyder would scratch the previous plan, move on to the next one and bring in a new boat of stars.
Snyder was playing fantasy football with the Redskins while trying to sell the most jerseys, as well.
What he failed to realize then (and some may say he hasn't learned it yet) that is with the right coach and the right players (stars not always needed) you can have a winner on your hands and the jerseys will sell themselves.
For instance do you think think anyone was shelling out a dime in 2000 for a Tom Brady jersey?
Heck no, people weren't even interested in paying a nickle for his rookie card.
However, the sixth-round pick out of Michigan was in the right system in New England to showcase his talents and abilities and the quarterback that almost no one wanted is now an NFL superstar and is married to a model.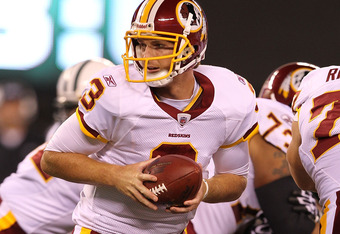 Al Bello/Getty Images
Right now it's looking like the Redskins' opening day starter could be John Beck, and honestly, I'm okay with that.
Not because I have some sort of delusion that Beck is going to be the next Brady or that I think Beck gives the Redskins a better chance to win than Donovan McNabb.
It's because Beck isn't Brady or McNabb is why I'm okay with him being the starter.
It shows that Snyder may have learned from past mistakes and is trusting his coach when it comes to his players.
Had he done that with Marty Schottenheimer, Redskin history for the past decade would have been a lot different and probably more pleasant to look at.
I'm not going to say Super Bowl, but if you look at the turn around Marty did in San Diego and the fact it took him no time to get the Bolts from 1-15 to 14-2 in a much tougher AFC than who knows how far the Redskins could have gone with him.
However, that's the past, let's look to the future.
Frankly I want to be optimistic about this year's team, but honestly when you look at them on paper it's hard to get excited, but again that also means that Snyder isn't importing a bunch of overpriced stars either, and that is reason enough to be excited.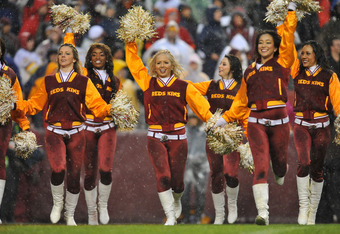 Larry French/Getty Images
I think this team will fare better than what most people expect of them, but probably not by much.  I'll be happy if they go 3-3 in the division (especially if they beat Dallas).
However, everything aside, Snyder wants the Redskins to win and he's willing to do whatever it takes to make that happen.
Sure, he's done several boneheaded things in and out of football to anger folks, but there are plenty of other owners out there who are way worse than him and do a lot less to nothing to improve their football teams.
Snyder has yet to earn our praise as an NFL owner, but at the same time we live in Washington D.C., between the lawyers, politicians and lobbyists there are a lot more people we could vilify over the owner of the Washington Redskins.