Rafael Nadal Will Come Back to Dethrone Novak Djokovic Next Year
July 7, 2011
Julian Finney/Getty Images
Rafael Nadal, winner of four of the last six Grand Slam titles, is World No. 2 today.
Strange though it might seem, this player who is known for his warrior-like qualities and near-invincibility in finals, has been losing to one man in the finals.
When he lost at Indian Wells and Miami Masters to Serbian Novak Djokovic, we said, oh well wait til the clay season starts.
The clay season came and the Spaniard lost again in the finals of the Madrid and Rome Masters to the same Serb.
Rafael Nadal, the king of clay, seemed in danger of losing his crown. For the first time since 2005, the Spaniard entered Roland Garros not as the overwhelming favorite.
His struggles in the early rounds seemed to indicate that he had indeed become vulnerable. Was it because his confidence had been dented by Djokovic or was it because he was carrying some secret injury?
All were eagerly waiting to see whether Djokovic could beard the lion in his den.
But Djokovic was knocked out in the semifinal by Roger Federer, who in turn was vanquished by Nadal in the final.
The Spaniard won the Roland Garros crown for a record-tying sixth time and order seemed to be restored in the clay Universe.
Suddenly Djokovic dropped out of the conversation entirely.
Wimbledon was all about Nadal and Federer.
Nadal seemed more relaxed, was playing very well and despite a foot injury reached the final in ominous form after a masterlful display against Andy Murray in the semifinal.
Federer was knocked out in the quarterfinals by Jo-Wilfried Tsonga.
Djokovic went on to win his semifinal match against Tsonga to reach the Wimbledon final for the first time.
Once again people remembered how good Nadal was in finals especially in grand slam finals. It was one thing to beat Nadal in best of three. Could Djokovic beat him in best of five and at Wimbledon, which wasn't his best surface?
Nadal was a two-time champion and had reached the Wimbledon final for the fifth consecutive time.
Djokovic had never before been in a Wimbledon final.
But once again it was the Spaniard who blinked and Djokovic won his first Wimbledon title thus legitimizing his ascent to no. 1 which had already taken place when he had defeated Tsonga in the semifinal.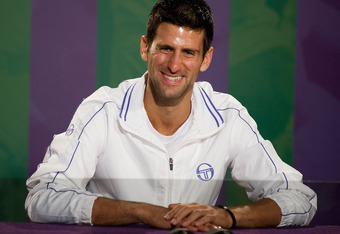 Pool/Getty Images
It is clear Djokovic is in Nadal's head. The invincible Spaniard is very much vincible when he sees the Serb across the net.
Djokovic is No. 1 now and unless something really unexpected happens to him, it is highly unlikely that anyone can now prevent his coronation at the end of the year.
The only one close to him in points is Nadal who has more to defend than Djokovic.
Considering that Nadal is now entering the last part of the season when traditionally he is not at his best, the chances of him overtaking Djokovic are remote.
It is tempting to compare Nadal with Borg and wonder whether the Spaniard could now be thinking of premature retirement after losing heartbreakingly to the same man in five consecutive finals.
But Nadal hasn't seemed crushed by his latest defeat. He has acknowledged he was not sufficiently calm to exploit the opportunities or stay mentally strong to prevent Djokovic from upending him.
In this connection we may recall that Nadal had said last year he was playing, even at the beginning of the season, at the same high level which later won him three Masters and three Grand Slams but he just could not win earlier because he lacked the "calm" after a disastrous 2009.
Clearly his defeats by Djokovic in the Indian Wells and Miami Masters had prevented him from having that "calm" which is so necessary for him to win.
From his press conference after his defeat, one could sense that he was determined to overcome these mental frailties and focus on winning again.
Looking at his long-battling record, it is safe to predict that he will not go quietly into the night.
He may not be able to wrest his No. 1 crown this year even if he wins the US Open.
But he will start next season with a bang and will have much fewer points to defend. This will give him an advantage over Djokovic who will be in the high-pressure position where Nadal has found himself this year after his extraordinary run last season.
Djokovic is having a great run this year just as Nadal had last year.
As Nadal said, it is hard to keep up the extraordinary level for a long period and so he will bide his time and keep trying til the tide finally turns in his favor.
But Nadal isn't counting on Djokovic's level dropping. Knowing him as we do, he will go to practice to learn new skills to defeat his latest bete noire.