Chicago White Sox: At What Point Is It Time to Give Up on Brent Morel?
July 6, 2011
Jonathan Daniel/Getty Images
It's a horrendous black hole. A mere spec on the radar of any opposing pitcher when looking at the scouting report of the Chicago White Sox offense.
A spot slowly becoming meaningless to the White Sox.
There are multiple spots in the White Sox order that fit the above description, but today's topic of offensive struggles is Brent Morel.
In 206 at-bats, Morel is hitting .252 with one home run, 15 RBI, 18 runs and two stolen bases in four attempts. He has walked three times (.269 on-base percentage) and struck out 26 times.
There are 40 third basemen in baseball with more home runs than Morel.
There are 34 third basemen with more RBI than Morel.
There are 29 third basemen with more runs than Morel.
The good news is, he is only 24 years old. The bad news is, with Adam Dunn, Alex Rios and Juan Pierre being completely worthless, the White Sox cannot afford another black hole in the lineup.
The dream before the season was that Morel would be a mediocre hitter, which would not be a factor because the team would get big production from at least Dunn, Rios and Paul Konerko. Solid production would come from Alexei Ramirez and Carlos Quentin, mixed with a fool's hope that Gordon Beckham would turn things around.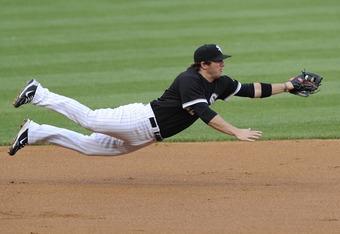 David Banks/Getty Images
Regardless of what Morel did in the lineup, which figured to not need him to do anything special, he'd make up for it with his glove. 
Well, Rios and Dunn are awful, Konerko, Quentin, Ramirez and A.J. Pierzysnki have gone above expectations to keep the team at mediocrity, and Beckham is showing everyone in Chicago that you must give a player time before crowning him the next Messiah, no matter how much you like him.
Chicago Cub fans, look no further than across town at Beckham for proof you shouldn't bow to Starlin Castro too quickly and should keep an open mind to trades for him. Remember when White Sox fans nearly set the city on fire when rumors of a trade involving Beckham for Adrian Gonzalez began to surface?
Oh, if only.
I digress.
With the black holes of Rios, Dunn and Pierre, the White Sox can't afford another with Morel. He has lived up to his side of the deal of late, moving his UZR at third base from plus-1.3 to plus-2.9 in his last 94 innings, good enough for seventh best zone rating in baseball at the hot corner, but one home run and a .262 OBP is not going to cut it, unless you're the best third baseman in the game.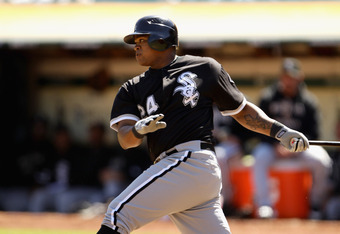 Ezra Shaw/Getty Images
Morel's bat is becoming more and more of a liability, especially because of the fact his teammates are, for the most part, not performing to expectations.
Morel most likely won't be moving, however, with Mark Teahen and Omar Vizquel being inept at third base (plus-0.6 UZR in 128 innings and minus-2.8 in 121 innings at third base, respectively) and hitting .252 with two home runs, 15 RBI, 22 runs and one stolen base put together, along with the fact Dayan Viciedo is playing right field in AAA.
However, with Viciedo hitting .322 with 15 home runs, 59 RBI and an OBP of .362 in Charlotte, the White Sox could sacrifice Morel's glove for Viciedo's bat, due to the obsession Ozzie Guillen and Kenny Williams have for Pierre.
Either Morel has to make his offensive numbers more respectable or he has to cure Dunn and Rios because Viciedo is coming...at least, he should be coming.
Williams may be working on getting Ken Griffey Jr. or Roberto Alomar out of retirement instead of bringing up Viciedo.