UFC 132 Fight Card Results: Why I Owe Tito Ortiz an Apology
July 3, 2011
Ethan Miller/Getty Images
UFC 132 is going to be remembered as a night of unlikely upsets. Underdogs Jeff Hougland (plus-170), Raphael Dos Anjos (plus-210), Carlos Conduit (plus-101), Chris Leben (plus-185) and Tito Ortiz (plus-525) all beat the odds and took their turn shocking the Vegas crowd in what will always, for me at least, be remembered as the Great Bath of UFC 132.
After a brutal night of watching my picks fall one after another I was finally relieved to see the Tito Ortiz vs. Ryan Bader fight about to get underway. One of the main reasons I was anticipating UFC 132 so much was to finally get to see the end of Ortiz.
I figured the sight of watching Ortiz getting out-worked and beaten down one last time would help ease the pain I was in after watching all the action I had on George Sotiropoulos vanish with one right hook.
Just about everyone was tired of seeing Tito in the Octagon. Even Dana White got tired of it and decided he would end all this Tito nonsense by putting him in against one of the young studs of the division. And then after UFC 132 was over Tito was going to fade away, maybe resurfacing on a Bellator card someday.
But like most of the UFC 132 fight card, probability took the night off, and Tito shocked the world with a perfectly placed short right hand to Bader's chin followed by a guillotine choke finish. The MGM Grand Grand Arena exploded when Bader tapped to give Tito his first win since 2006.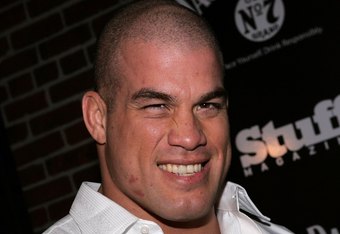 Paul Hawthorne/Getty Images
When it happened I was shocked, but I was also surprised to discover that I was feeling something that I hadn't felt in a long time. I actually felt happy for Ortiz.
I knew that I was watching the fight so I could finally say goodbye to a fighter that should have retired a long time ago. Tito had become that old guy at the nightclub that's too old to fit into the crowd, yet keeps showing up every Saturday night for more rejection and abuse.
But all that has changed now. You can bet that Tito is going to ride this win for all it's worth and that we will likely see him in the Octagon again very soon. Against who remains to be seen, Ortiz vs. Evans II would sell a pay-per-view or two I think, but it doesn't matter who it is, people want to see Tito again.
So now that he's beaten one of the top ranked guys in the light heavyweight division, and has put himself back on the contender map, I have to apologize for everything I've been saying about him for the last four years.
I'm sorry, Tito, that I said that you were an un-evolved fighter who hadn't improved in years. I'm sorry I said that the only people that you could still "punish" were MMA fans that were trying to watch interesting fights. And I'm even sorry for not giving you credit of the good performances that you had against Lyoto Machida, Rashad Evans and Forrest Griffin.
It looks like Tito was right all along. And it seems that he can compete with the best light heavyweights in the world. I'm forced to give Tito the benefit of the doubt now, and I'm going to keep an open mind about the outcome of his next fight, as long as it's not against Jon Jones.
I believe now that Tito deserves more credit than I've been giving him over the last few years. He's done almost everything there is to do in this sport, and he's been doing it longer than anyone else. Ortiz has evolved over the past five years, but that evolution seems to have taken place between his ears more than the Octagon.
I never thought I would say it, but I'm happy for Ortiz. Even if he never wins another fight in the Octagon again he showed everyone that he still had something left when we all thought he was done. And I bet that's worth more to him than the UFC belt will ever be.