2011 MLB Draft: Prospect Robert Gsellman Looking To Shine for the New York Mets
June 30, 2011
Los Angeles athlete Robert Gsellman was the 13th round draft pick for the New York Mets.
Together, Robert and I grew up on a lawn in a suburban neighborhood in Los Angeles, spending our afternoons playing pick-up baseball, and spending our evenings nursing fake ankle injuries that I theatrically enhanced as an excuse to head home because I was tired of being utterly upstaged in whiffle-ball by my supremely more talented next-door neighbor.
Last month, that same neighbor was picked in the 13th round of the MLB draft. And last weekend, he signed his contract to fulfill my father's 10-year prophecy: one day, that little Yankees fan would play for our beloved New York Mets.
On that beloved lawn, his mother, Trish, would make us lemonade and his father, Bob, would critique our swings. Bob, who stands at over 6'4" himself, was a former professional ballplayer in the Phillies organization, where he wore no. 44, and passed along the baseball gene to his gifted son, Robert Gsellman.
As we played Little League here in Westchester, Los Angeles, Robert and I were on the same team together for many years. His quirks, such as an incident when he forgot his socks in the washer at home and wasn't able to pitch for our Little League team, and his memorable smile made the soft-spoken player a favorite of all that were given the fortune of watching him play.
Always a more natural athlete than I was, he was also blessed with a humble attitude—which many of the players in our league lacked—and a passionate drive for success.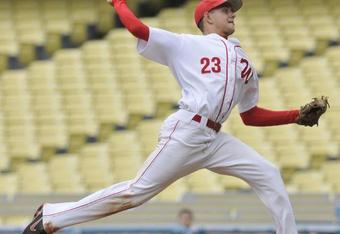 In elementary school, Robert was a three-sport athlete that ran up the court at the YMCA in basketball, dominated the diamond in baseball and tore up the field in soccer. Of course, I'll always remember the three goals that I scored in my soccer career. They all came in one game; a hat trick. They were also all assisted by Robert.
Around eighth grade, Robert and I both went on to the next level of competitive baseball: Babe Ruth. It would be my final season as a player; it would be the first of many seasons at a higher level of success for Robert.
He grew out his hair and began to develop into an actually imposing pitcher. In high school, Robert finally grew into the sheer physical size that he had expected to. With pictures on my wall from when I was slightly taller than he was, Robert's 6'4" frame now absolutely dwarfs my 5'10".
Robert attended Westchester High School (known for their dominant athletic programs that produced NBA athletes such as Trevor Ariza and Amir Johnson, as well as being the home of Domo Genesis from hip-hop collective Odd Future), and by his sophomore year he was playing for their varsity baseball team.
For Robert, however, there was much more on his mind. Right before his 16th birthday in July, his mother Trisha, 43, was diagnosed with breast cancer. During his baseball games, she had to stay home.
At home, things did not look bright. Trisha—who had once been the loudest parent at all of Robert's games and was the mom that provided the best and most genuine encouragement for his teammates—faced a rough road. Filled with more love than anyone I'd ever met in my entire life, her cancer began to spread. By April 4th, 2009, she had passed away.
That night, all of the kids from our block sat on Robert's front lawn and talked about life. Whether it was a distraction for us and for Robert, the core truth was that what we really felt that night was the pure human compassion of love. We knew what this had meant for Robert. But he and his family handled the situation with more poise than anything imaginable.
On April 17th, the afternoon that Trisha's ashes were scattered into the ocean, Robert elected to play ball because he knew that's what his mother would have wanted. In the game, Robert launched his third home run of the season. He walked into his mother's memorial service that night to a standing ovation of applause.
It would have been very easy for Robert to have fallen in with the wrong crowd. But Robert was smart. Robert knew what he wanted. Instead, he put all of his energy into athleticism.
Later in that season, Robert was chosen to pitch in the city championship game for Westchester High School. In an eerie preview of what could be only a few years away, Robert tossed a shutout at Dodgers Stadium and the Comets won the Los Angeles City Championship. Robert was rolling; he helped Westchester take home two championships in one school year.
By the next season, Robert's grandfather had convinced him to get back onto the basketball court. The team (which had won the state championship the year before and was ranked No. 1 nationally) had names like Dwayne Polee and Jordin Mayes already on the roster.
The 2010 basketball season was an incredible ride for the Westchester Comets and Robert found a stride of success as they entered national tournaments (broadcasted on ESPNU) against major high school teams like Rice, Oak Hill and St. Anthony.
At home, we watched as the Comets rose on MaxPreps from the national ranks. By the end of the season, the Comets were ranked No. 3 nationally. They capped their season as California State Champions.
As the baseball season began, Robert was forced to sit out the first few games because of his commitment to basketball. Even as a state champion, he had been growing antsy for baseball.
Still a pitcher, he had been training every day to keep his baseball game at the top of his abilities for the season. Once the basketball season had ended, his focuses immediately shifted and he began tearing up the Western League as a junior.
A two-sport athlete, Robert was enthralled with baseball. When junior year came along, scouts were coming to his games and he was playing summer ball for the Rays and Braves.
As a pitcher in his junior year, Robert (5-1, 1.67 ERA) was beginning his reign of dominance.
As a hitter, his numbers were even scarier.
Despite missing almost the first third of the season, Robert hit .649 with a slugging percentage of 1.230 and OPS of an ungodly 1.897. In 81 at-bats, he struck out only four times. At 16 years old, his eight home runs led the Western League.
Local papers began to catch on to Robert's success. Writers at the Los Angeles Times began to call him the best two-sport athlete at Westchester High School since Ken Norton, Jr. He received praise from ESPN Rise as a basketball player and was named Western League Baseball Player of the Year by MaxPreps.
The Los Angeles paper, The Daily Breeze, nicknamed him "The Man For All Seasons." Robert, who had become a force to be reckoned with in both basketball and in baseball, led the Comets in his senior year with 16.0 PPG and was named captain of the back-to-back State Champion team.
Robert hadn't expected the honor going into his senior year, but graciously accepted it. In his last run as a basketball player, team captain Robert Gsellman helped the Comets (27-8) go undefeated (12-0) in division play. After beating Mater Dei in a tournament, Robert had a conversation about the rest of his baseball career with Mets legend—and Mater Dei parent—Daryl Strawberry.
Robert knew that he had to repeat his success from junior year in his senior year if he wanted to get looks at the next level. With basketball off of his mind, he was aware that he had to prove that his Western League MVP award was not a fluke.
With a personal trainer and workouts almost every day, Robert continued his incredible journey. With his hard effort and practice, he impressed the city. Scouts were coming to his games to watch him play and he was the talk of the league.
When I went down to see him play my high school team, Robert roped a foul shot into the parking lot on his first pitch and then hit a double to the wall. They weren't going to let Robert defeat them, and walked him three times to end his game.
Last season, Robert hit .608 and matched his eight home runs from junior year. He posted a 1.139 slugging percentage and his OPS numbers were 1.816. As a pitcher, he struck out 80 and had a 1.70 ERA. Robert showed the city that his MVP season was not a fluke and was named Western League MVP for the second year in a row.
Robert decided to file for the MLB draft. As the days approached, Sports Illustrated included Gsellman in their "Under the Radar Talent" article. In the article, Gsellman was called the "biggest find of the 2011 season out of Southern California." The article went on to say that scouts were excited about the power potential in his bat.
On June 7th, 2011, Robert Gsellman was drafted by the Mets with the 402nd overall pick. His Westchester High School teammates Jamaal Moore (8-1, 2.10 ERA, 118 Ks in his junior year) and Kenny Peoples (.404, .708 slugging percentage, 5 HRs) were also drafted in the 10th and fourth rounds, respectively.
Last week, I went over to Robert's house to talk about his decision with him. He had verbally committed to Harbor College and really liked their program. Faced with the tough choice of professional baseball and junior college, he seemed genuinely unsure. When we said goodbye, he casually and quickly put on a fitted New York Mets cap that he had picked up earlier that day and hopped on his skateboard.
At that point, he may still have been weighing his options, but the pride that I felt in the moment that the Mets hat fell onto his head was enough to carry me through the coming weeks.
My neighbor and friend, Robert Gsellman, was drafted by the New York Mets and is working on his dream. I couldn't be more proud.
Now that he has signed with the team, he leaves this weekend for Florida for two months of baseball with the team. Knowing Robert, he's going to continue to do incredible things as a top talent in the league.
With all that he has overcome and all of the love that he puts into the game, Robert's story is inspirational to everyone that meets him and to everyone that will get to watch him play in the years to come.  
Click here to Follow @BryanKalbrosky.