Floyd Mayweather vs. Manny Pacquiao: It's Time to Defend Floyd
June 30, 2011
Julian Finney/Getty Images
Why the "good guy/bad guy" dichotomy doesn't fit the bill 
Floyd Mayweather Jr. is not perfect. He has made mistakes, both with his career and outside the ring, that do not reflect on him positively.
In the Mayweather vs. Pacquiao matchup though, looking at Floyd as the "villain" is neither fair nor accurate.
The reality is that both men have the baggage that comes with nearly every superstar athlete.
The Random Blood Testing
Both fighters have claimed they have, at one time, signed a contract for the fight, so it is hard to say one is "ducking" the other. What is certain is that Manny refuses a random blood test.
Like it or not, this is bizarre. Thanks to Roger Clemens, Lance Armstrong and others, fans shouldn't be embarrassed to be suspicious.  They have been burned before.
At Manny's age, moving up in weight without sacrificing power can only be described as unnatural.
Could it be a result of hard work? Of course. When an athlete walks away from a $50 million payday though because he refuses to be tested, that is a red flag.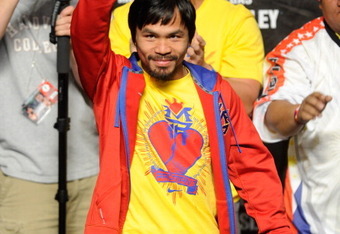 Ethan Miller/Getty Images
Pacquiao's initial reasons for avoiding the test were questionable at best (i.e. afraid of needles), and his current stance of not letting Mayweather dictate the rules doesn't necessarily make sense either. If he has nothing to hide—why not take the test?
Manny also put in his own rule that was far beyond the norm. For every pound Floyd came in over the limit, he owed Manny $10 million. Floyd agreed.
Competition 
Floyd has a reputation for not taking on the top competition. This was certainly not the case early in his career, and even the last five years, it could be argued that he has taken more risks than Manny.
There should be no denying the importance of Floyd fighting De La Hoya, Hatton and Mosley first.
Ricky Hatton was an undefeated fighter that had the confidence that comes with that. He was not the same after Floyd knocked him out.
Shane's prior fight to Floyd was a destruction of a red-hot Antonio Margartio. When Manny fought Shane, he had just lost 11 of 12 rounds to Floyd and was coming off a draw with Sergio Mora.
Floyd fought Oscar at his natural weight. Manny fought De La Hoya at a weight he hadn't been at in seven years, and Oscar was so drained and dehydrated, he didn't put back on a single pound overnight.
Manny has one of the top resumes in the sport, but similar to Floyd, his best fights were mostly in the middle of his career. The days of Manny fighting Barrera, Marquez and Morales in a row are over. He is now fighting soft touches like Clottey and an over-the-hill Margarito.
Miguel Cotto was a triumph for Manny, and if the argument of "first" is brought up—Manny did beat Marquez before Floyd. When comparing resumes though, it is important to look at the big picture.
Personality/Training 
Manny is loved by the Filipino people, and for good reason. He is generous with his time and money and has served as inspiration for millions.
There is no reason to build him up to be something he is not though. Manny used to be famous for his visits to the pool halls, and rumors have spread linking him to famous female Filipino movie stars.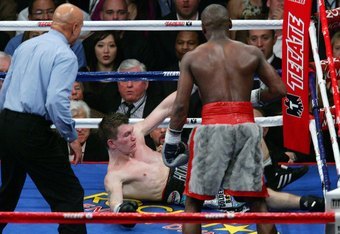 Ethan Miller/Getty Images
On top of that, Manny is known for not always taking training seriously.  Stories of Manny having a bad camp are now standard procedure, and as 24/7 has shown, Manny comes and goes as he pleases, no matter what Freddie Roach says.
For Mayweather, there is no denying his dedication. Floyd doesn't drink, goes to the gym even with no fight scheduled, and works out in the middle of the night—just for that extra edge. 
Aren't these traits to admire?
Floyd recently paid for the entire funeral of deceased former foe, Genaro Hernandez, and did so without trumpeting the act publicly. Maybe it's time for everyone to take notice.
Maybe it's time to think twice before characterizing Floyd as the villain in this matchup.