Maria Sharapova Overwhelming Favourite,Sabin Lisicki Immediate Threat
June 29, 2011
Clive Mason/Getty Images
Has women's tennis turned the Williams corner?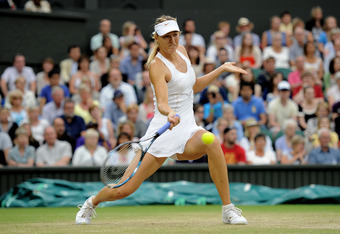 Michael Regan/Getty Images
The quarterfinals dawned with not a Williams in sight. No Serena, No Venus.
Yes, they had both returned from injury. They had adequate warm-ups before the championships, but not the desired results for bookies to up the ante.
Yet it all seemed business as usual, past the first week.
Oddsmakers re-installed Serena as queen over the weekend.
It was not to be. Serena could not stop a rampaging, charged-up Marion Bartoli.
Venus Williams succumbed once again to her grass-court nemesis, Tsvetana Pironkova.
Sceptics might point out that the last two French Opens saw fresh victors as well. Francesca Schiavone and Li Na brought out the depth of talent on the WTA tour.
A question springs to mind: Why is it that if a player in his or her 20s wins a major, it's termed a breakthrough but when one in his or her late 20s or early 30s wins, it's merely a late blossoming, or a fulfilment of his or her talent—long last?
The women's semifinalists are decided.
It's wild-card Sabine Lisicki against Maria Sharapova in the top half of the draw.
In the other half, Victoria Azarenka flew under the radar to make her first major semifinal in five quarterfinal attempts. She takes on Petra Kvitova in an exciting matchup.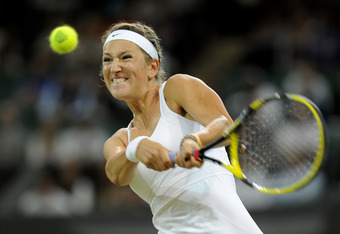 Michael Regan/Getty Images
Sharapova is the only player among the four to have taken home a major crown. She is the favourite, but she will not find it easy against an opponent who can hit the ball as fiercely and freely as the German did in the first set against Bartoli.
Nerves unsteadied her and prevented her closing out the match in straight sets but if the daughter of Polish immigrants can knock out the tall Russian, surely no other can prevent her from becoming the first unseeded women's player ever to win Wimbledon in the Open era.
Maria has the experience; she displayed it in her ruthless dismissal of Dominika Cibulkova's challenge 6-1, 6-1. The Russian is vulnerable if her big serve fails and if a smart opponent uses slice and well-disguised drop shots to force her to bend the knees. Lisicki exhibited some astounding drop shots from the baseline in the first set against Bartoli.
Should she continue in the same vein, this encounter will be one hell of a roller-coaster ride.
Azarenka was tipped by most to clinch her first major at last month's French Open. She is the No. 4 seed, after all. Can she shake off the cobwebs in her mind and make it to her first Slam final?
This is Kvitova's second successive Wimbledon semi. She lost last year to Serena Williams in straight sets. She's had a good run this year, making it to the quarterfinals at Melbourne and the round of 16 at Roland Garros. Can she go further this year?
Sharapova, Kvitova, Lisicki and Azarenka are all under 25. Sharapova is a veteran at 24 since seizing her first major at 17 at Wimbledon.
The recent proclivity of women players to stay the course on the tour longer could see these four draw in the crowds over the next five to six years. Add the other quarterfinalists to the mix and women's tennis looks vibrant indeed.
As Serena Williams remarked after her loss to Marion Bartoli in the fourth round: "Go, women's tennis." 
Bartoli added her bit after her quarterfinal loss: "So I don't really think, because we are not named Serena or Venus Williams doesn't mean we don't know how to play tennis."
---
Quote of the day:
Humility is the embarrassment you feel when you tell people how wonderful you are. – Laurence J. Peterhell