2011 Detroit Red Wings: LW Justin Abdelkader Is the Future of Hockeytown
June 29, 2011
Christian Petersen/Getty Images
Before we get too carried away with Tomas Jurco and rest of the Red Wings' 2011 NHL draft class, understand that it takes some prospects years to ready themselves for the next level.
Current Detroit Red Wings alternate captain Henrik Zetterberg was drafted by the Wings 210th overall in the seventh round of the 1999 NHL Entry draft.
Zetterberg didn't even play in a game for the Red Wings until the 2002-2003 NHL season.
I understand that it's easy to get lost in some young prospect's obvious talents, but please know that those abilities rarely translate into immediate success at the NHL level.
Plug-and-play draft selections like Sidney Crosby for the Pittsburgh Penguins in 2005 are extremely rare.
Even so, the Detroit Red Wings have shown great aptitude in properly identifying and developing young talent in preparing them for the NHL.
It's a rigorous progress development system that former Michigan State University standout Justin Abdelkader knows all too well.
Abdelkader was selected by the Detroit Red Wings with the 42nd overall pick in the 2005 NHL Entry draft.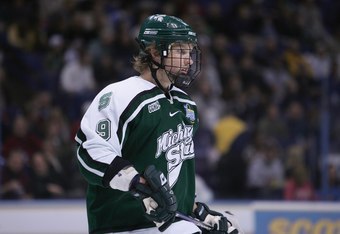 Elsa/Getty Images
Following his selection Abdelkader signed a one-game amateur tryout with the Wings. By doing so he forfeited his college eligibility, ultimately bringing his illustrious career at Michigan State to a close.
Just a reminder, Justin Abdelkader was the same guy that scored the game-winning goal in the 2007 NCAA Championship Game against the powerhouse Boston College Eagles.
It would take Abdelkader two-and-a-half seasons following his second-round selection before he would get his first real shot in the NHL.
Aside from two separate stints with the Red Wings in which he would play a total of 14 games, Abdelkader spent the majority of two-and-a-half seasons playing predominately for the Grand Rapids Griffins of the AHL.
It wasn't until the 2009-10 season that Abdelkader would solidify himself as a member of the Detroit Red Wings.
He was brought along the "right way."
Abdelkader has been the apple of Ken Holland's eye for years.
When Holland put Abdelkader on the travel roster, he said:
"He's big. He's strong. A tremendous skater. You could say he's been on our radar for a long time. Not to say he won't score goals, because he was pretty productive at Michigan State and at Grand Rapids (AHL). But we see him as a physical player who someday we envision as a shutdown forward, someone who can help neutralize the other team's best forwards."
That's pretty strong praise for a kid born and raised in Muskegon, Michigan.
But then again Abdelkader has always excelled, and the Red Wings were always watching the homegrown talent.
According to NHL.com writer Larry Wigge, "The Red Wings watched Abdelkader a lot, beginning when he was Michigan's 'Mr. Hockey' at Mona Shores High School in Muskegon. He went on to play in the United States Hockey League at Cedar Rapids before getting a scholarship to play at Michigan State University, where he led the Spartans to the 2007 NCAA championship—scoring the winning goal in a 3-1 victory over Boston College with just 18.9 seconds left."
With that much interest invested in the kid, it's obvious that Ken Holland believes that Abdelkader could have a strong future in the NHL.
Abdelkader showed great promise for Detroit throughout the 2010-2011 season. He looked to get better every time he stepped onto the ice.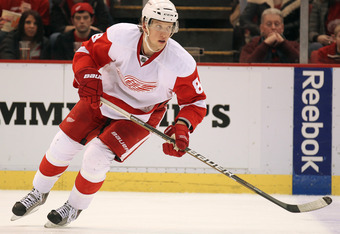 Claus Andersen/Getty Images
He plays with a ferocious mentality, and is a fiend around the net.
I understand that he struggled at times against San Jose in the playoffs last year, but what Red Wings forward didn't?
I think that Abdelkader has the skill set to absolutely dominate opponents at the NHL level.
You keep him on a line with Darren Helm and a healthy Kris Draper and he will amaze in 2011.
Just know that he is no stranger to adversity, and he certainly doesn't suffer from a lack of confidence.
For an elite young talent that has achieved all that Abdelkader has, it has only begun.
Justin Abdelkader is a key component in the future of the Detroit Red Wings organization.