Chris Paul to New York Knicks: Why the Knicks Hold All the Cards Now
June 28, 2011
Jeff Zelevansky/Getty Images
As the impending lockout threatens to alter the landscape of the entire NBA as we know it, the timing could not be worse for the New York Knicks.
This is the first offseason in a while where Knick fans can actually look forward to what can unfold on the court during the upcoming year. For once, the agenda is not about clearing cap space or lusting over other teams' players (well, at least not nearly as much as the past half decade).
Fans could focus on the team's potential after a full offseason and training camp with both Amar'e Stoudemire and Carmelo Anthony in the fold—and with both players under contract for a very long time to come.
That was the goal a year ago, to sign two maximum-salary players and build around them. A year later, the Knicks got it done, although not the way they wanted to. And that is because they had to give up quite a bit of assets to land that "second free agent," Anthony, instead of signing him outright.
Many still question the way the Knicks went about acquiring Anthony. Donnie Walsh, the man responsible for the franchise's rejuvenation before being inexplicably shown the door this past month, wanted to be patient and wait for free agency to sign Melo. Owner James Dolan wanted to do whatever it took (other than trade Amar'e, of course) to ensure Melo and lock him up long term.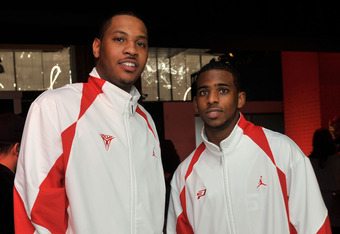 Charley Gallay/Getty Images
Both arguments had their pros and cons. From Walsh's perspective, he knew Anthony wanted to be a Knick. Anthony had made that clear privately to both the Denver Nuggets and others within his inner circle. Melo continuously stalled any attempts to trade him to the nearby New Jersey Nets by refusing to agree to a contract extension with them, thwarting any proposal the Nuggets and Nets had on the table.
Anthony, Stoudemire and Hornets point guard Chris Paul even made a toast to one day forming their own "Big Three," Miami Heat-style, at Melo's wedding in (surprise!) New York last summer. Anthony was sold on the idea of taking the next step in his career and leaving Denver to play for the league's most valuable franchise and in the "World's Most Famous Arena," Madison Square Garden.
It was simply a matter of time. And with the Knicks not a threat to compete for a championship yet, time is all that Walsh and the Knicks had.
However, the aforementioned lockout threw a wrench into the whole situation. If the Knicks and Nuggets allowed Melo to reach free agency, then the eight-year veteran out of Syracuse would potentially lose out on millions of dollars based on the new collective bargaining agreement, one that is all but sure to reduce player salaries significantly.
That put Anthony in a quandary: If he wanted the money (to the tune of a three-year, $65 million extension), he should stay in Denver—which would ultimately kill his dream of competing for championships in a big market like his peers LeBron James, Dwyane Wade and Chris Bosh put in place the previous summer.
With so many factors going into the entire "Melodrama," Anthony's impending free agency would not have been nearly as fluid as James' was. As a result, Melo effectively became an in-season free agent, forcing a trade to the team of his choice and still signing a long-term deal to secure him monetarily.
Rewind back to that toast at Melo's wedding, and the last piece now becomes Chris Paul.
With the Hornets' David West declaring for free agency even in this uncertain economic climate for the league, it seems all but certain that West—who has played with Paul during the latter's entire career in the Big Easy—is set to leave the Hornets.
And if you believe the rumors (countless rumors, at that), then Paul has been trying to force his way out of New Orleans for just as long as Anthony had been trying to force his way out of Denver.
We may not know much about the league's new CBA, but we do know this much: Something will be in place by the time the league tips off again. There will be no uncertainty similar to the one Anthony faced this past season. There will be no countdown for Paul to secure a new contract or else risk losing countless millions of dollars.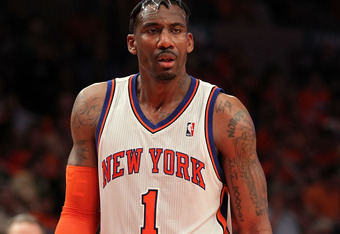 Nick Laham/Getty Images
In other words, the Knicks and Chris Paul hold all the cards in this situation. And it's up to the Hornets to either play ball or risk getting "LeBroned."
New York has very limited trade assets in light of the blockbuster trade with Denver at the February trade deadline. The likes of Danilo Gallinari, Wilson Chandler, Raymond Felton and any foreseeable first-round pick in the future are no longer at their disposal.
However, with Walsh gone, you can bet that Dolan will get antsy and impatient to add CP3 as quickly as possible—and if that is the case, the Hornets would be forced to deal with whatever the Knicks have.
That's because Paul can take a page out of Anthony's book and refuse to sign an extension with whatever team offers a far more handsome deal for him. Say Portland comes calling with an offer of Nicolas Batum, Raymond Felton, Gerald Wallace and a stable of draft picks. Certainly a better deal than anything coming out of MSG, right?
But that would be a steep price to pay for the Blazers if Paul decides to leave for New York in free agency—and the Knicks (as of now, assuming Isiah doesn't come back any time soon to sign a bunch of water boys to the mid-level exception and jam up the payroll) have the cap space to offer Paul very close to the max. (Again, this is based on the current CBA, not the one that will be in place after the lockout—whenever that is.)
An organization like Portland would balk at giving up such a steep price for a guy who would in essence be a half-year or one-year rental at best.
Remember, that's what held up the Melo-to-New Jersey trades for the entire season, despite the fact that the offers coming out of New Jersey were infinitely more attractive than the one Denver eventually settled for from the Knicks.
If the Hornets want something, anything, in return for Paul, they will have to deal with New York. The only thing for the Knicks to worry about is how soon they want him.
And that's when you start having to worry about whether or not you want to give up a guy like Landry Fields simply to add Paul for the stretch-run and the 2012 playoffs—or have both Paul and Fields in the mix together starting Opening Day 2012-13.
Either way, Donnie Walsh has left the Knicks in great shape to add that third and final piece for the Big Apple's version of the "Big Three" to do combat with the one from South Beach for many years to come.
And after having to recruit a guy like Stoudemire to come play for a franchise that was dormant for 10 years before trading for Anthony in a complicated decision, this one seems a lot more straight-forward.
Now it's up to the Knicks to get it right. Without Donnie Walsh.