Saturday Night Fights III: A Complete Success
May 29, 2011
On Saturday, May 28th, Saturday Night Fights III took place at the Turvey Centre in Regina Saskatchewan; treating local MMA fans to undoubtedly some of the best mixed martial arts action they have seen in years.
A packed house at the Turvey Centre buzzed with excitement at the rare opportunity to see live MMA action in their hometown, and they would not leave disappointed as Complete MMA—Regina's local MMA gym—stole the show.
Complete MMA, led by head trainer A.J. Scales, is host to some of Saskatchewan's best MMA talent, and Saturday night was proof of that.  Four of the gym's five fighters walked away with victories this past weekend, all of them where by knockout or submission in the first round, and several were within the first minute.
There couldn't have been a better place for Complete MMA to display their talent, the full house at the Turvey Centre were regularly jumping to their feet in a roar of applause and ovation for one exciting fight after another. 
The crowd was deafening, the fights were captivating, the energy in the arena was buzzing all night.  Saturday Night Fights III was a reminder why every MMA fan needs to see fights live—the show was a resounding success.
Paul Grebinski vs. Jesse Haywood
Paul Grebinski, the man they call "The Doctor," was the first Complete MMA fighter to walk away with a victory on Saturday night—A first round rear-naked choke submission.
His nickname, "The Doctor," was jokingly described by Grebinski as a way to appease his disappointed parents, who always wanted him to become a surgeon.  However, the nickname "Anti-Doctor" might be more fitting. Indeed, Grebinski's dominate performance over Jesse Haywood simply created more work for the real doctors at ringside.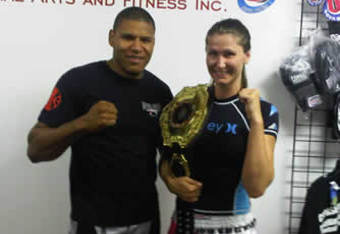 The fighters stayed on the feet for all of about ten seconds before Grebinski took Haywood down. The ring trembled as the two heavyweights hit the mat. The hometown crowd roared in approval.
From there it was all Grebinski.  The BJJ specialist quickly moved from half-guard to side control, administering ground and pound all the while.
It wasn't long before Grebinski took the mount and Haywood was forced to give up his back to avoid more punishment from The Doctor.
Grebinski immediately went for the rear-naked choke, forcing Haywood to defend his neck and expose his head, allowing Grebinski to punish him with more punches.
This trend continued for several minutes.  Haywood would give up his back to avoid the onslaught of punches, exposing his neck for a choke attempt.  When Gerbinski would attempt the choke, Haywood would roll to his back, and receive more ground and pound for his troubles.
"I was just trying to soften him up. I knew eventually he would give up the choke, so I kept hitting him with punches and I knew every time I hit him he was weakening a little bit every time" Grebinski said in a post-fight interview. "I actually wanted to TKO him from that position, but I didn't want to give up the good position I had, so I just finished the fight."
Although Haywood defended valiantly, the constant attack of Grebinski proved to be too much for him. The Doctor eventually locked in the rear-naked choke, and the first round victory, improving his amateur record to 3-0.
After the fight, Grebinski stated that his training for this fight went well,  something he attributes to great training partners. "I have some awesome training partners, top-level guys. You'll see, they will put on a show tonight"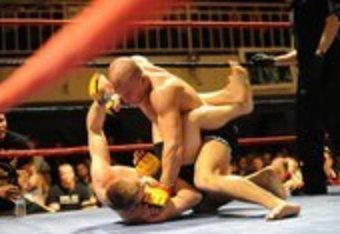 Bill Beaudry vs. Stan Sambey
As everyone in attendance would soon find out, Grebinski's promise, that his teammates would put on a show for the fans, would come to fruition.  With the crowd still buzzing after watching Grebinski's quick submission victory, the local fans were treated to another impressive win by a hometown fighter.
Bill Beaudry, a Complete MMA heavyweight with a record of 2-0, took on Stand Sambey, who flew all the way in from Ontario to take the fight on short notice.
As the fight began, both men pawed exploratory jabs at each other to gauge the distance.  It didn't take long for them to find it.  After a short feeling out period, both men started to aggressively launch bombs at each other.  The crowd cheered as the sound of leather hitting skull resonated around the arena.
Beaudry quickly started to get the upper hand in the stand up, as the fight quickly turned from a slugfest to a one sided beat-down.
Beaudry landed power punch after power punch on the overmatched Sambey.  It wasn't long before Sambey was visibly concussed and wobbly from the shots.  Sambey would soon find himself in complete defensive mode as Beaudry's relentless attack kept coming, every time Sambey would escape and create space, Beaudry would quickly close the distance again and continue the beating. 
Beaudry eventually dropped Sambey with a flurry of punches.  Sambey fell to the canvas exposing his back for a choke, an opportunity Beaudry quickly capitalized on, winning via rear-naked choke in the opening minutes.
"It felt good" Beaudry stated in a post-fight interview. "I think I swung decently well, I have a few things to work on as always, but I saw the opening to take the back, and jumped on it."
Humble and sportsmanlike after his win, Beaudry admitted he didn't know what to expect from Sambey. "I didn't know what to expect, honestly. I know he trains, but he was a last minute replacement, so I have to congratulate him for stepping up last minute."
With the win, Beaudry improves his record to 2-0.  Although Beaudry has tasted success in his first two outings, he has no immediate plans for another fight, simply to continue training and helping his team-mates. "I definitely love training with the guys and whenever they fight I'm going to be there to help them."

Charmaine Tweet vs. Tia Wishart
At this point in the event, the fans had been properly revved up by the excitement of the previous two fights, now it was time to witness a bit of history; and, more excitement of course.
The bout was the first women's MMA match is Saskatchewan history, and it wouldn't disappoint.
Charmaine Tweet, an experienced Muay Thai fighter with an impressive resume, made her debut against Tia Wishart, who was also making her MMA debut.
Although both fighters where competing in MMA for the first time, Tweet was clearly the more talented of the two.  Her wealth of kickboxing experience was evident, but so were her ground skills.
The fight was quick.  Not long after the opening bell, Tweet came out guns blazing; exploding with a barrage of shots that quickly overwhelmed the bewildered Wishart.  Although not all of Tweets onslaught landed, the constant pressure combined with some well placed power shots was enough to for Wishart to clinch and look for a takedown. 
It was the best thing Wishart could have done in the situation, but her struggle in the clinch and eventual takedown of Tweet proved to be her downfall.
After being taken down, Tweet immediately locked in a tight guillotine choke for the lightning quick win.
It was a move that Tweet had been practicing a lot.  "A.J. told me, 'you already know how to strike, you're not going to forget it,' so we did a lot of ground work" she said after the fight. "We went to Thailand for 11 days and we worked that guillotine from there too, we worked it at Complete MMA before that.  It was fresh in my head, she was right there, so I thought 'okay' dropped to my ass and finished her off."
The pressure of fighting in the first women's bout in Saskatchewan history is a heavy weight on a fighters shoulders, adding to that, Tweet's entire family was in attendance.  It might have been enough pressure to rattle another fighter, but Tweet admits that she doesn't really feel the pressure when she steps in the ring. 
"No, I don't really feel a lot of pressure from the people in the crowd," she said. "[my family] has seen me fight before."
Although Tweet wishes she could have given the fans "more of a show," she admits that she enjoyed finishing the fight early.  "I rather like ending it quickly like that" she laughed.  "I always go the distance and it sucks."
A quick win is exactly what Tweet needed, she is scheduled to make her pro debut at Hard Knocks 12 in Calgary, Alberta.  Her speedy victory ensures that she will be fresh for the biggest fight of her career in three weeks.
Miles Anstead vs. Justin Potter
The main event of the night saw Miles Anstead take on Justin Potter.
Although the crowd at the Turvey Centre was full of support for all of the local fighters, it was clear early on that the vast majority of them were there to support Anstead.
When his introduction music came on during the fighter walk-outs, the entire arena stood up and roared for the hometown prospect.  When Miles raised his hands in the air, calling for more applause, the cheers intensified.  The fans were cheering as if he had already won the fight, and he was only walking to the ring.
The fighter introductions were more of the same, a smattering of claps amongst silence for Potter, and an eruption of cheers for Anstead.
The fight was exactly what the home crowd wanted, a devastating victory for Anstead.
When the fight began, both fighters gauged the distance.  But even in the early stages, Anstead was in control.  He pawed at Potter with an exploratory jab and leg kick, finding his range as Potter moved back.
Then, like almost all the previous fights that evening, the bout ended quickly.
As Potter moved closer, Anstead threw his first power punch of the fight, a left hook, smashing Potter on the temple.  The Ontario native crumbled to the canvas, Anstead charged in.
Potter was able to keep it together for a short period of time, avoiding Anstead's attempt to finish the fight and getting to half-guard.
It was only delaying the inevitable.  Anstead, an accomplished BJJ competitor who holds a gold medal at the Rio International Open in 2010, was right at home on the ground; easily moving from half guard to full mount.
From there, Anstead rained down a barrage of punches that overwhelmed Potter and forced the referee to stop the fight. Anstead jumped off his competitor, opened his hands to the crowd and smiled, it was almost too easy. The crowd was deafening, the tables were shaking, fans trying to run to Anstead were being held back by security, everyone was on their feet.
After shaking hands with nearly every fan within arms reach, Anstead was calm and collected in the locker room post-fight.  "I feel real good," he said. "I kind of wanted to stand and test the waters a little bit more, but when you smell blood you have to get it done."
It was clear that Anstead wanted to put on a show for the hometown crowd.  "If I was out of town I would've taken some more time, but I'm fighting in front of all my friends, I'm not going to take the chance and mess around."
Anstead, who is known for his impressive skills on the ground, admitted that he has been primarily focusing on his stand-up. "This fight I wanted to stand and bang," he said.  "I've been working lots with my coach Craig Moser and all the guys at Siam Kickboxing, they've helped me a lot with my hands.  I want to show everyone that I'm not just a ground fighter and that I have stand up too."
When asked about his future plans, Anstead responded, "Whatever comes my way. I'm down for anything."
The third edition of Saturday Night Fights was a resounding success.  The fans at the Turvey Centre, many of whom were watching their first live event, made their way out of the arena enthusiastically reviewing the best moments of the show.  Considering tickets where only 35-55 dollars, this was a bargain for any MMA fan; well worth the price of admission. 
Saskatchewan Mixed Martial Arts took a step forward Saturday night.
Dietrich Neu is a Contributor for Bleacher Report. Unless otherwise noted, all quotes were obtained first-hand.