Derrick Rose and Kevin Durant: Next Magic-Bird of NBA Marketing
May 26, 2011
Mike Ehrmann/Getty Images
Derrick Rose and Kevin Durant are not only establishing themselves as perennial All-Star players, they're heading into territory that the NBA and its marketing partners would love to see.
They could be the next Earvin "Magic" Johnson and Larry Bird, first as head-to-head competitors on the court, and also as the marketing faces of the NBA for the next generation.
And that's something the NBA needs.
"The NBA is at place reminiscent of 1979—the beginning of the Larry Bird-Magic Johnson era," said John Meindl, president and CEO of SportsBrandedMedia, New York, whose services include sports production, management and brand integration.
"Today just as then, there is a host of young talent and emerging teams," said Meindl. "With the old guard on the way out, the new faces and places are invigorating to fans, providing new opportunities for marketers."
"The shift in power within the league—Oklahoma City and Chicago continue on while Los Angeles and Boston are on the golf course—doesn't necessarily impact marketers as much as the individual player does," said Howard K. Brodwin, managing director for Team Marketing Systems, a Los Angeles-based management and consulting firm.
"I've always believed that working with the right person is what will make your endorsement relationship be successful," said Brodwin. "Team success helps, but in the end, it's the person and not the franchise with whom you're working that matters most."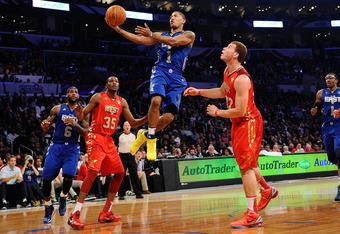 Kevork Djansezian/Getty Images
Rose's MVP season has helped establish that the Chicago Bulls can look towards the future, put the Michael Jordan era behind and compete for NBA titles for years to come.
Close behind him is Durant, who led the Oklahoma City Thunder into the Western Conference Finals and has helped to put positive national attention on a franchise that in 2008 fled Seattle.
"Of all the players who stood out during the current NBA post-season, the two with the biggest marketing upside are Rose and Durant," said David Schwab, managing director for First Call, the celebrity and athlete consulting division of global marketing firm Octagon, McLean, Va. "Advancing this far in the NBA playoffs only accelerates their growth potential."
Rose makes about four to six million via deals, led by Adidas and Coca-Cola's Powerade. He is represented by former NBA player and Chicago Bulls guard B.J. Armstrong, who is VP of Basketball Management at Wasserman Media Group in Los Angeles. 
"I see Derrick Rose as a major benefactor from a marketing standpoint," said Howard Schacter, president of public relations and marketing firm DiGennaro Communications, New York. "He's got all the ingredients: extraordinary talent, major market, and quite possibly a ring coming his way."
Durant, who was the NBA's rookie of the year in 2007-08, also is at the low end of endorsements deals. He earns four to five million annually, largely via pacts with Nike, Gatorade and Panini America. Durant is handled by Aaron and Eric Goodwin of Goodwin Sports Management, Seattle.
Among others who could rise in marketing endorsements over the next year or two are Zach Randolph of the Memphis Grizzlies, Rajon Rando of the Boston Celtics, Jeff Teague of the Atlanta Hawks, John Wall of the Washington Wizards and Evan Turner of the Philadelphia 76ers.
Rich for mining among the NBA's key demographic audience are such categories as automotive, wireless communications, electronics, clothing, food and even male grooming products.
Rose, Durant and the others, however, are chasing LeBron James when it comes to endorsement deals.
The Miami Heat all-star tops all NBA players in annual marketing income at about $35 million. His deals include Nike, Coca-Cola's Sprite and State Farm. 
Also among the NBA's top annual marketing earners are Shaquille O'Neal ($14 million), Kobe Bryant ($12 million), Dwight Howard ($12 million) and James' teammate, Dwyane Wade ($12 million).
Older NBA stars such as Bryant of the Los Angeles Lakers and the Boston Celtics' foursome of Paul Pierce, Ray Allen, Kevin Garnett and Shaquille O'Neal are at the peak of their marketing power.
Dirk Nowitzki, now in his 13th NBA season, has been a difficult match for domestic marketers. An NBA title might open some doors.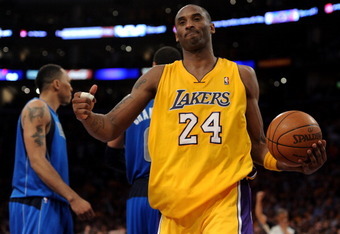 Harry How/Getty Images
For James and Wade, however, an NBA title would mean more potential for marketing expansion.
"LeBron James needs to win it all to maintain his marketing prowess," said Robert Tuchman, president of Skylight Entertainment, a leading New York-based sports and celebrity sponsorship and marketing firm. "He is the top NBA endorser, but he badly needs a championship to continue to be placed on that level."
As for Wade, Tuchman assessed, "Another championship could get Wade near the Kobe Bryant level, since his personality is also a big plus. Also, if it shows he anchored the team and LeBron plays second fiddle it will certainly help him."
In the age of new media and instant gratification, players don't have to be on a winning franchise to score national marketing deals.
Blake Griffin, for example, stars for the Los Angeles Clippers, a 32-50 team this past season.
Based on his succession of nationally televised highlight dunks—including his Spite Slam Dunk showing during the NBA All-Star Game—he has snagged deals with the likes of Kia, AT&T, Subway and Power Bar.
Griffin earns about seven to eight million in endorsements, a level Rose and Durant could easily surpass in the next year, according to analysts.
"Derrick Rose has most definitely become a highly marketable individual: great talent, fun to watch, and single-handedly reviving a basketball-rich community in Chicago," said Brodwin.
"Durant and his teammate, Russell Westbrook, are also gaining attention in the marketing circles—no surprise there," Brodwin stressed. "They have good visibility in most major basketball markets, as fans who've seen them play are apt to come back the next time they pass through town."
"The emergence or re-emergence of teams such as Chicago, Miami, Memphis and Oklahoma City creates some new faces and places," said Meindl. "More importantly, it creates more parity and better matchups making the NBA a better, more marketable product." 
Barry Janoff is Executive Editor for NYSportsJournalism.com.