Big Ten Breakdown: Purdue Boilermakers, Part 1 (Overview and Offense)
May 30, 2011
Jonathan Ferrey/Getty Images
Team Overview
In a way, it seems like this is head coach Danny Hope's first season in West Lafayette.
In 2009, his first season as the head man, he inherited a Purdue team that lost a number of key players, faced a killer schedule and said goodbye to a coach that left the cupboard bare on his way out.
Though Purdue went 5-7 that year, I thought they overachieved. Going into the season, I felt they would have been lucky to win four; plus they upset Ohio State and Michigan (albeit a lousy Michigan team), they almost upset Notre Dame and a Rose Bowl-bound Oregon and they finished the season with a win against in-state rival Indiana.
Then, in 2010, they were destroyed by injuries. The Boilers lost 22.7 percent of their offensive starts, including their quarterback, top receiver and top running back.
In the end, they were left to start a true freshman signal caller and a fullback in the tailback position. And that was after they made some quick fixes to their rag tag secondary.
In effect, while Danny Hope has to take the blame for the Boilers' 2010 4-8 season, one could hardly have expected much better results.
So here we are in 2011. Hope has two very unlucky seasons on his resume that find him with a 9-15 record as a head coach.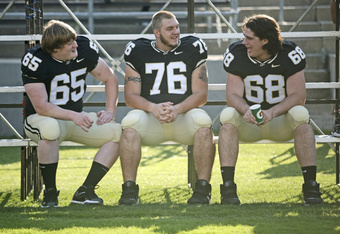 This season, though he has some big holes to fill, he returns a substantial number of starters. Last season's strangely predictable plague of injuries is highly unlikely to repeat itself.
This year, there can be no excuses. Purdue will be expected to at least make a bowl, and if they don't, Hope will be on thin ice.
Offensive Overview
2010 scoring offense: 19.7 PPG (11th in the conference), total offense: 311.6 YPG (11), rushing YPC: 4.37 (6), passing efficiency: 101.09 (11)
Average scoring offense conference ranking over last five years: Six
Best scoring offense conference ranking over last five years: First (2007)
Worst scoring offense conference ranking over last five years: 11 (2010)
Returning Starters: QB Rob Henry, QB Robert Marve, RB Ralph Bolden, OG Ken Plue, OT Nick Mondek OT Dennis Kelly, C Peters Drey
Open Positions: WR, TE, OL
Offensive Breakdown
 It is safe to say that 2010 was an anomalous year for the Boilers. After all, how often can one expect to lose over 20 percent of the potential starts on one side of the ball?
Still, when one looks at how the Boilers did before the injuries began to ravage them, it didn't look like they were going to be a repeat of their 2000, Drew Brees-led Rose Bowl team. In the three games in which PU had a healthy Robert Marve at quarterback, they averaged 22.3 points per game. That was against Western Illinois (FCS), Notre Dame and Ball State.
Western Illinois went 8-5 and surrendered more points to South Dakota State, Missouri State, Youngstown State and Illinois State than they did to Purdue. Meanwhile, Notre Dame had the 23rd best scoring defense in the country while Ball State was 88th.
As has been the case since Joe Tiller took over in 1997, Purdue's offense starts with "basketball on grass"—short possession passing that is more reminiscent of passing around the key in basketball than the (at-the-time) Big Ten's typical "three yards and a cloud of dust."
Still, it is worth noting that while Purdue runs a pass-heavy offense, it is not as pass-heavy and gimmicky as Texas Tech under Mike Leach. The Boilers want to establish a strong running game.
They are a spread team and thus, they need a lot of wide receivers who can block, catch and make plays with the ball after the catch. Purdue uses tight ends, but said tight ends usually line up in the slot or function more as an H-back than a true tight end.
The Boilers prefer to use shotgun-and-pistol formations, and with the right quarterback, employ a good deal of read options and quarterback draws. However, they can work with pocket passers as well.
Quarterbacks
The Boilers have three quarterbacks that will vie for the starting spot: senior Robert Marve, true sophomore Rob Henry and junior Caleb Terbush.
Marve is a Miami (FL) transfer that might be the unluckiest person in the world. Aside from everything the linked article notes, he finally got to play at Purdue only to tear his ACL. On the other hand, as previously mentioned, PU didn't seem like they would have that good an offense with him at signal caller.
Marve is a pure pocket quarterback. He had 11 starts for Miami (FL) in 2008 and started four games for Purdue last year. Thus far in his career, he has a lackluster pass efficiency rating of 109.04.
He sat out spring practices as he was still rehabbing his knee, but he is expected to be ready to play by August.
Meanwhile, Henry was the Boilers' last resort once Marve went down, and he played about as well as one could hope from a true freshman. Unlike Marve, Henry is a dual-threat quarterback that led the team in rushing with 547 yards. He had an efficiency rating of 112.39 that improved as the year went on. 
The final candidate for the job is Caleb Terbush, who sat out last year for academic reasons. He has minimal college experience, having only 10 passing attempts in his career.
Following spring practice, Henry was still the No. 1 man, though that was without any competition from Marve. Nonetheless, Henry was voted co-captain for the 2011 season, and Danny Hope called him the team's most improved player during the offseason. While Hope has a lot invested in Marve, it is palpable that Henry has the team behind him.
In my opinion, Marve is the safer choice. On the other hand, Henry not only has a much higher upside, but he is more versatile and has demonstrated all the intangibles you could want in a field general.
If Hope goes the conservative route, he will go with Marve, but I don't think he will. Purdue will start Henry and that will come with the typical bumps you can expect from a player that is still a true sophomore. Nonetheless, it will pay dividends, if not this year, then in the future.
Big Ten Position Group Ranking: Seven
Running Backs
In 2010, Purdue's top rusher was their quarterback. Their second-leading rusher was a fullback. Their third-leading rusher was a converted wide receiver. Their fourth-leading rusher—Al-Terek McBurse—was a running back, but has since left the team. Their fifth-leading rusher was a wide receiver.
In short, bodies were scarce for the Boilers.
At the beginning of 2010 spring practices, things looked very good for the Purdue running backs. While there wasn't much depth, sophomore Ralph Bolden was second-team All-Big Ten the previous year, his first as a starter.
Then Bolden suffered an ACL tear, thereby ending his 2010 season. This left Purdue with McBurse and...McBurse. Apparently, Hope felt a fullback and a converted wide receiver were better options than McBurse which, along with various injury problems, presumably led to his recent transfer.
Moving forward, Bolden looks to be the top option in 2011. He could have practiced full-go this spring, but was limited for precautionary reasons.
In 2009, he had 935 yards for 4.68 YPC and nine touchdowns. He also caught 20 passes. While his production slipped against better defenses, he did not fall off the map completely, managing 3.63 YPC against ranked foes.
Currently, junior Gavin Roberts is behind Bolden. Roberts began his collegiate career as a safety. However, he moved to the offensive backfield before the 2010 season. It is questionable how much confidence Hope has in him given that he didn't garner a single carry last season despite PU's ragtag group of running backs. Still, players progress; that is the nature of college football.
Other than Bolden and Roberts, Akeem Shavers will look to throw his helmet onto the field. He is a JUCO transfer that has been on campus since January. Lastly, Reggie Pegram is a true sophomore that was thrown into limited action last year, action he understandably wasn't ready for, which explains why it was limited.
Otherwise, Purdue has a couple of incoming freshman that will fight for playing time.
As the spring practice was almost entirely hands off (as Hope is obviously gun-shy), one cannot get a solid idea of what the running backs look like.
Nevertheless, if Bolden is fully recovered, he will be a solid first option. However, that "if" along with depth issues leave one hopeful, but skeptical, as it concerns the Purdue running backs.
Big Ten Position Group Ranking: 9
Wide Receivers/Tight Ends
The Boilers' receiving corps took a huge blow when Keith Smith was denied a sixth year of eligibility. After leading the conference with 91 receptions in 2009, he missed most of 2010 with a torn ACL and MCL.  
His absence means that the Boilermakers will be without the services of four of their top six pass catchers from 2010. Furthermore, the only returning receiver with more than 20 career receptions will be junior Antavian Edison.
That is quite a dearth of experience for a team like Purdue that runs so many receiver-heavy sets.
As for Edison, he is a junior that had 32 catches for 316 yards and four touchdowns last season. He did not begin the season as a starter, but grabbed the spot after Smith went down.
Other returning receivers that got playing time last year include sophomores O.J. Ross (11 REC, 149 YDS) and Gary Bush (11 REC, 95 YDS); and senior Justin Siller (12 REC, 104 YDS), who came to Purdue as a quarterback but converted to receiver following a redshirt year in 2009.
Along with these players, Charles Torwudzo is a 6'4" freshman that redshirted last year. Also, Normando Harris is a sophomore that came to Purdue as a safety, but switched to the offense this past offseason.
Right now, Purdue blog Hammersandrails.com feel that the starters will be Edison, Siller and Ross with Bush, Torwudzo and Harris getting spot time. Moreover, with Purdue's schemes, it is likely that at least one or two of the incoming freshmen will play.
The Boilers graduated their top two tight ends from last season.
The starter in the spring game was freshman Justin Sinz. If he maintains that spot, he will have passed Sterling Carter, a JUCO transfer who came to Purdue expecting to start. He also will have passed sophomore Gabe Holmes, who had one catch last season, and who Hope specifically cited as having made great strides this offseason.
It seems unlikely that Sinz will maintain the top tight end spot through the fall, but stranger things have happened.
In short, the Boilermakers have plenty of bodies at receiver and tight end. The problem is that with such a receiver-dependent scheme, one would like to see at least some experience.
In closing, this group is tall on potential, but short on proven experience.
Big Ten Position Group Ranking: 12
Offensive Line
It is a testament to last year's offensive line that despite everything that was thrown in their way, the Boilers still managed to have a respectable rushing game.
After all, in the nine games that Robert Marve didn't finish, Purdue completed 51 percent of its passes. As the passing game was no threat, teams could load up the box against PU and tee off. Yet Purdue still moved the ball on the ground.
Four of last season's linemen return with a fifth returning lineman that has starting experience.
If the Boilers opt to keep last year's offensive line in tact, they will line up as follows (from left to right): senior Dennis Kelly, Open at LG, junior Peters Drey, senior Ken Plue, senior Nick Mondek.
Five of the most likely possibilities to push for playing time are junior Rick Schmeig, who started two games at right guard in 2010; senior James Shepherd, who Hope referred to as a "try-hard guy"; sophomore Cody Davis, who is more of a center than a guard, but has been very impressive in limited play; and sophomores Trevor Foy and Justin Kitchens.
Kitchens switched from the defense before the spring game, but appears to have made a smooth transition as he was named one of the two most improved on the team.
Of the returning starters, both Kelly and Plue will be three-year starters, while Drey and Mondek will be in their second year. Plue will likely hear his name called at the 2012 draft, though surprisingly, Hope ran Shepherd at the first-string right guard spot in spring practice. According to Hope, Plue, "has to do a better job on the field and off the field, as well. So there's some competition at that spot right now."
My guess is that Hope is trying to light a fire under Plue's behind. He will be starting in September.
Mondek came to Purdue as a defensive lineman and switched to the offense before 2010 camp.
Overall, the line was decidedly unimpressive in the spring game, as reports are they let up a total of seven sacks to the first and second string defenses. However, a number of would-be starters, including Drey, Kelly and Foy, were dinged up and sat out the game.
In closing, this is a very good, veteran line. Due to the nature of the offense they are not required to be dominant—ala Wisconsin or Iowa—but if they can get some decent running backs behind them, they should be able to make some hay in the rushing game.
Big Ten Position Group Ranking: 3
Big Ten Breakdown: Indiana Hoosiers, Part 1 (Overview and Offense)
Big Ten Breakdown: Indiana Hoosiers, Part 2 (Defense and Specialists)
Big Ten Breakdown: Indiana Hoosiers, Part 3 (Schedule and Final Breakdown)
Big Ten Breakdown: Minnesota Golden Gophers, Part 1 (Overview and Offense)
Big Ten Breakdown: Minnesota Golden Gophers, Part 2 (Defense and Specialists)
Big Ten Breakdown: Minnesota Golden Gophers, Part 3 (Schedule and Final Breakdown)