Pittsburgh Steelers QB Ben Roethlisberger Ready for Another AFC Title Game
January 21, 2011

Gregory Shamus/Getty Images
Pittsburgh Steelers quarterback Ben Roethlisberger is in familiar territory. For the fourth time in his almost legendary, sometimes troubled seven NFL seasons, Big Ben is in the AFC Championship Game. And with a 2-1 record in those contests thus far—along with two Super Bowl victories—it's safe to say he plays well when it counts the most.
You know the old adage: big-time players make big-time plays in big games. That's become Big Ben's M.O.
His 22 career fourth-quarter (and overtime) come-from-behind victories in his first six seasons alone prompted Steelers head coach Mike Tomlin to say Roethlisberger "has a fourth quarter about him."
If history is to repeat itself in this weekend's AFC Championship Game, this time against the outspoken and very talented New York Jets, Big Ben will need everything he's brought to the table before—and then some.
The Jets not only finished the 2010 regular season with the NFL's third-ranked total defense (just an FYI, the Steelers D was second), they are fresh off impressive road victories over Peyton Manning and the Indianapolis Colts, and Tom Brady and the New England Patriots.
If you ask me, Manning and Brady are the top two quarterbacks in the National Football League today. Roethlisberger agrees.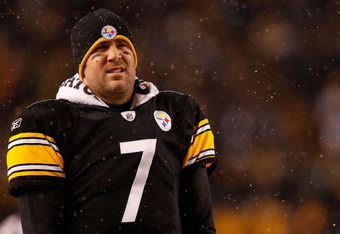 Jared Wickerham/Getty Images
"I don't know how I have a chance," he said, without a hint of humor. "They can go into Indianapolis and beat Peyton Manning and go to New England and beat Tom Brady, who are the two best quarterbacks in the game in my opinion. I'm just going to have to try and get lucky and play the best I can."
Luck is always welcomed. But Roethlisberger's got the credentials to play alongside both Brady and Manning. He's just hoping for different results than his predecessors have experienced this postseason.
I jumped on a national conference call with Big Ben today and asked him specifically about every quarterback's worst nightmare in playing against the Jets—a matchup with the NFL's best cover corner, Darrelle Revis. How can someone with as much competitive fire as Ben Roethlisberger not want to go after Revis? Perhaps there's a fine line between supreme confidence in competition and having the maturity and sense to stay away from "Revis Island."
It sounds like Roethlisberger will walk that line.
"It's tough. You're right. As a competitor, you don't want to ever say you're scared of anybody or you don't want to go after someone. But you've got to use your head. Being a competitor is being smart as well. Knowing how good he is and with all those other guys they have over there, you can't just be like, 'Forget that, I'm a competitor. I'm going after him. I don't care what happens.' You've got to be able to use your head and know when to attack and when not to."
That attack will include reliable Steeler veterans like Hines Ward, Heath Miller and Antwaan Randle El. But it will also feature a corps of young talent, including two rookies—Antonio Brown and Emmanuel Sanders—and second-year speedster Mike Wallace, who is one of the NFL's most feared receivers, averaging 21 yards each time he catches the football.
Roethlisberger missed the first four games of the 2010 season due to suspension, so how has he managed to find a rapport with these young players through 13 games? He had high praise for the trio's work ethic and abilities.
"Those guys have done such a great job. Speaking of Mike first, he has really grown from last year to this year. Obviously, everyone talks about how fast he is. Coach Tomlin teases him and calls him a one-trick pony. But he has done a great job in being able to do more than just run fast down the field. He takes pride in putting the extra work into being a better all-around wide receiver. He is still growing. The sky is the limit for him.
"As for Emmanuel and Antonio, those guys both put in a lot of work and time because they know they've got to live up to the expectations of Mike Wallace and Hines Ward, who has been here forever. It's really an awesome thing to see those guys work and really just blossom and grow every week."
Steeler Nation will be expecting Big Ben to find a way to pull out a win against the Jets on Championship Sunday. And I'm sure Roethlisberger feels the same way. Why shouldn't he? When I asked about his previous playoff successes, we shared a laugh regarding his formula for winning.
"Try not to make mistakes and score more points than the other team does."
How can anyone question that?