NBA Rumors: Golden State Warriors' Backup PG May Come From Familiar Place
December 4, 2010
Chris Graythen/Getty Images
The honeymoon—and accompanying cupcake schedule—is over for Joe Lacob and Peter Gruber's 2010-11 Golden State Warriors.
After a quick 6-2 start, the Warriors have dropped eight of their last 10 and their upcoming schedule shows no reason that they'll soon buck this trend.
Countless problems have emerged in this fall from grace: the lack of a consistent scorer to help Ellis and Curry, the same rebounding and defensive deficiencies that have plagued this franchise in year's past and the lack of any true impact from their second unit.
The third and fourth scorer could be solved by members of the current team, provided David Lee and Dorell Wright work to be more efficient and more consistent.
The rebounding and defensive miscues come from a roster consisting of mostly offensive-minded players, but these areas show mild improvements over recent years—26th in rebounding differential at -2.84 and 27th in scoring defense 106.53. And with the club's best interior defenders—Louis Amundson and Ekpe Udoh—both optimistically back before the New Year, the rebounding and defense should continue to improve.
But the lack of any playmakers on the bench remains an area of concern for Smart's club. Reggie Williams, clearly the offensive leader of the unit, has struggled to find a groove thanks to inconsistent playing time and varying roles.
The point guard position on the bench is the biggest quandary for Smart and general manager Larry Riley. Simply put, there are no easy solutions on that roster.
Williams was given the first option, but he showed a scaled down version of what Ellis struggled with last season. He's a gifted scorer who's been asked to sacrifice his shots to create for teammates.
The two point guards on the roster—rookie Jeremy Lin and journeyman Charlie Bell—have been less than impressive in their time on the floor. Bell looks happy to be back in the NBA, but his play—1.6 points, 29.6 percent from the field—could have him out of a job before the year's over.
Fan favorite Lin—2.5 points, 1.1 assists in 9.8 minutes—has looked outclassed at times and still seems to be reaping the benefits of a magical fourth-quarter of summer league play against the number one overall pick, John Wall.
So where can Smart and Riley turn to find a true leader and playmaker that can help develop their second unit?
For the Warriors, the answer could come from an all too familiar place: the NBA's Developmental League.
There are two intriguing options in the NBADL that the Warriors need to have on their radar yesterday. One is a former Warrior, and the other is a D-League rarity: a 12-year NBA veteran.
The former Warrior, Aaron Miles, has been tearing up the league on the Warriors' affiliate Reno Bighorns. The 6'1", 185-pounder played 19 games with Golden State in the 2005-06 season and played with the Warriors in this past training camp. His 4.36 assist-to-turnover ratio is double what Lin, 2.27, or Bell, 2.25, have tallied so far. He also paces all D-Leaguers who've played multiple games with 10.2 assists in his 34.3 minutes.
Miles could provide the Warriors with a more experienced distributor for their second unit, but there's something that the Warriors saw—or didn't see—that left Jeff Adrien with the final roster spot and Miles in Reno.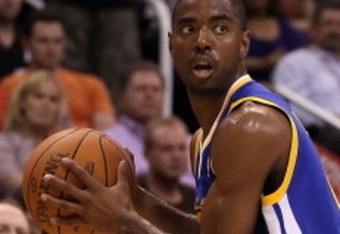 Christian Petersen/Getty Images
But the D-League rarity, the player who basketball-reference.com says has made nearly $50 million in his pro career, could be just what Smart and Riley need. The fact that this former NBA champion would deal with the minuscule paychecks and grueling bus rides—just ask Ed Davis—for the chance to return to the league says one thing clearly: Antonio Daniels loves this game.
Daniels has been impressive in his five games with the Texas Legends. In his 37.4 minutes, he's averaged 16.8 points, 6.2 rebounds and 4.56 assists to every turnover.
Daniels—listed by the D-League as 6'2", 188 but listed by NBA.com and Basketball-Reference.com as 6'4", 205—could bring the scoring ability to take some pressure off of Curry, Ellis and Williams. And he's shown enough defensive savvy that could slow down opposing perimeter players, allowing the Warriors' shot-blockers to stay at home and in better rebounding position.
He would also bring a welcome veteran presence that could show the youthful Warriors how to finish opponents. And with his desire to return to the league burning brighter than most, Smart could finally have confidence in a backup point guard who won't be out-worked, knows how to play the game and has proven he can lead his teammates.