Freedom Newbies: Goalkeeper Ashlyn Harris
September 21, 2010
As the Washington Freedom conclude their season, so too does the Freedom Newbies series. The last to be featured this year is goalkeeper Ashlyn Harris.
In the final seconds of overtime Amy Rodriguez comes through for the Philadelphia Independence and scores a 120th-minute goal to deliver her team to the semifinal round of the 2010 WPS Playoffs, defeating the Washington Freedom 1-0.
But even in defeat, the Freedom's rookie goalkeeper Ashlyn Harris emerged a hero.
Harris impressed viewers of the game with her spectacular performance on goal, including a one-handed save in the 79th minute that was quickly followed by a kick save after the ball rebounded to a nearby Rodriguez.
"This is the game of soccer and balls bounce in funny ways and people come up and make big saves and great finishing," Harris said after the match. "And at the end of the day, that's why this game is so exciting. It's overtime, and playing in front of a crowd...we just had a blast today and unfortunately we didn't come out on top. It happens."
One spectator at the game in West Chester, Pa. was U.S. Women's National Team (U.S. WNT) head coach Pia Sundhage. A regular in WPS games, Sundhage monitors American players in the league as she prepares her roster for the 2011 Women's World Cup in Germany.
The last time Harris was called up to a national team camp was in the fall of 2009, several months before she started her professional career with the WPS.
The goalkeeper from the University of North Carolina (UNC), after enjoying three NCAA titles with the Tar Heels, was picked up by St. Louis Athletica in January 2010 at the WPS College Draft. Athletica had Hope Solo, the U.S. WNT's No.1 goalkeeper, in the roster as well as Paul Rogers, the U.S. WNT's goalkeeper coach, in the coaching staff.
"I was really excited. I was probably in the best situation possible as a rookie goalkeeper," Harris said. "I trained everyday with Paul Rogers and Hope Solo. That was like a dream. Every day I just came to practice smiling from ear to ear. (It was) just so much fun.
"And just in the little amount of time that I was with them, my game just completely changed. I got so much better and I give a lot of credit to Paul and Hope because they pushed me everyday. Hope looked out for me and she really wanted me to get better and improve and it was a great experience.
"It was (like) national team camp and residency camp everyday for me."
Midseason, in late May, Athletica suspended operations. Some of Harris' teammates went to other WPS teams. The Freedom, in need of another goalkeeper due to Briana Scurry's concussion, picked her up.
After being the back-up to Solo, Harris then became a back-up to another goalkeeper—Erin McLeod, the Freedom's starting 'keeper who also plays for the Canadian Women's National Team. With being second string to world class goalkeepers, the UNC star still could not get an opportunity to play in a game in the first year of her professional career and get noticed for a national team call-up.
"That's why we're all here, we want to make it to the highest level. It's not easy just waiting for that chance and capitalize on that opportunity," Harris said back in July.
"[Sundhage] watches a lot of games, and I don't get those games. So it's just a lot of staying sharp, training really hard, and when I do get my shot, my opportunity to play, I'll just play well. So I'm just taking this year as a rookie to just learn as much as I can. Just absorb, absorb, absorb. And then apply it.
"And I think soon enough I'll get my shot and hopefully I can start getting some games and get looked at."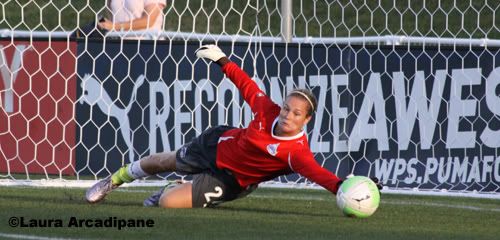 As Harris said this, McLeod injures her knee three days later in a home game against FC Gold Pride. The Freedom, then on an 8-game winless streak, turned to their rookie goalkeeper to step up for the nine remaining games in the regular season. These games were crucial if the team wanted to be a contender for the playoffs.
The Freedom's record was 4-3-2 since Harris took over in goal. She posted four shutouts, the last being in the game that would earn them the final playoff spot.
"Clearly every game we go into we're expecting a win and we know if we play our game that we won't have to question that," Harris said days after that game. "But it was a great win, 88th minute, Abby [Wambach]'s goal...I mean it doesn't really get any better than that in the game of soccer. It was really exciting for our fans. We had a nice crowd, and it was just an overall great night for us."
And then came the playoff game. Sundhage had already named her roster for the latest national team camp and friendlies against China. Four goalkeepers were called up, and Harris was not one of them. Even with Solo backing out to treat her shoulder, U.S. Soccer announced that the USA's starting goalkeeper will not be replaced.
But that did not stop Harris from delivering a standout performance in front of Sundhage, the Independence fans, and the Freedom fans.
"I think Ashlyn was the MVP of the whole game," said U.S. WNT and Freedom striker Abby Wambach. "For a goalkeeper, you ask her to make one or two saves a game to keep you into it. But Ashlyn did more than that.
"I am very proud of her because she came off the bench and really helped us out this season. [She] made key saves to get us into the playoffs and I think it's fitting she kept us in this playoff game."
She may still not be in the U.S. roster, but Harris clearly made a statement in that game. And her team may not have gone further in the postseason than they had liked, but Harris has no regrets.
"This hasn't been an easy road at all. It's been an incredible journey and I'm just so thrilled that I get to see these girls everyday," Harris said after losing to Independence in the playoff game. "It's unfortunate that our season comes to an end here, but I've made some great friends.
"I've had a great run as a rookie and I'm leaving here with my head up, confident in knowing that I did everything I could in every game to help this team."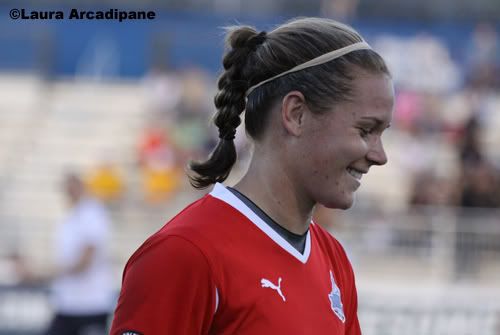 [UPDATED 9/23/10: U.S. Soccer announces that Ashlyn Harris has been called up to national team camp.]
Kat Galsim is a writer/videographer based in the Washington, D.C. metropolitan area. You can follow her on Twitter @katgalsim.