Dale Earnhardt Jr., Kyle Petty, and Brian France: I Am Not My Grandfather's Son
December 15, 2009
What is it that Dale Earnhardt Jr., Kyle Petty, and Brian France all have in common besides their affiliation with the NASCAR racing series?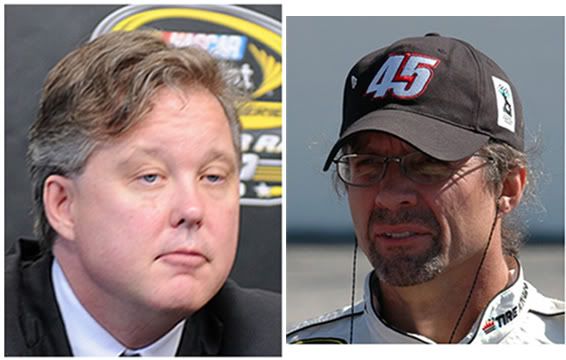 NASCAR as we already know has a very rich history that goes beyond what the three of these men's fathers could have ever imagined, because the three that were mentioned are also the only third generation family members in the sport today.
The NASCAR bloodline which started through their grandfathers came with a great deal of success and accomplishment when they were handed a torch, and proceeded to carry it into their own era while adding on to the legacies that were left behind them.
Between Dale Earnhardt Sr., Richard Petty, and Bill France Jr., they almost single handedly changed the way NASCAR was viewed by their own personal style that they brought to the sport. When you look back to the life of Bill France Sr., it was he who founded the sport while keeping control of it all the way until his retirement in 1972.
It was then that he passed it on to his son Bill Jr, who quickly grabbed a hold of his fathers dream and continued to build on it almost immediately.
Bill Jr. quickly realized that he inherited the "Midas Touch" that his father had, and soon found himself making decisions that benefited the sport by bringing in more fans, and with the fans came more money.
Bill Jr. never stopped reaching for the stars, and he demonstrated it when he signed the $2.4 billion television contract that took the sport beyond its Southern heritage, and right into the National spotlight while reaching millions of fans worldwide.
Bill Jr. also launched NASCAR.com in 1996, which is the internets No. 1 visited motorsports site on the World Wide Web.
Lee Petty may have become the inaugural winner of the Daytona 500 back in 1959, along with winning his third Winston cup championship as an owner/driver that same year.
But it was his son Richard, who picked up where his father left off and continued a legacy that would span over four decades.
King Richard as he is known holds a record that will probably never be touched with his 200 race wins, to go along with his seven Winston cup championships, seven Daytona 500 wins, and 127 poles in 1,185 starts. Petty also won 27 races in 1967 that also included 10-in-a-row, which only added on to his impressive list of accomplishments.
For six decades Petty Enterprises was an icon in the NASCAR world, while at the same time making the No. 43 one the most recognizable numbers in NASCAR history before they closed shop when they merged with Gillette Evernham Motorsports just this last season.
Anytime the Earnhardt name comes up in a conversation, it usually sends chills up the spines, and can easily send a jolt of adrenaline through the body of those fans and drivers who had the chance to witness one of NASCAR's most prolific drivers of our time.
Little did Ralph Earnhardt know when he gave birth to his son, that he would not only pick-up where he left off, but also change the way the fans viewed NASCAR as a sport.
Ralph Earnhardt grew up racing the dirt tracks around his hometown of Kannapolis, North Carolina.
It was here where the bloodline started that his son Dale realized, that racing would also play a major in his future as a race car driver. "Like father, like son," is the easiest way to put into plain words, the driving style and the persona that the younger Earnhardt inherited from his father.
Earnhardt Sr. took what he learned from his father, and parlayed into seven cup championships, 76 wins, a four time IROC champion, three time All-star race winner, Rookie of the Year, Daytona 500 champion, and the long list of awards that went along with making him NASCAR's most recognizable driver.
There have been numerous books, songs, streets, movies, and tributes that have been named in his honor ever since his death in 2001. To this day the No. 3 along with the black, silver, and red paint scheme is still the most popular in all of NASCAR.
So how is it that after the second generation siblings received the abilities of greatness from their own fathers, that the bloodline was suddenly hindered when it was time for the third generation to excel just as their fathers did?
The achievements that France Sr., Petty, and Earnhardt Sr. conquered, after given the reigns to the family name were more than enough to get them inducted into NASCAR's inaugural Hall of Fame class next year in 2010.
Kyle Petty was the first of the three third generation family members, to continue the bloodline that was started with their grandfathers.
Petty stormed out of the gate winning his very first ARCA race the same year he made his Winston cup debut in 1979, but it wasn't until seven years later when he would finally pick up his first cup win in 1986.
Petty never materialized as a threat to his fellow drivers and if it wasn't for his dad and grandpa, the Petty legacy that was left behind would probably be just another name that came and went.
Petty left the cup series in 2008 after racing for 30 years, while only collecting eight victories in 846 starts which are hardly enough for any NASCAR enthusiast to lose any sleep over.
Petty is best known for his charity work, and The Victory Junction Gang Camp for terminally ill and chronically ill children located in Randleman, North Carolina. The camp was built in honor of his son Adam, who was killed at the age of 19 while practicing for a Busch race in 2000.
Dale Earnhardt Jr. had already won back-to-back Busch series championships (1998, 1999), and was well on his way to NASCAR stardom before his legendary father would give way to the crash that took his life on the last lap of the 2001 Daytona 500.
Between the father and son duo, NASCAR was hoping to capitalize on the Earnhardt name that could have possibly catapulted the sport into the number one slot ahead of the N.F.L and M.L.B.
But with the death of the elder Earnhardt, the generation X type of fan that entered the sport quickly took a liking to Earnhardt Jr, while giving him the status of a modern day rock star.
Earnhardt made it easy for the fans to grasp onto him, especially when Budweiser climbed on board as his primary sponsor which just happened to the beer of choice for most sports fans around the country.
Earnhardt signed a five year deal in 2007 to driver for the powerhouse team of Hendrick Motorsports, which began in 2008. In 72 starts for the team, Earnhardt only has one win, 12 top fives, and 21 top 10 finishes.
Going back to 2006 when his last win came at Richmond on May 6 before coming over to HMS, Earnhardt has gone 134 races with only one victory.
Where Bill France Jr. had left off after bringing NASCAR to millions of homes with the 5.5 billion dollar National T.V. contract in 2001, his son Brian wasted no time once he got his hands on the NASCAR Empire, and his first order of business was to try and knock the N.F.L. from the No.1 watched sporting event in America.
Without hesitation, France quickly instituted a play-off format that was supposed to bring more excitement, as well as boost the T.V. ratings which in turn would bring more fans to the sport.
The chase for the Sprint Cup Championship as it is called today, has already gone through two rule changes since it was first introduced in 2004.
The chase according to most fans has done nothing but bring partiality to the one team that has won the last four championships, along with taking away the excitement that is was originally intended for.
It didn't matter what changes France brought to the sport, or how hard he tried to attract more fans, the bottom line is he didn't have the magical touch that his father or grandfather had while running one of sports biggest organizations.
Nothing seemed to work, and the C.O.T. was another one of his changes that hasn't materialized as planned, even though it was brought out a year earlier than expected.
Instead of bringing parity back to the underfunded teams that was slowly slipping away, it quickly bridged that gap even more along with the no testing policy that has made it impossible for any of these teams to have a fair chance at a win.
Underachieving is probably the best word to describe what these three third generation NASCAR stars have had to endure, and they cant blame it on the bloodline because it started rich with success written all over it.
But as is life in general, there are no guarantees, just because my grandfathers' son had success doesn't mean I will. 
Dale Jr. and Kyle Petty Photo Credit: David Yeazell
I want to thank David Yeazell for creating the title used in this article.