10-Man Zenit Gun Past Spartak Moscow into The Champions League
November 29, 2009
Chelsea-Arsenal. Real Madrid-Barcelona. Two matchups that would make any true football fan salivate profusely.
Four of the world's best clubs going head-to-head. But a rivalry dipped in hate that certainly flies under the radar a bit are two of the most successful Russian clubs, Spartak Moscow and Zenit St. Petersburg. It's a rivalry that seems to grow in strength every year, this one being no exception.
When Vladimir Bystrov made headlines in the summer, transfering from Spartak back to Zenit, fans were up in arms. For several different reasons.
Spartak fans loathed the weath of the Gazprom-backed Zenit side, who had just snatched one of their best players in the heat of their title pursuit. Meanwhile, Zenit supporters shared mixed reactions, some welcoming him back with pride but others jeering him zealously because of his actions as a member of Spartak.
And it's never a rivalry without sky-high implications.
While Spartak already locked up a Champions League berth for the 2010-11 season and second place in Russia, Zenit needed three points to stay in third place if they wanted a chance at Europe's highest level of football.
To begin the match, Zenit would be wearing black arm bands, honoring the victims of a train bombing that killed 26 passengers en route from Moscow to St. Petersburg. The tragedy effected the families of several Zenit youth players.
A very edgy beginning to the match, as everyone expected, saw midfielder Szabolcs Huszti take a yellow card only four minutes in. This surprised absolutely nobody at the Petrovsky Stadium, as referee Stanislav Sukhina has a history of awarding more cards than he probably should, especially to Zenit players. Under his officiating, Zenit averages about five yellows, a red card and a half per match.
Both sides flying around the pitch almost figured someone would score in the first ten minutes, but it would not be the case. Spartak missed it's pair of chances, both trying to get premier striker Welliton into the match.
Although the tempo toned down a bit after the initial track meet, the tempers did not. Both sides continued to "feel each other out" defensively, trying to figure out what their counterparts could or couldn't do.
But a controversy struck in the 43rd minute, as Huszti was awarded his second yellow card of the half. After winning a free kick in the attacking third, Huszti wanted to get a quick start and flipped a pass ahead to Bystrov while Spartak was hardly set. Sukhina blew the play dead, called Huszti over and showed him a red card for the seemingly bookable offense.
So far, the three cards that Sukhina had awarded, two to Zenit and one to Spartak, all of them had been on aggressive tackles that were absolutely worth a booking.
However, sending a key player off for a fast re-start of play in a match with implications of the Champions League, makes nearly no sense whatsoever. When Zenit captain Aleksandr Anyukov and his assistant Igor Denisov went to protest, even the majority of the Spartak players seemed confused about the decision as well.
Huszti is unmercifully sent off.
But that was that. Huszti was done and Zenit was reduced to 10 men just before half time.
Only nobody told veteran Konstantin Zyryanov. After failing to qualify for the 2010 World Cup, the 32-year-old scored one of the biggest goal in his Zenit career, taking a perfect free kick that Spartak keeper Soslan Dzanaev only saw at the last possible second. And with one incredible stroke of luck, the blue-white-sky blues ran into the lockers with a 1-0 advantage.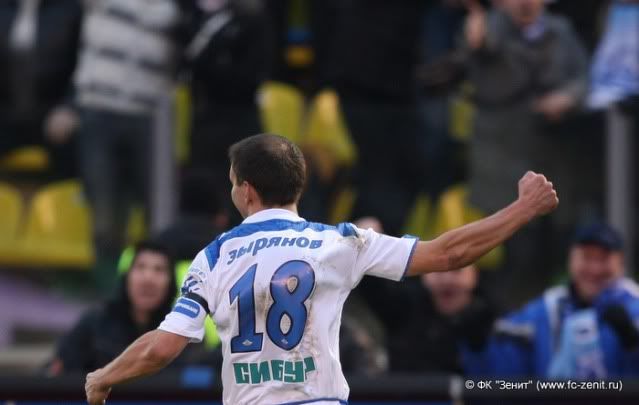 Zyryanov celebrates his thunderous strike.
But, as Anatoliy Davydov well knew, one goal was hardly enough to beat a high-octane offense like Spartak down a man.
To begin the second half, Davydov pulled off ineffective Turkish striker Fatih Tekke in favor of former Chelsea hitman Mateja Kezman, who nearly had an immediate impact. Taking a pass and slicing through the Spartak defense, he only missed by a few yards to the wide side of Dzanaev.
Even with 10 men, Zenit was carrying the play through the midfield and forcing Spartak's offensive-minded backline to defend. On the fifth corner conceded by the men in red, Zenit finally capitalized. An unusual source, central defender Nicolas Lombaerts headed home from five yards out, looking very much like fellow Belgian backliner Thomas Vermaelen of Arsenal.
Just like that, the locals had a two goal advantage.
Following the goal, Spartak boss Valeri Karpin made a strange substitution, taking off attacking midfielder Quincy Owusu-Abeyie, who had a fairly productive match through the first 55 minutes. But, Karpin's itch was correct. Immediately after Owusu-Abeyie came off, Spartak started to look like the offensive juggernaut everyone imagined they would up a man.
But no matter, they could not crack the nut that is Vyacheslav Malafeev. A rare occurance, he was not picked as one of the best three keepers in Russia.
Making save after save, none more spectacular than stealing a goal away from Ibson, who couldn't believe his rotten luck inside the box.
In pursuit of an opening goal, Spartak quickly became frustrated. Three seperate players were handed yellow cards, all coming in the attacking third of the field. Not only were they handing possession back to Zenit to clear, but seeing valuable time evaporate off the clock.
But as soon as Champions League fever began to spread throughout the stadium, substitute defender Malik Fathi poaches a goal past Malafeev on the far post, giving Spartak life and silencing the 21,000 strong in blue.
Just like that, 2-1.
Luckily, it was just too little, too late for Spartak. And like they were crowned champions, St. Petersburg was utopia as they knew their beloved club would be headed back to the UEFA Champions League.
Malafeev embraces goalkeeping coach Nikolai Vorobiev.
Match Notes
Zenit finishes the 2009 campaign with 54 points, its highest point total since the club won the UEFA Cup in 2007-08. Although Lokomotiv Moscow also finished with 54 points, the men from Petersburg carried a better goal differential.
Aleksandr Anyukov, Konstantin Zyryanov and Vladimir Bystrov were all named as the best at their respective position by the RFU for 2009. Igor Denisov, Igor Semshov, and Fatih Tekke were also named to the Top 33 list.
Zenit will almost surely be in the market for a new striker during the winter transfer period, as it is widely speculated that Tekke will return to Turkey next season. However, 20-year-old Pavel Ignatovich, who recently won the Russian youth title for Zenit, could see considerable playing time in 2010.
By guiding the club back to the Champions League, the search for a new manager may have finally ended. Anatoliy Davydov is the man for the job.