Magic Johnson: Zion Williamson 'Lucky' Pelicans Have Top Pick in 2019 NBA Draft
May 20, 2019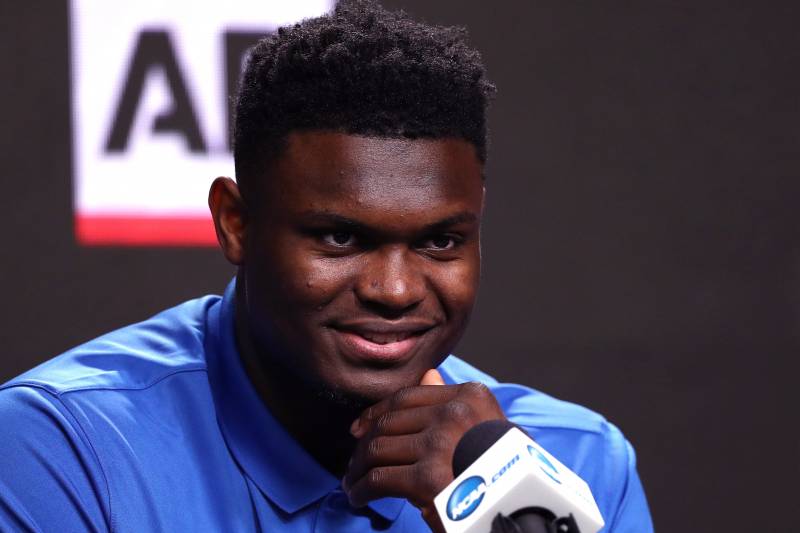 Mike Lawrie/Getty Images
NBA legend and former Los Angeles Lakers president Magic Johnson appeared on ESPN's First Take on Monday morning and touched on a number of topics, including the presumed top overall pick in this year's NBA draft, Zion Williamson.
"Zion got lucky, because Alvin Gentry can coach," Johnson said, referencing the New Orleans Pelicans winning the NBA draft lottery and getting the top pick. "He shouldn't think about all this craziness people are talking about. You go to New Orleans and you've got a great coach that's going to help him get better. Because he needs to work on some skills that he doesn't have right now, and Alvin will do that for him."
Johnson's comments may raise a few eyebrows, considering he and the Lakers attempted to pry superstar Anthony Davis away from Gentry and the Pelicans ahead of this season's trade deadline to no avail. 
"I offered a lot of guys, but you have to do that for an Anthony Davis," Johnson said on First Take. "He's a special player and the guys that we were going to trade to the Pelicans are special as well. And I told [former Pelicans general manager] Dell Demps: 'Let's just do it in private. What we offer, let's keep it between us.' Well, Dell didn't do that, so that's how it got out, right."
Ironically, Williamson would have perhaps been the primary trade chip for a team like the New York Knicks or Lakers this offseason to land Davis had they won the top overall pick. Instead, it went to the Pelicans, setting up a fascinating bidding war for Davis this summer, with his heir apparent soon to be in New Orleans.
Williamson is probably the most hyped prospect to hit the NBA since LeBron James and certainly the most dominant since Davis, averaging 22.6 points, 8.9 rebounds, 2.1 steals, 2.1 assists and 1.8 blocks per game during his lone season at Duke. He also shot an absurd 68 percent from the field.
He isn't a perfect prospect; he shot just 33.8 percent from three and needs to improve his perimeter jumper. At 6'7", he perhaps doesn't have the ideal height for a power forward or even small-ball center.
But Williamson can improve his jump shot, and his elite athleticism will likely cover for any size issues he might have. As prospects go, Williamson is about as good as they get. 
McCollum and the Blazers Snapped Postseason Losing Streak for "Jennifer"

Stars Invest in Plant-Based Food as Vegetarianism Sweeps NBA

The NBA Got Some Wild Techs This Season

Jarrett Allen Is One of the NBA's Hottest Rim Protectors

Wade's Jersey Swaps Created Epic Moments This Season

Westbrook Makes History While Honoring Nipsey Hussle

Devin Booker Makes History with Scoring Tear

29 Years Ago, Jordan Dropped Career-High 69 Points

Bosh Is Getting His Jersey Raised to the Rafters in Miami

Steph Returns to Houston for 1st Time Since His Moon Landing Troll

Lou Williams Is Coming for a Repeat of Sixth Man of the Year

Pat Beverley Has the Clippers Stealing the LA Shine

LeBron Keeps Shredding NBA Record Books

Young's Hot Streak Is Heating Up the ROY Race with Luka

LeBron and 2 Chainz Form a Superteam to Release a New Album

Wade's #OneLastDance Dominated February

Warriors Fans Go Wild After Unforgettable Moments with Steph

Eight Years Ago, the Nuggets Traded Melo to the Knicks

Two Years Ago, the Kings Shipped Boogie to the Pelicans

ASG Will Be Competitive Again If the NBA Raises the Stakes
The worry for Pelicans fans will be that the same conversation was had about Davis, and the Pelicans never built a winner around him. Davis won just one playoff series in his seven seasons and only made the playoffs twice, likely a major factor in him desiring to be traded.
But the Pelicans have a new structure in place, with David Griffin named vice president of basketball operations and Trajan Langdon general manager this offseason. They can't afford to make the same mistakes with Williamson that the previous regime made with Davis. What happens with Davis this offseason—and what the team receives in return for trading him if they go that route—will play a major role in whether they fail or succeed during the Williamson years.