Michael Porter Jr.'s Agent: Rookie Isn't Cleared for Full Activity After Surgery
August 14, 2018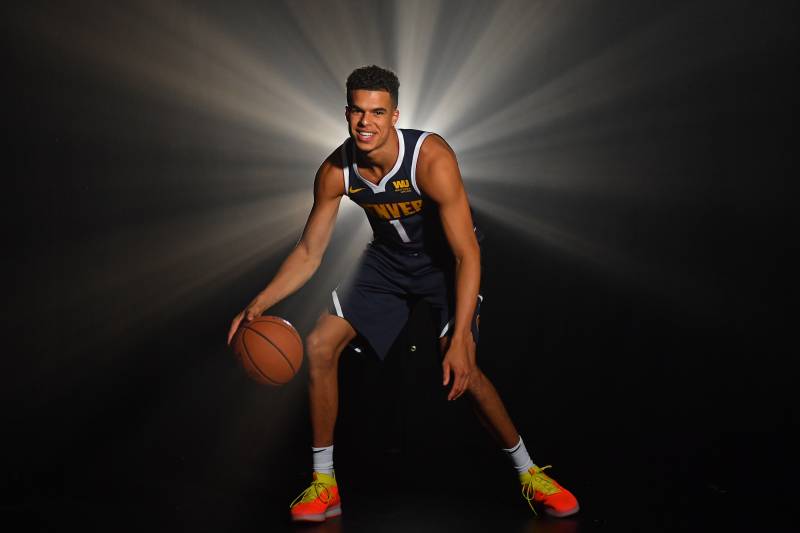 Jesse D. Garrabrant/Getty Images
After having undergone a second spinal surgery in July, Denver Nuggets rookie Michael Porter Jr. continues to work his way back to the court. 
Porter's agent revealed, via Yahoo Sports' Alec Lewis, that while his client is already back to shooting jumpers, he has not been cleared for full basketball activity.
This comes just a couple of days after Porter created some buzz by taking shots during the NBA's annual rookie photoshoot this week, via NBA TV:
The 14th overall pick revealed to ESPN.com's Chris Forsberg on Sunday that he was feeling good as he continues to rehab:
"I don't have a date but I'm hoping to be back for the beginning of the year. Gotta heal up, but I feel great. I'm able to get on the court a little bit right now, do some different things. But my rehab has definitely been very conservative. They're really taking it easy with me, being patient with me."
Porter is coming off an injury-plagued season at Missouri that saw him sidelined just minutes into his collegiate career. He underwent spinal surgery in November and wound up being sidelined for four months before returning for a pair of postseason games.

That injury led Porter from being in the conversation for the No. 1 overall pick to nearly falling out of the lottery. Ultimately, though, Denver felt he was worth the risk. 
Even with this latest operation, Porter remains optimistic about basketball.

"[Doctors originally] only thought one of [the bulging disks] was symptomatic," Porter said, via Forsberg. "They went in and fixed that one. Turns out that both were symptomatic. So my first surgery helped a lot but didn't fix the entire problem. Now that they did this one, I've got no pain or anything. I'm excited."
Porter is on the record as saying he believes he is the best player in his draft class. Now, he is focused on getting healthy so he can prove that to the world.