Derrick Rose Reportedly Wants to Return to Cavaliers
December 3, 2017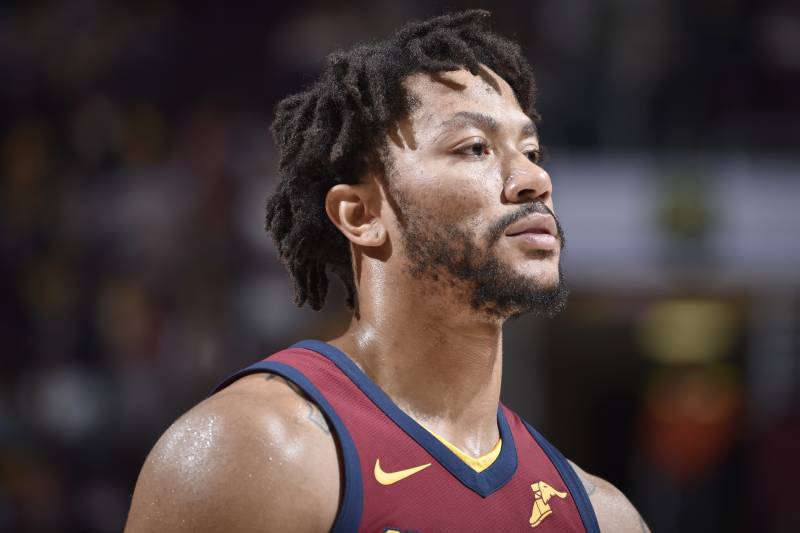 David Liam Kyle/Getty Images
Derrick Rose, who has been away from the Cleveland Cavaliers due to a personal issue while also recovering from a sprained left ankle, wants to return to the team, according to Jason Lloyd of The Athletic.
Per that report: "Where he fits now remains to be seen. Rose has been in contact with Cavs general manager Koby Altman in recent days and has expressed a desire to return. The Cavs are expected to have an announcement regarding Rose on Sunday."
Rose, 29, has appeared in seven games for the Cavs this season, averaging 14.3 points and 1.7 assists in 26.9 minutes per contest.
He first suffered his ankle injury Oct. 20 before returning to the team after four games. But on Nov. 17, the team said Rose would be undergoing treatment on his ankle, with plans to reevaluate him in two to three weeks.
Dave McMenamin and Adrian Wojnarowski of ESPN reported on Nov. 25 that Rose was "reevaluating his future in the NBA" and that there was "growing uncertainty inside and outside the franchise about whether he will return to the team."
"He's tired of being hurt, and it's taking a toll on him mentally," a source added.

Injuries have hampered Rose's career since the 2012 postseason, costing him 179 games in that span.
Both head coach Tyronn Lue and Altman confirmed to Nick Friedell of ESPN.com on Saturday that Rose and the organization have had positive communication.
LeBron James also offered his support and the support of other Cavaliers' players:
"Whenever he's ready to tell us or whatever, we're ready for that. You don't ever fast-track someone's process of what they may be going through. When they're ready to talk about it or ready to bring it to the forefront, as his teammates, we'll be ready for it.
"I don't know what the organization's stand on that is. That's different. From us as players, we don't need an answer from him. We want him to be as great as he can be, off the floor first before he even thinks about being on the floor."