Mark Hunt Will Not Go Gently into That Good Night
June 11, 2017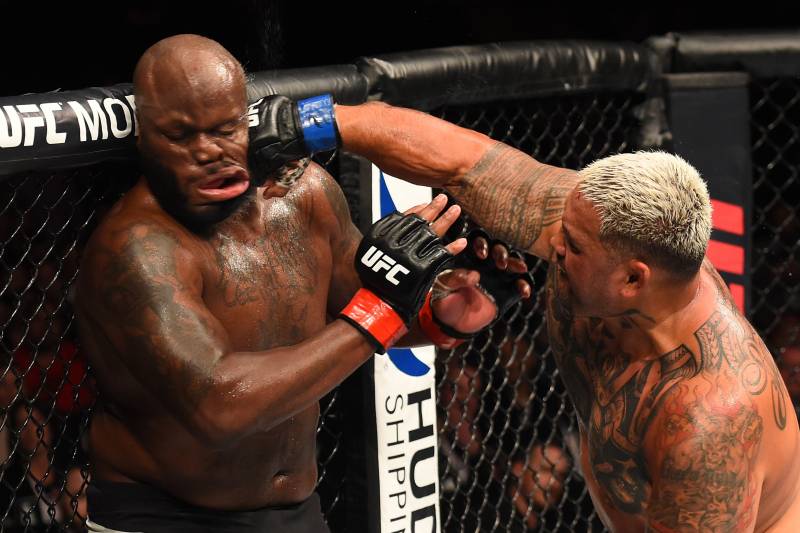 Josh Hedges/Zuffa LLC/Getty Images
At 43 years, 2 months and 20 days old, Mark Hunt is the oldest fighter on the UFC roster. Instead of being called "old," he'd probably prefer to be called "timeless." For years, the best heavyweights in the world have been trying to close out his career with no luck. The UFC once tried to pay him to go away. He's been knocked out four times in the last four years. And yet he persists and finds a way to work himself back into the mix.
On Saturday night (Sunday in New Zealand), Hunt extended his career, perhaps to the disappointment of UFC brass. Facing the surging Derrick Lewis—a man 11 years his junior—Hunt took another dip into the fountain of youth, taking over late for a fourth-round technical knockout.
It was a performance worthy of those standard veteran adjectives like "wily" and "crafty," words that are often bestowed on people who somehow continually survive in seemingly unwinnable circumstances.
Perhaps no one deserves them quite as much as Hunt.
Before the fight, there were numerous indications the pairing could be a problem for Hunt. In his previous six matches, he had been out-struck 599-155, an incredible deficit rarely faced by top-10 level fighters.
Moreover, in his last bout, which took place just 99 days ago, Hunt was knocked unconscious by Alistair Overeem. He was given a 45-day medical suspension by the Nevada Athletic Commission, but he accepted the Lewis pairing less than three weeks later, when he was still barred from contact.
The quick turnaround was not ideal for someone coming off the trauma of a knockout, and it didn't help that Hunt was tasked with returning against the powerful Lewis, who walked into the bout on a six-fight win streak, which included five knockouts.
Aside from that, Hunt had the drag of an ongoing lawsuit with the UFC and Dana White hanging over him after he accused the promotion and its president of colluding to allow Brock Lesnar to use performance-enhancing drugs during the leadup to their July 2016 bout.
That alone would have been plenty to occupy his mind as he prepared for the powerful Lewis, but on top of it all, Hunt had to deal with the high-pressure prospect of competing in front of his home country fans for the first time in 16 years.
Josh Hedges/Zuffa LLC/Getty Images
The last time Hunt performed in his native New Zealand, he was in his 20s and focusing on kickboxing. In that fight, he lost.
All this time later, he's older and wiser, even as his career continues a long wind-down.
In the early part of the fight, Lewis looked faster and longer while flashing a more diverse arsenal, but Hunt stalked him as Lewis expended extra energy circling the circumference of the Octagon.
Late in the second round, Hunt swung the momentum his way when he landed a step-in elbow that buckled Lewis and stole the round, and at about that moment, you got the feeling Hunt had learned exactly what he needed to know to continue on the road to victory.
Lewis showed durability, taking several heavy shots over the remaining minutes of the fight and firing back a few of his own, but his conditioning began to betray him, and he became a sitting target.
Still, he made one last stand with a jumping knee that knocked Hunt back a step, but that was all he had left. After missing on a follow right hand, Lewis backed up to the fence, and Hunt bombarded him with two step-in elbows among a barrage of strikes that led referee Marc Goddard to step in.
"It was just a matter of time," Hunt said in the post-fight news conference. "He started getting tired, and you know what happens at the top end if you get tired."
This wasn't supposed to happen. Even at home, Hunt was an underdog to Lewis.
It was as if the fight world forgot, just for a moment, that Hunt has come back from more adversity and endings than a slasher movie villain.
He wrote in his autobiography of suffering physical and mental abuse as a child. He overcame addictions to gambling and drugs. He spent time in jail.
So then, maybe we shouldn't be surprised he's shown the mettle in the cage to overcome a six-fight losing streak, to work past the knockouts, to disregard age.
At 43, Hunt is more than just a guy in the UFC heavyweight division. He's still a contender, even if his age suggests he should at least consider walking away.
When his night was over, he contemplated that possibility, however briefly, after he was asked by Fox announcer Brian Stann what might be next for him.
"I've only got a few more fights left," he said. "For me, if it ended here tonight, then so be it. I've had a good run. I've had a lot of fun traveling the world."
His countrymen whistled and cheered, almost resisting what he was saying. Then Hunt smiled ever so slyly and added a final thought.
"But it looks like it's still continuing."