Carmelo Anthony Trade Rumors: Cavaliers Still Interested, Won't Deal Kevin Love
February 1, 2017
Nathaniel S. Butler/Getty Images
The Cleveland Cavaliers continue to have an open dialogue with the New York Knicks about acquiring Carmelo Anthony but have rebuffed any advances toward a Kevin Love trade.
ESPN.com's Ramona Shelburne and Marc Stein reported Wednesday that the Knicks continue to pursue Love as they engage in trade talks regarding Anthony. The Cavaliers' interest remains contingent on Love's remaining in Cleveland.
This falls in line with previous reports, but it acts as something akin to a first confirmation that Cleveland has considered acquiring Anthony. ESPN's Ryen Russillo reported last week that the Cavs had "no interest" in any trade for the nine-time All-Star.
Cleveland is one of three teams believed to have enough firepower to entice Anthony to waive his no-trade clause. The Knicks have also engaged in talks with the Los Angeles Clippers and Boston Celtics, per Adrian Wojnarowski and Chris Mannix of The Vertical.
Wojnarowski and Mannix reported Knicks president Phil Jackson is "determined" to trade Anthony before the Feb. 23 trade deadline. The relationship between Jackson and Anthony has grown increasingly contentious throughout the 2016-17 season, and the Knicks' disappointing 21-29 start has convinced Jackson it is time to rebuild around Kristaps Porzingis.
The public war of words and subliminal shots have left Anthony to face near-constant questions about his future. Anthony has long been insistent on his desire to remain in New York—his hometown and the place he requested a trade to six years ago—but publicly opened the door for a departure for the first time last month.
"If they want to go in a different direction, I would have to consider it," Anthony told reporters. "But nobody has gotten in contact with me, and it's something I don't worry about or am thinking about it."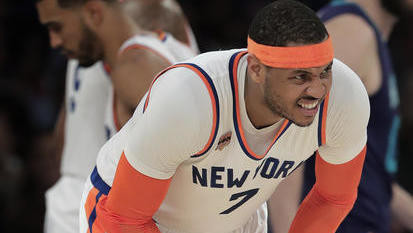 McCollum and the Blazers Snapped Postseason Losing Streak for "Jennifer"

Stars Invest in Plant-Based Food as Vegetarianism Sweeps NBA

The NBA Got Some Wild Techs This Season

Jarrett Allen Is One of the NBA's Hottest Rim Protectors

Wade's Jersey Swaps Created Epic Moments This Season

Westbrook Makes History While Honoring Nipsey Hussle

Devin Booker Makes History with Scoring Tear

29 Years Ago, Jordan Dropped Career-High 69 Points

Bosh Is Getting His Jersey Raised to the Rafters in Miami

Steph Returns to Houston for 1st Time Since His Moon Landing Troll

Lou Williams Is Coming for a Repeat of Sixth Man of the Year

Pat Beverley Has the Clippers Stealing the LA Shine

LeBron Keeps Shredding NBA Record Books

Young's Hot Streak Is Heating Up the ROY Race with Luka

LeBron and 2 Chainz Form a Superteam to Release a New Album

Wade's #OneLastDance Dominated February

Warriors Fans Go Wild After Unforgettable Moments with Steph

Eight Years Ago, the Nuggets Traded Melo to the Knicks

Two Years Ago, the Kings Shipped Boogie to the Pelicans

ASG Will Be Competitive Again If the NBA Raises the Stakes
An Anthony-Love swap has been an underlying cog in the rumor mill for some time, as Isola reported last February (h/t Complex's Brian Josephs), but it's never made much functional sense. The Cavs already have two ball-dominant players, Kyrie Irving and LeBron James, in their starting lineup. Anthony has shown occasional brilliance while playing an off-ball role in the Olympics, but that has never been part of his arsenal in the NBA.
Love, meanwhile, has found his groove in his third season with Cleveland. He returned to All-Star status after missing out each of the last two years and seems burden-free after the Cavaliers' championship run. Swapping Anthony for Love would reset three years' worth of chemistry building. The trade would not solve any of Cleveland's problems and has the potential to create an offensive fissure. 
There is also the matter of how Anthony would handle being away from his family in any trade scenario. 
"That's more what I care about—my family," Anthony said Tuesday, per Shelburne and Stein. "My son being comfortable at an age now [nine] where he's really getting an opportunity to understand being in New York and having a home there and having friends there. My wife working there and having her opportunities there ... I think about that more so than my decision for my career."
If Love is off the table, it would then force the Cavaliers to gut what's left of their bench depth to add Anthony. Channing Frye, J.R. Smith and Iman Shumpert would all have to be on the table, assuming Tristan Thompson is not. That would then require a third or even fourth team to get in the mix, given it's unlikely Jackson would want Smith or Shumpert back after trading them away two years ago.
Carmelo might get traded. It just won't be to Cleveland.