Award Predictions: Cy Young
October 9, 2009
Yesterday, I posted my choice for the Rookie of the Year for both the American and National Leagues, so today I'll keep the ball rolling with the Cy Young award.

National League

I honestly can't remember a time in which a league has three pitchers are so close to one another in the Cy Young voting. While there is one guy that likely won't win it, he does need to be mentioned. Adam Wainwright had an outstanding season in which he lead the National League with 19 wins and 233 innings pitched. He also finished in the top five in ERA, and while most years those numbers would certainly be enough, he'll likely finish third this season in Cy Young voting.

To me, it's really a coin flip between Tim Lincecum and Chris Carpenter, and a case could certainly be made for both. And I'm going to take the easy way out and say that these two are both equally deserving of this award and should share it.

I know players sharing an award is pretty lame and probably won't gain much support, but I couldn't choose one over the other. On one hand, Lincecum is the most dominant pitcher in baseball and was in the top five in wins, ERA, strikeouts, innings pitched and WHIP. After winning the award in 2008 with outstanding numbers, he improved in most of his statistical categories this season. He lowered his walks, ERA, WHIP and BAA.

As for Carpenter, what he did this season may be more impressive as he had only appeared in five games—prior to this season—since 2006. After winning the Cy Young award in 2005, he had a successful 2006 season but fell short of defending his title. After injuring his elbow on Opening Day in 2007, he took a few months off to rehab before ultimately undergoing Tommy John Surgery in the middle of the 2007 season. He returned late in 2008 and put up great numbers in limited action, but nobody expected his first season back from surgery to be this successful.

This season, Carpenter lead the National League in ERA and finished in the top five in Wins and WHIP. He only gave up more than four runs two times this season. If he could take back those two starts, he would have been 17-2 with a 1.73 ERA. That's not a reasoning to vote for him, but it does go to show just how good he was. One thing that will hurt Carpenter is having his teammate stealing away votes from him.

I don't know who'll win this one. I think that most voters will go with Carpenter because of leading the league in ERA, having more wins than Lincecum and also being on a winning team. But I think it's a really close race that will be one to pay attention to.

Runner-Up: Adam Wainwright—P—St. Louis Cardinals
Who'll Likely Win: Chris Carpenter—P—St. Louis Cardinals.
Pre-Season Pick: Rich Harden—P—St. Louis Cardinals


American League

Unlike the National League, this race isn't even really close. And although many people will name a few guys that should be mentioned, there is just one player that is far and away the clear winner. And it's no surprise that it's Zack Greinke.

There was no pitcher in baseball this season or even in the past couple of seasons that put up numbers like Greinke did, and had Greinke been on a team other than the Royals, his numbers would have been even more impressive. Why is that? Because while he did win 16 games, he also lost eight times. So what? Well out of those eight times, in four of those games he gave up three runs or fewer. He also had eight no decisions in which he gave up three runs or fewer. On average, he received less than four runs of support in his starts which is just atrocious.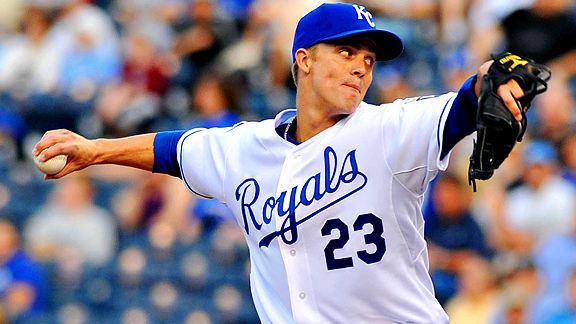 Greinke put up remarkable numbers and it's amazing to think that in 2006, Greinke nearly walked away from the game at the age of 22. He took most of the 2006 season off for personal reasons but returned in 2007 and was ready to show-off his skills. Greinke has always had enormous potential and it's great that he's finally showcasing it. Greinke seems to be in favor of staying away from the larger markets as he's a very personal guy who doesn't like the attention, so unfortunately, his biggest opponent will likely remain his own team from now until the Royals get a better lineup.

Runner-Up: Felix Hernandez—P—Seattle Mariners
Who'll Likely Win: Zack Greinke—P—Kansas City Royals
Pre-Season Pick: Roy Halladay—P—Toronto Blue Jays