Jaylen Brown Remains Vital to Celtics Despite Inconsistent Rookie Season
January 12, 2017

Brian Babineau/Getty Images
Life isn't easy when you're a 20-year-old NBA rookie. Especially one who was drafted by a competitive playoff team with high expectations and little margin for error, like Boston Celtics newbie Jaylen Brown.
Even though he's appeared in almost every game and remains in head coach Brad Stevens' rotation, mistakes and inconsistent playing time have plagued the first few months of Brown's career. He's a physical marvel who's able to provide energetic spurts of unparalleled athleticism off the bench, but those moments are few and far between.
Still, long-term proclamations are silly so early in a career. Brown's solid instincts, admirable work ethic and versatile skill set have yet to lower his ceiling in any way—especially when you factor in league-wide trends shining a spotlight on the visible strengths that make him such a desirable prospect.
But short-term impact is a pressing issue. From what we've seen so far, is there any reason to believe Brown can help Boston in the playoffs?
Again, it must be stressed that it isn't the end of the world if he can't just yet. (Let Kobe Bryant's four air balls serve as a helpful reminder.) Brown is young and still has much to learn.

Brian Babineau/Getty Images
The numbers are nothing to write home about. In 13.1 minutes per game, he's averaging 4.7 points, 1.9 rebounds and 0.6 assists—though that includes a 19-point, five-rebound, three-steal barrage during the first start of his career back on November 3.
Brown is up to 35.3 percent on catch-and-shoot threes and has the same usage rate as Marcus Smart (in about half the playing time). But the Celtics have a negative net rating when he's on the floor, which is almost exclusively next to other reserves. (He's only logged 11 minutes at small forward beside Isaiah Thomas, Avery Bradley, Amir Johnson and Al Horford.)
Among his fellow rookies (not including Joel Embiid), Brown is ninth in minutes, eighth in points, 10th in rebounds and 23rd in box-score plus/minus. His situation, however, isn't like anybody else's.
Selected with the third overall pick, Brown would normally be encouraged to play through mistakes and figure his way through the NBA grind. He'd have the benefit of trial and error, taking things slowly with the team's future in mind.
Instead, he gets to soak up knowledge from a few borderline All-Star veterans. It's a different kind of helpful.
Brown has no idea heading into each game how often he'll play, when he'll enter the game or who will be on the floor when he's out there. "It's a total surprise," he told Bleacher Report. "Like, if I do bad, I'll probably get taken out, and if I do good, I'll probably get left in."
NBA players are creatures of habit, but dealing with such unpredictable circumstances has yet to affect how Brown approaches being on the floor. He understands that minutes are out of his control, but instead of frowning when he struggles, he's treating every new on-court experience like it's a lesson in a classroom.
Not even 24 hours after he was bullied by Joe Johnson during a recent win over the Utah Jazz, Brown eagerly hit the weight room, verbally acknowledging the need to build muscle if he wants to stand up against the league's collective old-man strength.
"If you don't have accountability, you can't improve. How could you possibly get better if you can't look and say, 'I need to do this better?'" Stevens said. "So that's a huge character trait of a really good player, I believe."
As expected, Brown benefits from the extra space that Boston's lineup afford. He's ultra-aggressive when his man is a tick out of position on a closeout, or when he notices there's no anchor in the paint. And even when there is a rim protector at the basket, Brown rarely veers off the runway—goodnight, Nikola Vucevic—once he picks up enough speed to take off.

NBA.com
It's all baby steps. Brown isn't close to initiating his own off-the-dribble offense or running effective pick-and-rolls, but he looks plenty comfortable in the post and isn't afraid to attack in transition—even though, more often than not, those adventures are a bit too turbulent.
"I think his confidence is starting to pick up. I think he's starting to recognize when he can drive, or when to pass or when to cut," Celtics forward Amir Johnson said. "You know, sometimes he just goes full speed and doesn't recognize the game. I think he's starting to slow up a little bit, take his time and just recognize what the defense gives him. He's getting better and better."
In the half court, Stevens will occasionally weaponize Brown following a timeout. One popular action is signaled when an opponent tries to hide a smaller defender on him. He'll start by setting a pin down on the weak side (usually for a big, like Kelly Olynyk, whose outside shot drags shot-blockers out of the paint) and then duck in on the block, where the big he just screened for can feed him the ball.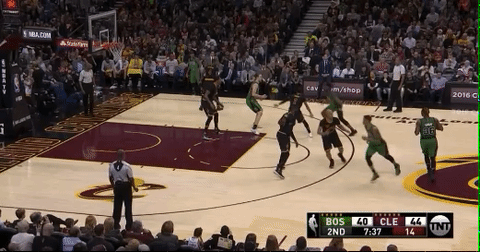 NBA.com
Brown has moves down low and referred to his baseline fadeaway as his "bread and butter" after he unleashed it during the preseason. But Boston (correctly) doesn't go out of its way to showcase those skills. Instead, its lottery pick subsists off his teammates' leg work: cuts, transition dunks and direct drives to the basket.
That's OK, in large part because Brown's defensive contributions matter even more.
The Celtics perform better on that end when he's on the floor and grab defensive rebounds at a top-10 rate—and impressive development for a traditionally poor rebounding team. Frequent mistakes have led to a short hook—like when he helped off his man to foul a jump-shooting Kyle Lowry on Tuesday night—but his length and quickness are assets.
Boston ranks 21st in defensive rating, a shocking development after it was a top-five club last season. Instead of improving with the addition of Horford, small ball has not been the team's friend, mostly because its iteration of it is really small.
Thomas, Bradley and Smart are 5'9", 6'2" and 6'4", respectively, and playing them alongside one wing and a big has led to disastrous results.
Theoretically, Brown can be part of the solution.
In lineups that already feature one wing (Jae Crowder or Gerald Green) and two bigs (preferably Johnson and Horford), he would allow the Celtics to maintain their versatility without surrendering size. They can switch everything and stay big, an ideal concept in the modern NBA.
According to Synergy Sports, Brown ranks as one of basketball's top defenders when guarding pick-and-roll ball-handlers and spot-up shooters. It's a small sample size, but he can handle multiple positions, is aggressive on the ball and is increasingly disciplined. As a help defender, he's quick enough to check rolling bigs in the paint before recovering out to the three-point line to contest a shot.
The Celtics switch screens religiously when Brown's man is involved. That not only simplifies his responsibility but puts him in a situation where he can be effective.
This isn't to say he's perfect on that end. Mistakes are a regularity when you just turned 20 years old and have to do zone up on the weak side as three of your teammates try to stop a pick-and-roll. Here's an example:
NBA.com
With the shot clock winding down, Brown races out to Jerami Grant (a bad shooter) and leaves Kyle Singler (not a bad shooter) alone on the wing. Knowing your personnel is half the battle. 
"Just understanding the game in general is one of the things I need to work on," Brown said. "Just basketball IQ, and just being at the right place in the right time."
Brown's inexperience could've meant routine trips to the D-League, where he'd surely post stratospheric numbers on the Maine Red Claws. But he already has enough talent to get on the floor in games that matter, and he'll be better in May than he is right now.
Merely being in the rotation is an accomplishment. The Celtics need to win at least one playoff series this spring, and securing home-court advantage in the first round is a significant step toward reaching their goal. It might be too early to call him an X-factor, but that could very well end up being how he's viewed in a potential second-round series against the Toronto Raptors, and maybe even more.
"He's gonna be key for us to be elite," Crowder said. "I think he can be a main part of the second unit."
Boston Celtics Insider Notebook
The Gift That Keeps on Giving

Vaughn Ridley/Getty Images
Gerald Green's reunion with the team that drafted him got off to a rocky start when he injured his groin during training camp. It sidelined him for a critical stretch when Boston had 16 guaranteed contracts and 15 roster spots.
They decided to keep Green over second-year guard R.J. Hunter, and that has been a wise choice. As the team's oldest player, Green, 30, has given his teammates far more than veteran advice; he's providing consistent production off the bench.
Last Saturday, he scored 15 points in 16 minutes against the New Orleans Pelicans. Three nights later, it was 14 points on 12 shots during a closely fought battle with the Toronto Raptors. Not all of Green's shots are of the highest quality, but he provides the type of punch any bench unit needs. He's shooting 44.4 percent from beyond the arc and 48.3 percent overall through his last 10 games.
The fact that he can still do this means he probably deserves more than a veteran's minimum contract.
Are the Celtics "Dirty"?

Brian Babineau/Getty Images
After a contentious victory over the Washington Wizards that featured multiple on-court skirmishes, some aggressive finger jabs from Crowder and John Wall after the final horn, and five police officers barricading the hallway between the home and visitor's locker rooms, Wizards forward Otto Porter had this to say about the Celtics: "They're a physical team. They try to play dirty, and they try to take you out your game."
It's debatable whether the Celtics' playing style should be referred to as "dirty," but they do have a collection of hard-nosed, no-nonsense grinders (Crowder, Smart, Thomas, Bradley, etc.) who don't shy away from contact.
The Celtics rank second in charges drawn and third in loose balls recovered, two hustle stats that indicate they are in the right spots at the right time and aren't afraid to throw their bodies in harm's way. They do foul quite a bit, but that's more to their detriment than anything else.
Making your opponent uncomfortable is a winning strategy, and despite their defensive struggles, the Celtics still do that better than most.
All quotes in this article were obtained firsthand. All stats are via Basketball-Reference.com and NBA.com and good as of Tuesday, January 10.